The Farrelly Brothers return in another one of their formulaic comedies that stars Owen Wilson as Rick and Jason Sudeikis as Fred, two middle aged husbands who have been given a "Hall Pass" by their wives (Jenna Fischer and Christina Applegate). Although Rick and Maggie (Jenna Fischer) are happily married, beneath this faux happiness, both have grown set in their ways and the passion that was once between them is no longer there.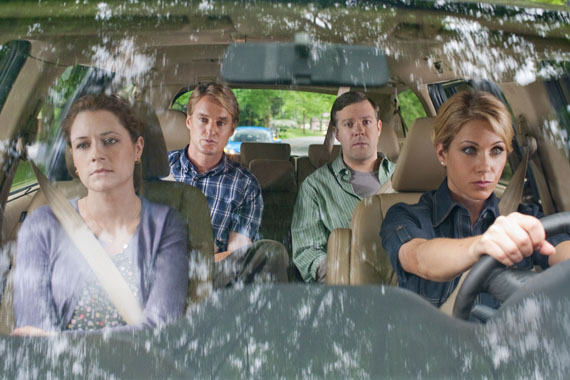 To compound the situation, Fred's friend is also in the same boat and when their wives catch them looking at other women and making fun of others, they decide to give them a Hall Pass in an attempt to hopefully make them grow-up. The Hall Pass enables them to have one week off from marriage to do whatever they want with no questions asked. As their wives leave their husbands for the week, Rick and Fred valiantly attempt to score with the opposite sex and surprisingly enough, Wilson actually plays the straight man in this comedy rather well.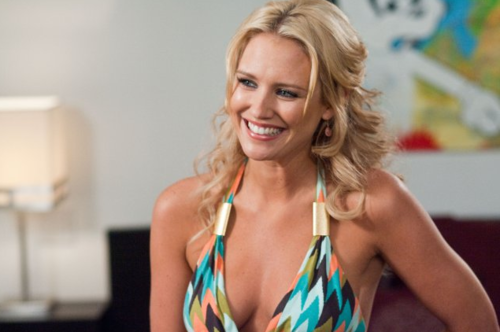 Sudeikis on the other hand is where the comedy shines and whether its him being caught by the police for masturbating in the car outside their home or his neighbour busting him for being in a massage parlour, Sudeikis' character is not only thoroughly stupid but highly entertaining. However as the movie progresses, we soon learn that Maggie was actually the one who wanted a Hall Pass and both the wives soon find their own hall passes as they befriend two men from college, a coach and his player.
With lots of innuendos, crass moments and a chance for Rick to have the night of his life with an Australian girl Leigh (Nicky Whelan) from a local coffee store where he badly tries to flirt, the moral behind the story is that sometimes we have what we want when it's rights before our eyes. Even though some of the gags fail, Hall Pass is actually an amusing comedy that also throws in the occasional male and female nudity for its 80's shock value. The highlight of the movie is watching these two men desperately try to score that is actually quite embarrassing to watch but had us all in hysterics. It's definitely a Bob and Peter Farrelly film!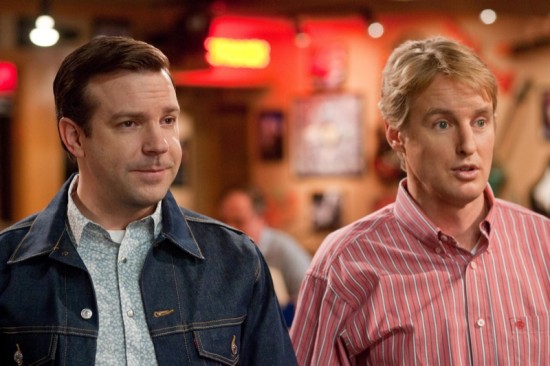 Video, Audio & Special Features
The Blu-ray quality of Hall Pass supports 1080p/AVC encode with a mixed in 5.1 DTS-HD Master Audio that looks and sounds amazing. The attention to detail on the video is quite impressive such as the pores on the actors skin or the backgrounds of where the movie was filmed. There was some noise but for the majority of the film, it's flawless. Audio is just as good that has been mixed well with good levels. Although it's not an action film, the dialogue, sound effects and music is very clear and compliments the film well. Unfortunately when it comes to special features, it only contains the DVD and the Digital Copy as an extra plus the extended version with contains 6 minutes of additional footage.
Final Verdict

Even with the lack of special features, the Farrelly Brothers have created a rather amusing film that may not break their standard formulaic comedy films but has enough laughs to make it quite a memorable film. Definitely one to check out or even add to your comedy collection.