"This is so lame."
"I know. But it's some Prince Charming shit, right?"
Friends With Benefits marks yet another attempt by Hollywood to subvert the conventions of the long-stale yet perennially popular romantic comedy genre, though where others have failed (the Farrelly Brothers' slapdash The Heartbreak Kid comes screeching unwelcomely to mind) this film largely succeeds, thanks to its thoughtful direction, a strong script and, not least of all, the genuine chemistry between its two toothsome leads.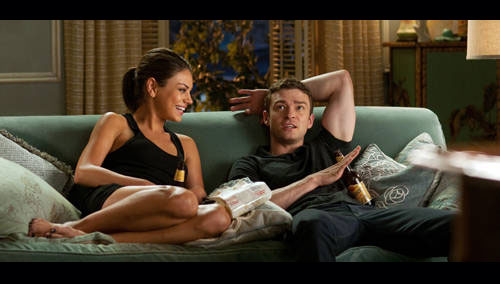 Talented Los Angeles art director Dylan (Justin Timberlake) finds himself 'headhunted' by New York based publishing monolith GQ. Flown out to the Big Apple on the company's dime, he finds himself being taken under the shapely wing of the equally mononymic Jamie (Mila Kunis), an Executive Recruiter charged with chaperoning the greenhorn and making sure he signs on the dotted line. The pair promptly hit it off, and in between bouts of sassy banter and the odd bit of sightseeing make the decision to add the eponymous benefit of casual sex to their burgeoning friendship. The trick, of course, will be to adhere to the primary ground rule of ensuring absolutely no emotional element encroaches on their purely physical trysts. Enter plot.
Both an affectionate parody and an accomplished pastiche of everything that makes the rom-com genre appealing, Friends With Benefits is a slick, self-proclaimed 'postmodernist' exploration of what happens when two unconscionably attractive twenty-somethings decide to cross the friendship Rubicon and enter the realm of no-strings sex. Strings, of course, there be, there's no such thing as an emotionless 'slam piece' of convenience, to use the film's über-hip parlance and as the pair continue to bump beautiful uglies they finally discover, or rather admit, the deeper feelings they've trying to avoid since their very first encounter.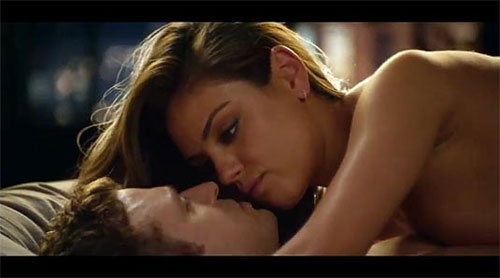 The film's extended cast reads like a who's-who of the comedy scene: Jason Segel, Woody Harrelson, the stunning and oft-underutilised Rashida Jones (The Office, I Love You Man), Emma Stone, Jenna Elfman, and Andy Samberg of SNL and Lonely Island fame. Will Gluck, whose previous directorial outing was the classy and well-received teen comedy Easy A, takes a craftsmanlike approach to the shooting of his latest 'sexomedy', undertaking extensive rewrites in order to make the dialogue ring more true to life and obtaining unforced and eminently believable performances from his two charismatic leads in the process. The end result is perhaps not as unconventional as it clearly considers itself, but is still far from unsatisfying nonetheless.
Audio & Video
The 2.40 HD transfer is a little dark during one of two of the nocturnal scenes, but is otherwise sharp and vibrant, devoid of anything resembling grain or artefacts. The 5.1 surround DTS audio is likewise crisp and largely faultless. French and Italian audio options are also available, as are an English descriptive track and subtitles in English, English SDH and a dozen or so other languages.
Special Features
A spirited and highly entertaining Audio Commentary with director Will Gluck, Timberlake and Kunis; an equally lively 5-minute Outtakes reel; a smattering of Deleted Scenes; 'Bonus Benefits', a pop-up Trivia Track; and a bunch of funny, insightful Behind the Scenes Featurettes running between five and fifteen minutes each. An excellent crop.