When it starts out, it appears that Freedom is going to be a by-the-numbers mecha/racing drama, but don't buy into that. Over the course of its brief lifetime (7 episodes) Freedom will go through several iterations of personality; becoming at various times a serious space adventure, a conspiracy thriller, a zany road trip and a light-hearted romance/comedy.
The story begins in Eden, a city on the moon which was meant to be the staging point for a terraforming mission to Mars. But with that mission scrapped, and the Earth an apparent wasteland, Eden is seen as the last bastion for humanity. Personal freedoms are few but comforts are in abundance, and all that the government ask in return for a life of cosy security is strict adherence to the rules.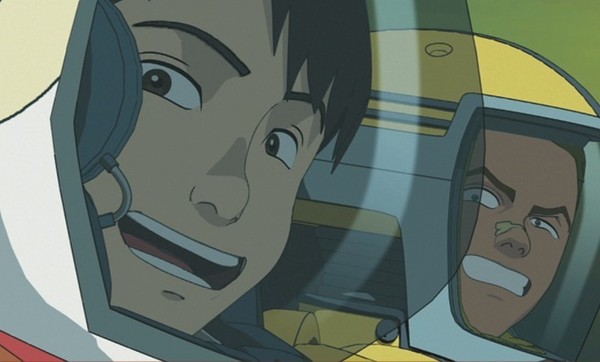 Enter into this setting Kazuma and Takeru, two youths who have just found a derelict moon bike. With the help of their friend Biz they hope to restore the machine and compete in the illicit underground racing scene. Takeru's stubborn attitude soon brings him into conflict with Taira, an ace rider, and the two face off in a spur-of-the-moment race. But when Takeru's machine breaks down he is caught outside during curfew, and sentenced to community service- a job that involves menial work on the moon's surface, outside the dome. It's during one of these monotonous shifts that he makes an incredible discovery: A photo of a teenage girl, which appears to show Earth as a sunbaked paradise. After that, the boys begin to suspect that the government isn't telling them the whole truth, and they vow to find out more.
You can sense many different creative influences on Freedom, all pulling the series in different directions. But far from it being a case of that old adage, 'too many cooks,' these distinct styles compliment each other. The story itself is simple, fickle and at times illogical, but the characters act as a glue to hold it all together. The structure of the episodes often feels eccentric, but the characters remain a charming constant. Each has his or her own place in the adventure, and before long they all feel essential.
Audio/Video:
The visual style of Freedom is very attractive, with CGI models for characters and vehicles. The backdrops have a sketched look, and are fleshed out with bright primary colours and pastels.
The sound effects are spot on, with different bikes and vehicles all having their own individual roars and whines. They haven't quite nailed the audio mix though, because during some of the more dramatic scenes a rather pedestrian musical score is completely overpowered by the sound effects.
Special Features:
Introduction Trailer

?Freedom Digests: A short synopsis of each episode

Talking about Freedom, session 1: Series planner Dai Sato and Director Shuhei Morita talk about the different creative influences on the show

Another vehicle race: A slightly cool, somewhat pointless short in which the moon racers are relocated to a modern-day Earth setting

Nissin Cup Noodle TV digest: Another TV spot featuring some product placement

Talking about Freedom, session 2: Sato and Morita reflect on the long gestation period between episodes, and how it affected the final product
Closing comments:
There are some powerful moments of imagery in Freedom, and you feel as if they've been included for the sake of drama more than that they further the plot in any way. But none of that really matters, because this series is so big on heart. Besides which, a post-apocalyptic revival of the Apollo program is a pretty cool idea. There's a lot of love here.