The Expendables 2
I was always a big fan of Sylvester Stallone's. I grew up watching the Rocky films and though his recent Rambo and Rocky Balboa outings concluded these beloved action franchises in a manner that was poignant and suitably dignified (in the case of Balboa) and a wondrous hail of machine gun fire (in the case of Rambo). The man's acting always had plenty of heart, he was an eminent storyteller and there was a soulfulness, hell very possibly a tenderness behind the eyes of Stallone that was entirely absent from the supremely cocky gazes of his eighties action cohorts like Schwarzenegger and Van Damme.
I must say though, as much as I might love the man's films, I have a serious problem with the names Stallone gives his characters these days. Rocky Balboa, Apollo Creed, Ivan Drago - the names were cartoonish, certainly, but not beyond the credibility of an eight year old or a grown man with the intellect of one. But what in the name of God is he thinking in calling the main characters from The Expendables 2, in no particular order: Barney Ross (played by Stallone), Lee Christmas (Jason Statham), fucking Yin Yang (Jet Li), Hale Caesar (Terry Crews), TOLL ROAD (Randy Couture, and no mere bold and italics alone won't suffice here), the relatively restrained Gunner Jensen (Dolph Lundgren) and Billy the Kid (Liam Helmsworth)??
Billy the Kid might be forgivable in this context, but Toll Road?? Yin fucking Yang????? I'm probably the most racist person I know and even I find that offensive. Jean Claude Van Damme is bloody good in his role as the villain, but his character's name is Jean Vilain. What the fuck?? Ditto Bruce Willis in his cameo as a CIA operative - but his character's name is 'Mr Church.' Is there another way of saying What the fuck?? All that human growth hormone must be addling poor Sly's brain, bless him.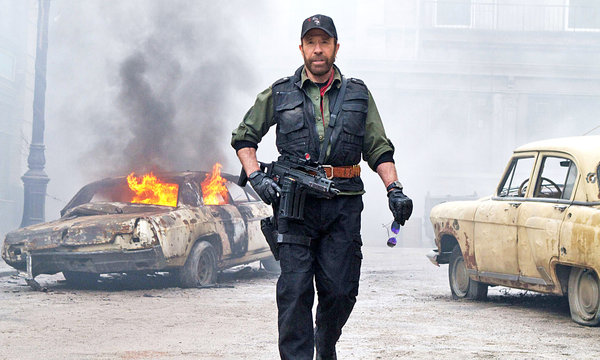 At any rate the idea of seeing Stallone, Chuck Norris, Van Damme, Bruce Willis, Arnie and the aforementioned co-stars in the same film is the stuff action movie wet dreams are made of, and The Expendables 2 largely delivers the goods. Mickey Rourke and one or two mooted others like Jackie Chan are missing, but there are more action superstars gathered under one roof here than in any other film in Hollywood history, and it's good stuff. The film itself is the expected cavalcade of explosions, cool cameos and tongue in cheek one-liners, and the home media releases contain a veritable cavalcade of worthwhile bonus features, including a lively and informative Audio Commentary from director Simon West, several illuminating featurettes on the effects, casting and weaponry of the film and a top notch Gag Reel, which includes some genuinely amusing outtakes of Van Damme trying his darndest to string a sentence together as well as some spirited interplay between Stallone and his handpicked coevals.
Despite his advanced age and the fact his face is, these days, almost completely composed of Play Doh, Stallone manages to mumble his lines with the requisite authority, and seeing him share screen time with the other superstars of the genre both past and present is a wondrous spectacle indeed for us children of the 80s -The Expendables 2 is bold, brassy, unremitting action at its finest. Over the top? Certainly. A little bit silly? Maybe on occasion. But it sure is downright entertaining, and that's more than can be said about a lot of recent action fare these days.
Bonus Features
- Audio Commentary with director Simon West
- Gods of War: Assembling the World's Mightiest Action Heroes (21 mins)
- Big Guns, Bigger Heroes: The 1980s and the Rise of the Action Film (25 mins)
- On the Assault: The Real Life Weapons of the Expendables 2 (14 mins)
- Guns for Hire: The real Expendables (24 mins)
- Six Deleted Scenes
- a Gag Reel (5 mins)