Hm. This is a movie that really doesn't do much for me other than mildly amuse. Whilst that might have been the idea, I am not so sure. It sure is an easy watch, and one that I didn't find challenging.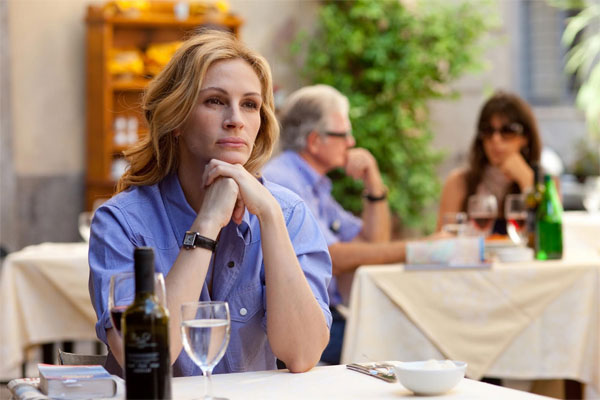 Long story short, this is a journey of discovery starring the ever charming Julia Roberts, who for a long time has been a favourite of mine. She has a natural charm to her and considering that this story feels to be lagging at times, she is a saving grace.

Roberts plays the part of an author who has had her big break with a book and goes on a journey whilst juggling a divorce, affairs and learning more about the affairs of heart. Taking on what appears to be a spiritual journey in some beautiful locales, Robert's character Liz travels, learns, loves and ultimately discovers some wonderful things about herself.

One thing that audiences should love is the light hearted nature of the film. Everything is served up in easily digestible chunks that almost take on the appearance of a mini-series. Each circumstance and experience that Liz has, whilst somewhat unrelated, amount to the sum of her parts and this learning that she has undertaken.
Filled with a sense of wonder and fun, Eat Pray Love is not a deep movie. It's almost a romantic comedy in a way with plenty of moments for you to coo over. This blu ray edition offers both the original theatrical version and the directors cut. The directors edition adds more in the way of scenery and also dialogue. It works out to be about 6 minutes or so more.

Video on this title is good with nice use of colouring and editing to bring out some of the gorgeous visuals that we are witnessing. The audio is a wonderful accompaniment to the video, really bringing forward the atmosphere of the locations.

If you are looking for light entertainment, then this is your film. It's fun and easy to digest. Don't expect revelations and you'll be just fine. Enjoy!

Extra Features

Includes Director's Cut & Original Theatrical Version
Better Days Music Video
Ryan Murphy's Journey with Eat Pray Love
The Beginning of the Journey
Praying in India
Finding Balance
movieIQ