If Dinner for Schmucks sounds a little familiar that's because it's based on Francis Veber's original idea and film called Le Diner de Cons. Although I enjoyed the original French version, the American... even though it is far sillier, is slightly superior because of the dynamics between Paul Rudd and the comedic genius Steve Carell.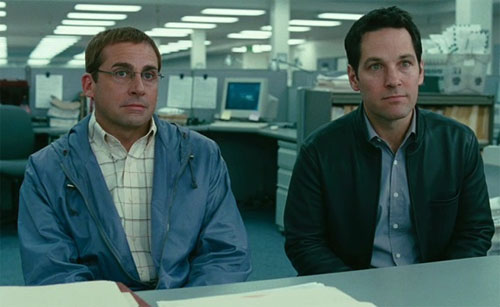 The premise behind Dinner for Schmucks revolves around Tim Conrad (Paul Rudd), an ambitious analyst who is finally moving up within the corporate ranks or so he believes. Unfortunately a spanner is thrown into the works because in order for him to be accepted by his Boss, Lance Fender (Bruce Greenwood), he needs to invite a "special" person to a "special" dinner party. It may seem simple for Tim, all he needs to do is find the strangest and most bizarre person for Fender's dinner and not only will he win the competition but he will be finally accepted amongst their ranks and the possibility of getting a promotion and being inducted to the sacred 7th floor.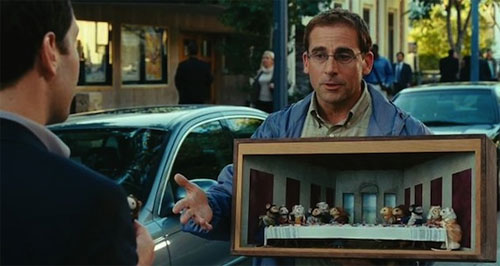 Although these "special" people are generally the butt of the corporate world's jokes, Tim doesn't care as he is solely focused on the task at hand when he accidentally meets Barry Speck (Steve Carell). Tim believes that he has found the perfect "idiot" for the party, a divorced IRS employee who has a passion for taxidermy as he turns dead mice into "mouseterpieces". As a friendship forms between them, one can already see the train wreck just waiting to happen at the dinner party but this is all part of the charm of Dinner for Schmucks.
Another problem is Julie (Stephanie Szostack) whom Tim is constantly trying to get her to marry him, however Barry has a certain knack of ruining everything for Tim. There is a classic scene when Barry inadvertently invites Tim's stalker, Darla (Lucy Punch) to his home. With mock sex acts and bottles being thrown around Tim's apartment, this does not bode well for Julie who decides to leave Tim. Tim now has the dilemma of getting Julie back from her artist client, the eccentric Kieran (Jemaine Clement) and somehow get Barry to his boss' dinner party.
Apart from the funny Carell, Dinner for Schmucks contains a wealth of amazing comedic performances that include Zach Galifianakis, Jemaine Clement, David Walliams, Lucy Punch, Octavia Spencer and Chris O'Dowd. It's quite a bunch of comedic actors and although much of the comedy is quite juvenile, it's actually quite refreshing and is great to see the relationship between Tim and Barry unfold. It may not be the most memorable comedy of the year but it does what it is suppose to do, deliver the laughs and makes you smile, even though the director plays the safe route.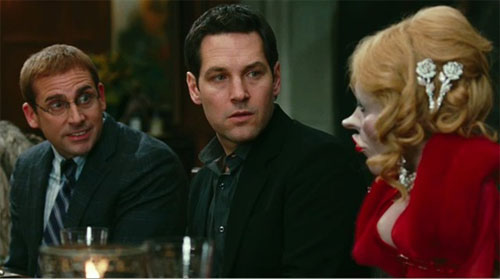 Video, Audio & Special Features
On Blu-ray, the video quality boasts some amazing clarity with sharp images and vibrant colours. Add in a 5.1 DTS-HD MA soundtrack and it actually makes good use of the channels that only enhances the entire experience. There are no errors like artifacting whatsoever in this release. For special features, there is a Behind the Scenes with the Cast, Deleted Scenes and my favourite, the Schmucks Up, the outtakes reel. For a movie that relatively missed the spot at the box office, I was surprised at how much decent content was on this disc.
Conclusion
I'm not sure whether this is worth a purchase but it's definitely worth a rent as certain scenes are quite hilarious, unlike the rather dull trailers. It contains comedy, action, drama and even romance and I must admit that Carell's character almost brought a tear to me eye from his personal story. With that said, if you're a fan of Carell, he once again shines as the mild mannered idiot. No offence Steve but you are the 21st century version of Jerry Lewis and this movie proves it. Lastly, The Beatles "Fool on the Hill" song perfectly suits this movie from the initial credits to the end.