Universal's Despicable Me 3D is the cream of the crop when it comes to 3D Blu-ray releases and this disc really showcases this new technology well. With amazing computer generated images (CGI), a thoroughly entertaining story and more special features than you can poke a 3D stick at, this is definitely the Blu-ray to show off your new 3D TV. Enjoyable by both children and adults alike, Despicable Me is directed by Pierre Coffin and Chris Renaud which stars Steve Carell, Jason Segel, Russell Brand, Julie Andrews and Will Arnett. The story behind Despicable Me revolves around Gru (Steve Carell), one of the world's most despicable super villains and from the very first few moments in the film, you immediately know that he is not a very nice guy from popping children's balloons to freezing people in line for takeaway, Gru always gets what he want, or so he believes.
Unfortunately his status as world's greatest villain is in jeopardy when a younger, allegedly "smarter" villain named Vector (Jason Segal) steals the great pyramid of Giza and rather than be bettered by this newcomer, Gru decides to do the unthinkable and plans the heist of century, by stealing the moon. Unfortunately there is a catch, he first needs to steal a shrink wrap and then build a rocket to the moon. Gru however, needs money. Heading to the Bank of Evil, his loan is turned down by Mr. Perkins (Will Arnett) because Gru has no shrink ray as collateral and thus his loan is given to Vector. Not one to give up, Gru successfully steals the shrink ray from a top secret military outpost in Asia only to be usurped once again by Vector.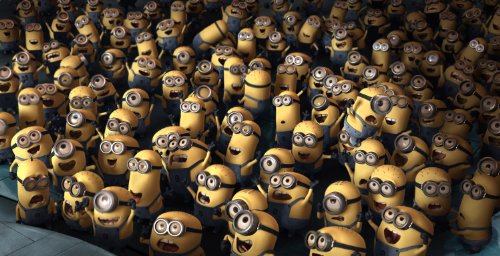 With his dream in tatters, he plans to "adopt" three girls, Margo (Miranda Cosgrove), Edith (Dana Gaier) and Agnes (Elsie Fisher) in order for them to be used as pawns as they gain access to Vector's stronghold. For we all know, good villains have a thing for girl guide cookies. Even though you immediately know how the story will play out... an evil super villain who is really not evil. Our anti-hero quickly falls for the girls but in order for his plan to succeed, he sends the girls back to the orphanage, only to realise that fatherhood is better than villainy. It may be a little clichéd at times but the emotions these CGI portray to the viewer, really sucks you in, hook, line and sinker.
Add in some quite amusing comedic scenes, especially with Dr. Nefario (Russell Brand), the brainiac sidekick of Gru and Despicable Me is easily one of the better animated movies of the year, especially with Carell at the helm of this Eastern European villain with his little yellow one-eyed and two-eyed comedic henchmen. More importantly, if a computer generated character can actually make you feel emotions, than the creators of Despicable Me have succeeded and this movie succeeds on all movie levels.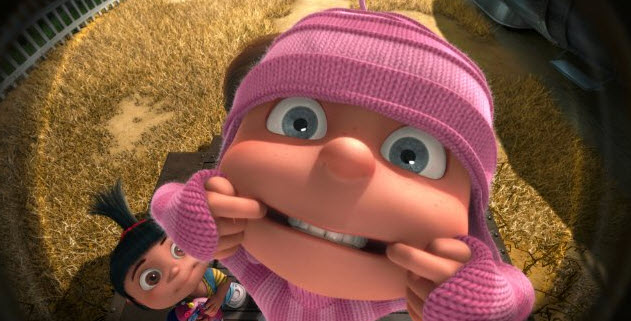 Video, Audio & Special Features

However where Despicable Me 3D shines on Blu-ray is through its 3D presentation that looks visually amazing on our Samsung 3D Plasma TV. The movie really makes good use of the capabilities of this technology as the entire film is literally jumping out of the TV. With animation to die for, the quality screams high definition from its vibrant colours to larger than life characters that go hand in hand with the 3D experience. The attention to detail of Despicable Me 3D screams more realism as you can almost see every texture in the film such as the fabric of Gru's outfit to the individual blades of hair of our villains strange scientific creation... his dog.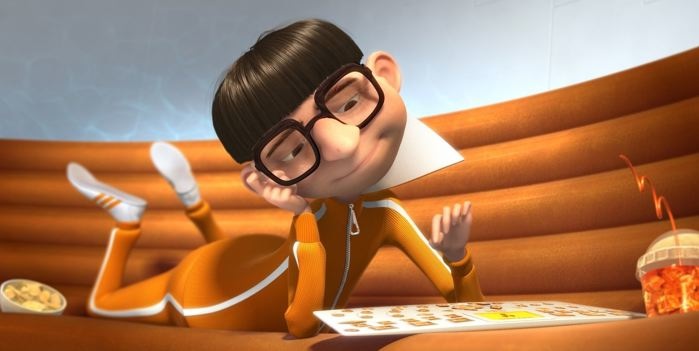 It's also great how the developers have merged modern suburbia which pays homage to the 1950's science fiction movies plus classic 50's white picket fences and the like. It melds these worlds perfectly. With deep levels of black, I could not find any banding of artifacting whatsoever in this release that easily makes this one of the best 3D movies that I have seen from the comfort of my lounge. As the entire movie looks 3D, you do become a little customised to this effect, however every now and then, there will be a 3D wow moment that wakes you up to this technology in order for you to appreciate it more.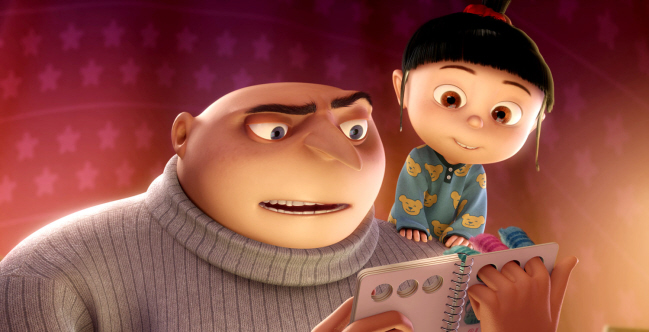 To compliment the 3D experience, Despicable Me 3D supports a DTS-HD MA 5.1 lossless soundtrack that makes full use of your surround sound system with larger than life moments. With clear dialogue, a bopping soundtrack and special effects to wake the neighbours, this is a perfect mix from balance to bass and everything in between.
Contain both the Blu-ray 3D Version of the movie, the normal Blu-ray version, Despicable Me also comes with a Digital Copy of the film on DVD as well which is great value for money. Finally we have a wide gamut of special features from commentary with its directors, games, music and lots of other interesting titbits such as the Voices of Despicable Me to the World of Despicable Me that really gives you a great insight into the creation of this movie. There's even some cool online interactivity and a great little tool called Like Minion Me which allows you to take a picture of yourself and turn it into a minion of Gru. Great for kids and adult alike.
Conclusion

For now, Despicable Me 3D is easily one of the best 3D releases available on Blu-ray and thankfully the story is right up there as well. Steve Carell as the humble and depressed villain Gru is the star of this movie as is Jason Segal as the amusing Vector with his ridiculous villainous weapons like guns that shoot piranhas or squids, both actors truly bounce of each and enhance the story. A special mention should be made to Julie Andrews who plays the thoroughly amusing and ignorant mother of Gru with her grunts and classic one-liners. Despicable Me may not contain the most famous of the Hollywood stars but I digress, because without these actors, Despicable Me would probably have been just another animated movie with no heart or love. With a truly enjoyable and memorably story, Despicable Me 3D is the perfect Blu-ray to showcase the power of 3D on your TV.
Definitely a must have!