Over the past decade and a half the South Korean cinema industry has experienced an almost unparalleled resurgence, recovering from several turgid decades preceding the 1990s to produce a slew of classics in almost every conceivable style. Big-budget monster movies (The Host), effects-driver disaster flicks (Haeundae), gripping and occasionally quite bloody suspense films (The Chaser, I Saw the Devil, Oldboy), cerebral dramas rife with social commentary (Mother, The Housemaid); nothing, it now appears, is beyond the scope of emerging Korean auteurs like Park Chan-wook and Bong Joon-ho. Even the country's B-grade outings like Chaw, a movie about a rampaging razorback pig, are handled with a certain panache and no small measure of humour (even if it does tend to be of the more broad slapstick variety) and the country's film industry, bolstered by consistently strong local box office receipts, is now the fifth largest in the world.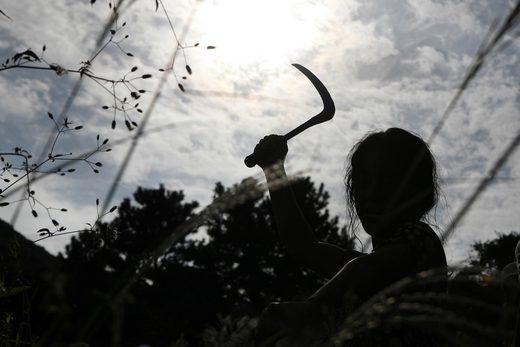 Bedevilled, the first feature length film from Jang Chul-soo, marks one of the more ambitious directorial debuts of recent memory. A throwback to 1970s exploitation flicks, specifically those of the rape-revenge subgenre, the fact the film is shot in unrelenting HD and framed throughout with an anatomist's unblinking air of precision adds significantly to the unease: if Bedevilled had to be summed up in just one word that word would very likely be 'harrowing.'
The film opens with beautiful yet emotionally taciturn career gal Hae-won needing to get away from it all. She decides the best thing to do would be to spend a few days on remote Moo Island, a sparsely inhabited idyll where she spent vacationed as a child and where a small number of her relatives still dwell. Upon her arrival, however, the paradise is quickly revealed to be little more than a depraved backwoods hell of Dante-esque proportions. Hae-won's female cousin Bok-nam is systematically beaten and raped by the island's inhabitants, and her husband, a callous douchebag who refuses to let her leave the island, is also abusing Hae-won's young daughter. Hae-won sees all this going on, but being somewhat callous herself she doesn't really do too much to help, preferring to swan about in yoga pants and do some light stretching before sunup while her hapless cousin is busy being called a useless cunt and the like. The brackish residents of Moo Island are so backwards they make the rednecks in Deliverance look like Rhodes Scholars, but even they aren't going to let Hae-won travel back to the mainland after the things she's seen.
Like a majority of films of the exploitation mould Bedevilled contains several glaring flaws of plotting and characterisation (Why is Hae-won so unfeeling towards her cousin and childhood friend Bok-name, and why does she make no effort to leave the island even when she would have been able to do so? etc) yet it is also a grimly compelling masterwork of repulsion and torment. No degradation is spared the viewer's gaze, but one thing is certain – once you put this one in the DVD player, you won't be able to switch it off halfway through. Something like a cross between Wicker Man and I Spit on Your Grave, the film is a visually rich and morally repugnant revenge thriller of the highest order, violent and ugly to be sure, but eminently satisfying nonetheless. Exploitation at its finest.
Audio & Video
The anamorphically enhanced 16:9 transfer is faultless – really luminous and visually arresting throughout. The DTS-HD Korean 5.1 audio is likewise a first rate affair. No problems whatsoever on the AV front.
Extras
A 20-minute BTS featurette, trailer and brief TV spot.