I usually get excited when a ĎMoon movieí comes along, mainly because there arenít that many of them. That scarcity is strange, because the Moon provides a perfect setting, not only for Horror/Sci-Fi but for all forms of dramatic film-making. You have a severe contrast between light and dark, an eerie stillness, constant danger.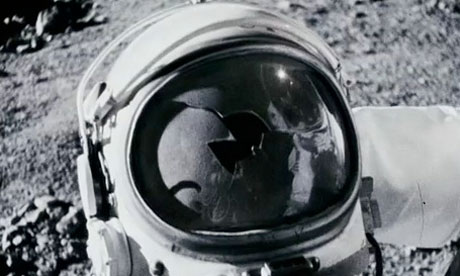 Apollo 18 is the latest film to try to capitalise on this creepy alien environment. It tells the story of a hypothetical Ďlostí voyage to the Moon, said to have happened years after the Apollo program was officially scrapped.
Three astronauts are sent into orbit, without public knowledge, carrying a secret payload to the lunar surface. Benjamin (Warren Christie) and Nathan (Lloyd Owen) are to land on the surface and set up the mysterious device, while pilot John (Ryan Robbins) holds the spacecraft in orbit and awaits their safe return.
But the mission goes awry when, after depositing their payload, Nathan and Ben discover that a strange signal is blocking communications to Earth. Exploring on their own initiative, they find a bizarre trail- beginning with an anonymous set of footprints, and ending with an abandoned Soviet lander which looks to have been dismantled from within. The two return to their own lander, only to be attacked by some unseen force. Something gets inside Nathanís spacesuit and wounds him, but afterwards Ben can only find a few dark shards of rock.
Cut off from Earth, with his crewmate suffering from some kind of infection and increasingly irrational and violent, Ben does his best to get them off the moon, and home.
The story as told as if itís a lost piece of footage from the 70ís, and so is shown exclusively through the use of fixed and handheld cameras. Itís a technique that has become popular in horror movies, and used to good effect in Troll Hunter and Cloverfield.
The fictional sequences are blended with real stock footage from the time, giving Apollo 18 a sense of authenticity. The sets are resplendent in every detail, looking for all the world like actual spacecraft, and topped off with some excellent lighting effects.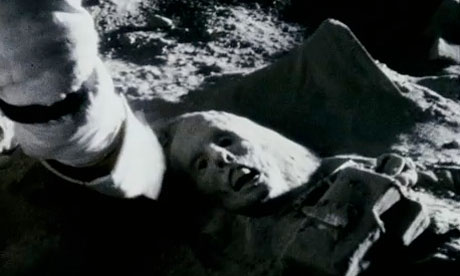 A lot of work (and budget) has gone into special effects and CGI, which manifests itself when the monsters are on screen. These baddies are certainly grotesque and unsettling, but theyíre not too far from the horror norm- nothing truly alien, or particularly terrifying.
Thankfully, the actors themselves pick up the slack when it comes to providing scares. Lloyd Owen puts in a robust and frightening performance as Commander Nate. The period after he becomes Ďinfectedí is easily the best part of the movie, brimming with tension as he slowly cracks up and loses his humanity in the confined space inside the lander.
But the story itself hasnít been refined quite enough, with the final sequence especially looking as though itís been slapped together.
Audio/Video:
In order to make this look like footage from the 70ís, the production crew have added all manner of effects and filters to the image. The picture is consistently grainy, is full of artefacts, and generally has a washed-out vintage look to it.
The sound is equally convincing, with all the bleeps, whines and thuds sounding authentic.
Special Features:
?Deleted scenes: Some incidental dialogue from the characters.

?The John Grey Memorial: An extended reel of deleted scenes, featuring extra

monologues by the character John Grey.

?Alternative scenes and endings: Some different takes on some of the key scenes, including the conclusion. (All equally unsatisfying, unfortunately.)
Closing Comments:
With its wafer-thin story, Apollo 18 falls short of being an instant cult classic. Nevertheless, itís worth a look for some good performances and a persistently creepy atmosphere.
A more robust story could have made ĎApollo 18í an instant cult hit. There are some good performances and a few genuine scares
Apollo 18 is an interesting movie, both thematically and visually. There are some good performances and a few good scares. Itís an interesting horror tale that falls just short of being an instant classic.