Bitdefender have now entered the Android market with their latest internet security application targets Android Smartphones with Bitdefender Mobile Security. With over 120,000 BETA testers, Bitdefender have fine tuned their product ensuring that it offers Android users with the best protection possible. Unlike traditional PC internet security products, Bitdefender Mobile Security focuses on three facets of Android security that include Application Audit, Anti-Theft and Web Security.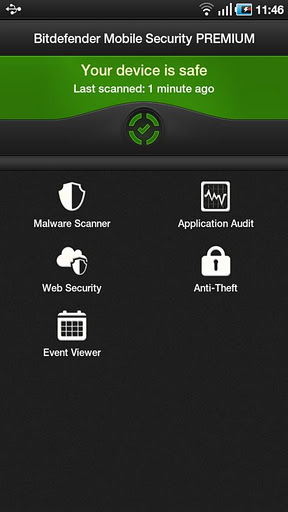 For those interested in Bitdefender Mobile Security, it can be purchased via the Android Market and once installed on your Smartphone, you need to link your device to MyBitdefender or alternatively uses your Google account.
Once linked, you're ready to launch the application and thankfully the interface is extremely Spartan ensuring that a wide range of users can easily access all facets of this application. The first screen (Home) has a message at the top of application, provided you have no issues stating that "Your device is safe" and when the last scan of your device occurred. This colour will change to yellow if there are any non-critical issues and red to critical issues.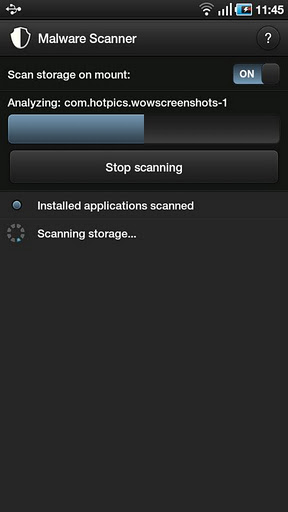 This screen also contains five icons that can be accessed via your touch screen that include Malware Scanner, Application Audit, Web Security, Anti-Theft and Event Viewer. Many of these features can be disabled, however due to the constant changing threat landscape, Impulse Gamer recommends that all features are enabled for full security protection.
The Malware scanner via Bitdefender's cloud-technology scans your device, including storage devices for any malicious applications via installation or on-demanding scanning. It should also be noted that once installed on our Xperia phone, there was no impact on the device whatsoever, especially while surfing the net.

Another useful feature is the Application Audit which basically allows you to scan "unsure" applications and whether thy are safe or not through the use of three filters. These filters include internet, privacy and costs. Web Security on the other hand scans websites for any malicious content such as spyware, viruses and phishing and will alert the user should this appear on your Android Smartphone via a message "The page you are trying to view is not safe".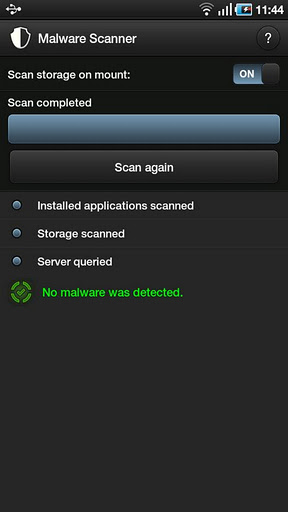 My favourite feature of the Bitdefender Mobile Security is the innate anti-theft tools. If this feature is enabled and should the unthinkable happen and your device goes missing, you can remotely locate your phone and even prevent your personal information from being stolen via my.bitdefender.com.
There is even an option for a remote wipe and a remote lock or alternatively you can send it a message informing the person to return the device. This feature is also handy if you have misplaced your Smartphone somewhere in your house as you can send it a sound to play.

Unfortunately as smartphones becomes integrated into all facets of our lives, criminals are now targeting these devices. Originally phones were safe but once they start connecting to the internet and you commence downloading applications, there is a chance that you could be targeted. Thankfully Bitdefender Mobile Security is one solution that is a must have application for your Android phone.
Recommended!