Sports Island 3D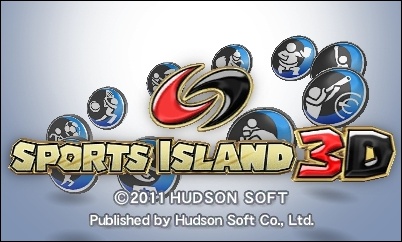 If the name sounds a little familiar, that's because Sports Island was originally released on the Nintendo Wii and the DS which did cash in the Wii Sports premise but in the grand scheme of things, all games are based on one game or another right? Moving right along however, Sports Island on the Nintendo's new 3D console is basically a Nintendo Wii port of the game and features the same graphics but with the inclusion of 3D and improved gameplay. There are no frustrating wiimotes or nunchucks here.
On this animated and colourful island, Sports Island contains ten games that support both single and multiplayer modes and include quite a diverse collection such as Sumo Wrestling to Tennis. The other games include Basketball, Bowling, Ice Hockey, Sport Blowgun, Trampolining, Soccer, Snow Mobile Racing and Snowball Fighting. With ten games, not all the titles are winners and some of the games are a little lacklustre but it's good to see a game like this available on the 3DS.

Before engaging on your Sports Island career, you need to create your Olympic inspired team which can be used in the multiplayer mode as well. In single-player, there are 4 game modes that include open match (select any sport to play), random match (play a randomly selected sports), championship (move from position 30 to number 1 by playing 3 games at a time) and tournament which allows you to complete in one sport with multiple teams.
The controls of Sports Island are quite simplistic, so no matter what your gaming experience is, you should have no problems in picking up the title and playing this on the 3DS. The circle pad is used to navigate your character with the X, Y, A & B buttons used to engage in the particular sport that you are playing. You also have powerups called "super play" that are initiated by the L button which depending on the game creates a super manoeuvre. For example in basketball, you might unleash cannon dunk on your opponents which allows you to jump in the air like Superman or the unstoppable "rainbow" shot in soccer. They may be powerful but it does take some tactics to get them.
Stamina also plays a role in the game and the more sports you play with a particular character, the lower this becomes so you need to rotate your team members. Apart from single-player, the game does support multiplayer via local play match mode or download play match that allows you to play the game on another 3DS system together. Unfortunately we could not test either mode.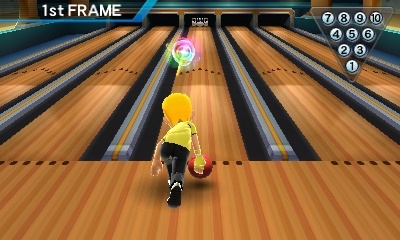 My favourite game in Sports Island is Tennis which supports both singles and doubles plus multiplayer options. It's actually quite a sturdy tennis game which may not reach the calibre of Virtua Tennis 4 but for an arcade experience, it works like a treat. Snow mobile racing is fun as well as you race around the wintery track and if you imagine Mario Karts on ice, this would be a fair thing to say about this game.
Whether your playing bowling, soccer or even Sumo Wrestling, the games in Sports Island work well enough, even snowball fighting which seems more to be added for the younger gamer. Soccer is probably my least favourite game on the title and unfortunately I just reviewed PES 3DS on this console which is quite pale in comparison. However to be fair, these games are more casual than hardcore games but it just lacks any challenging gameplay.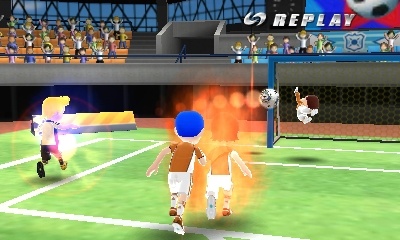 Add in a variety of bonuses and unlockable content and there is enough "extras" to keep you entertained in this relatively unoriginal game... this is not to say it's bad, it's just that we've seen it all before. It may not push the "sports" genre to the next level but it does look rather impressive with the 3D capabilities of the 3DS.
All the characters have this cartoon aurora to them as is the environments that although look simplistic, it suits the "Wii Sport" premise well. The game uses a great sense of depth to enhance the 3D effect and for a non Nintendo title, the developers have really pushed this game to a totally new level. Compared to the Wii version, it looks like a smaller version but is actually more fun to play due to the sturdy controls of this console and accuracy does play a role here.

If you're looking for a "light" game or you are a fan of mini-games than Sports Island by Hyudson may be the game for you that contains ten games which range from good to mediocre. With a sturdy control system, good use of the 3D and the innovative controls of the 3DS, Sports Island is definitely one of the stronger games available for this console. Great for casual gamers!