Itís hard to believe that is has been eight long years since we last saw a title from the extremely popular Rollercoaster Tycoon series, but now in 2012 Rollercoaster Tycoon 3D attempts to heal the gaping holes present in the hearts of fans. Unfortunately Tycoon 3D could be the worst of the series, merely being a stripped down and poorer version of its predecessors.
Gameplay
Tycoon 3D sports two game modes; youíve got your classic mode which gives you all the resources you need to create your own theme park, and a ďstory modeĒ which serves as a tutorial that will assist you on your endeavours. While it is rather lengthy, the tutorials are way too basic to be of any substantial use, and the pointless story thatís included only distracts from the main picture. Button icons are too vague to be of any use, and if youíre playing on the regular size 3DS thereís a poor amount of space on screen for you to see what youíre doing. Also, the amount of rides that you can include in your theme park has been drastically reduced. There are absolutely no water rides which one of my favourite parts of the previous games in the series, and whatís left are the bare basics of a theme park. Not much fun to be had.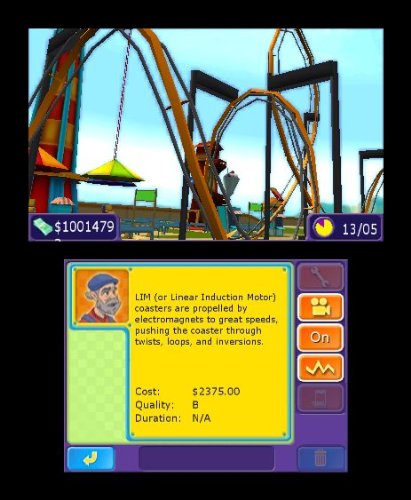 Thankfully Tycoon 3D does integrate some of the 3DSí technology into its gameplay. Players are allowed to attach cameras to any location on their rollercoaster in order to take a picture of the people on the ride, mainly you. Itís a fun little distraction that I was actually pleasantly surprised to see included judging by the rest of the gameís lacklustre content.
Graphics
Although Rollercoaster Tycoon 3 is nearly eight years old, it looks miles better than anything Tycoon 3D can produce. Despite this being only a 3DS game, the consoleís hardware is capable of so much more than whatís on offer. Textures are blurry (which makes the 3D effects headache inducing), details are extremely low, and the overall frame rate leaves a lot to be desired. The first person view of your roller coasters and rides shows a little improvement, but it only makes the overall presentation seem less consistent.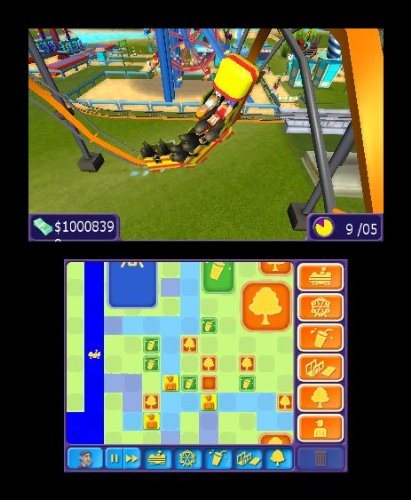 Audio
As Tycoon 3D is based around theme parks, expect to hear the chatter and screams of delight coming from the visitors at your theme park. While it is appropriate to have this kind of ambience in this game, and it does sound like an actual them park, it gets old fast and you begin to realise that itís a continuous loop of the same sound regardless of how well or how poorly you are managing your theme park. Itís not essential to your gaming experience, so thereís nothing wrong with turning down the volume and putting on some music while you play.
Final Thoughts
Rollercoaster Tycoon 3D gives you all the basic tools you need to create a theme park, but the lack of details and content seen in previous games in the series results in a rather unsatisfying gaming experience. While the game does take advantage of the 3DSís technology to create some fun little distractions, thereís not much else to get excited about. Fans of the Rollercoaster Tycoon series may find some level of nostalgia playing Tycoon 3D, but if they were waiting for a genre defining entry, this certainly isnít what theyíre looking for.