Pro Evolution Soccer 2011 3D
The definitive soccer series Pro Evolution Soccer (PES) scores its way onto the new Nintendo 3DS console that enhances the gameplay with the inclusion of glasses-free 3D. Just like its home-based console brethrens, the 3DS version is almost a straight conversion that boasts all the main gaming mechanics and more importantly controls that actually work. Supporting a variety of gameplay modes that include single player, exhibition modes, Champions and Master Leagues and PES 3D is no slouch when it comes to gaming. The game also makes good use of the 3D on the Nintendo 3DS which offers a few views such as a traditional side on view and a third person over the shoulder view.

The control system of PES 3D has been mapped well on the 3DS console with the main controls being the D-Pad (God bless you Nintendo) to control your soccer player plus the face buttons and shoulders buttons for kicks, views etc. You do have some decent controls over your players and Konami have ensured to include the touch screen where you can modify your in-game tactics.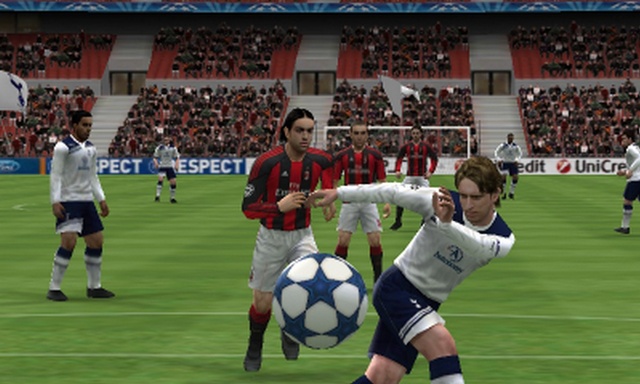 With that said, this is a pure soccer game on the 3DS and the controls are quite sturdy without them being overtly complicated. Whether your passing, kicking or attempting to block a goal, the gaming mechanics feel like those classic soccer games of yesteryear but with some much needed 21st century mechanics for added accuracy such as passing or the power of your kicks.
The AI of your opponents also lean more on the challenging side than easy which may take some gamers a little while to find their feet but it's great that Konami did not dumb down the game. Unfortunately there is no training option on the 3DS version so newcomers to the franchise will need to be thrown into the deep end to master the controls. However by playing for a few hours, the controls will soon come to you rather and if in doubt, check out the manual.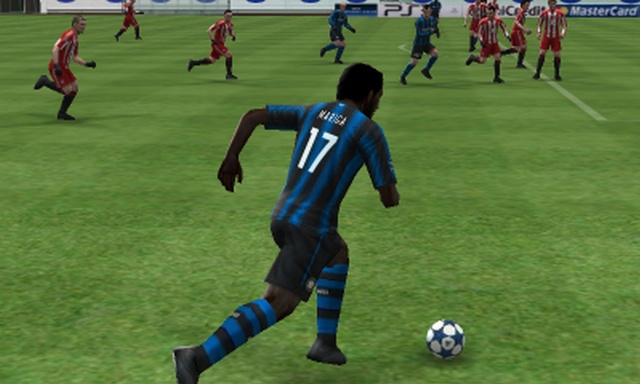 However if you're looking for a full Pro Evolution Soccer experience than you might want to stick to the home console versions. This is not to say that PES 2011 3D is a bad game but the game modes on those other consoles are a little more in-depth such as the Become a Legend which has become quite popular as you attempt to career your way through soccer and become the next soccer star. Also, certain leagues are missing in PES 2011 3D but to be fair to the developers, they would have been limited to what they could include on this console.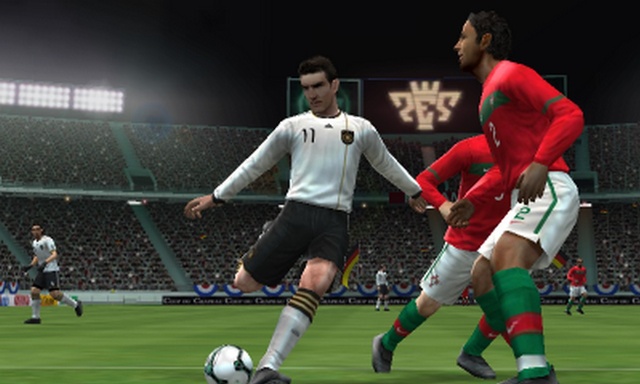 The game does support a multiplayer mode for a head-to-head connection and unfortunately there is no online play which is a little frustrating. The StreetPass mode is actually quite interesting and if you do happen to walk by someone in the street with this game, it automatically challenges them. Given all these facts, PES on the 3DS is a pretty fun soccer game and contains everything you need on the portable version.

Graphically, PES 2011 3D is a very good looking game with impressive gaming environments. Even on this relatively small console, there is a sense of scope as you walk into the stadiums that actually looks gigantic. With the inclusion of 3D, these stadiums really come to life as do the players that are well animated and have some nice texture details. Add in a decent frame-rate and PES 2011 3D is a good looking game. Unfortunately it does suffer from the 3D jitters which means that if you slightly move your head while playing, the 3D graphics go a little askew and you need to move the screen or your head to find that perfect spot again. This sometimes becomes an issue if your in the middle of some action such as attempting to prevent your opponents from scoring a goal. Even so, PES 2011 3D flows quite well in terms of the graphics and gameplay combining.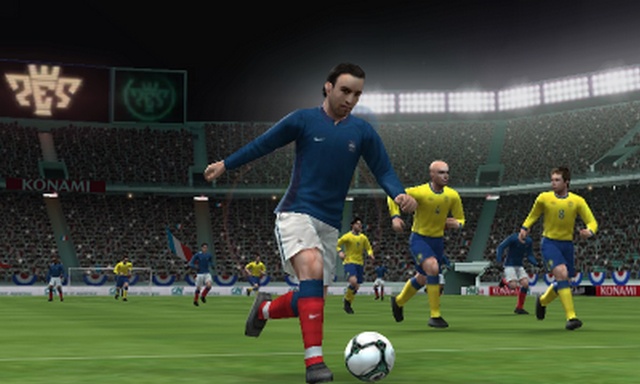 The soundtrack of PES 2011 pumps on the 3DS with a variety of pop/rock bands gracing the game and there is even commentary included that is masterfully done by Jon Champion and Jim Beglin. Add in all the other sounds from soccer and I had a ball playing this soccer game on the 3DS!

In the end, Pro Evolution Soccer 3D offers great controls on the 3DS with some good use of 3D graphics. There is definitely enough content in this game to keep even the most fussiest of soccer fans happy such as the Master League but when you attempt to explore more like online content and full license teams, these are unfortunately missing. Even so, Pro Evolution Soccer 3D is a fun game on 3DS and will definitely set the benchmark for future titles.