Pokémon Mystery Dungeon Gates to Infinity is unlike your traditional Pokémon games and takes the player to the world where these creatures live but unfortunately for the Pokémon, something nefarious threatens their perfect paradise. There is a saviour however and this saviour is the player who must choose a Pokémon to be their virtual avatar and this includes Pikachu, Snivy, Tepig, Oshawott and Axew. Of course being a traditionalist, I chose Pikachu as the character and thankfully he had some friends to assist him on this epic quest.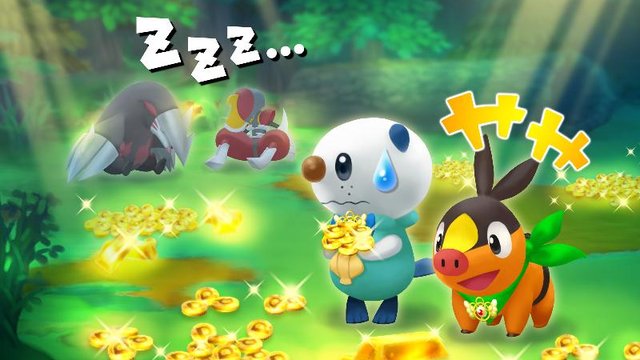 Your questing begins in the town of Pokémon which also serves as a hub for your character and is a place where you make friends and read plenty and I mean plenty of endless text scenes. Like previous Pokémon Mystery Dungeons, Gates to Infinity uses the traditional roguelike gameplay of turn based play. As you do explore the game, your Pokémon's only have four commands which sometimes does draw out the battles that you play.
There is some basic customisation available and levelling up but you can clearly see from the gameplay that the developers were targeting the younger gamer, especially fans of Pokémon. Once you have defeated a Pokémon in the dungeon, you then have the option of recruiting them to your party but once again, it's generally your party members not you that lets the entire team down. Interestingly enough, multiplayer is far superior than single player due to your relatively silly AI members.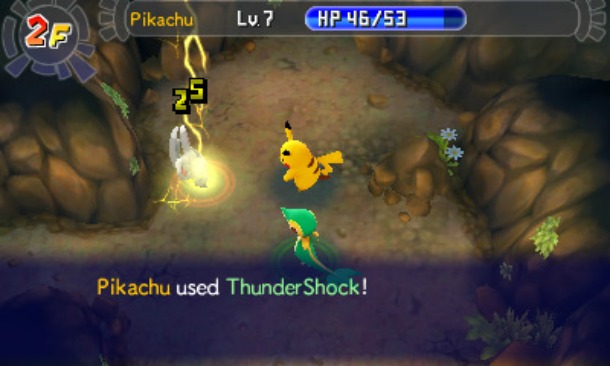 On interesting feature of this game is the use of the 3DS Camera which allows you to scan objects in order to create new random dungeons for you to explore. In terms of exploring, the game allows you to play with up to three people and unlike traditional roguelike titles, most gamers, even younger games should have no difficulty in completing this title, especially that you don't need to feed your Pokémon.
The game is probably more difficult if you play the game solo and as mentioned, your party members generally cause more nuisance than help. Once you have a completed dungeon, you are awarded items and treasures that can help rebuild areas of Pokémon Paradise. I must admit that I found the world-building of Gates to Infinity quite pleasing compared to the exploration of the dungeons that unfortunately seemed a tad too repetitive.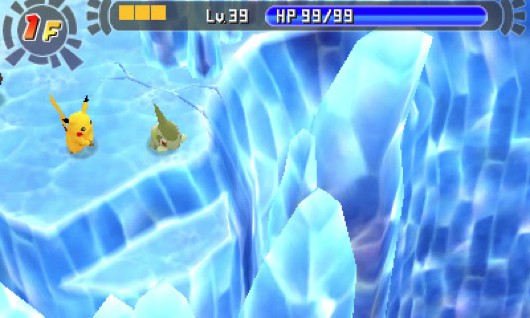 Graphically, Pokémon Mystery Dungeon Gates to Infinity looks like a colourful wonderland on the 3DS thanks to the stylised characters and there's some great use of special effects and lighting. For the majority, the 3D works okay but like most 3DS games, I usually disable this feature. It does however add an element of depth. The biggest issue with the graphics is that they seem dated and many Japanese RPG titles are stuck in this late 90's rut. It's like Star Trek Into Darkness using special effects from the 60's on a high definition TV.
The musical score is your traditional Nintendo synth-soundtrack which suits the graphics and gameplay but is ultimately forgettable. It would have been nice if the developers replaced the endless text screens with voice but alas this was not to be. When combined together, this game was almost there but something prevented it from being a mediocre game to something amazingly fun.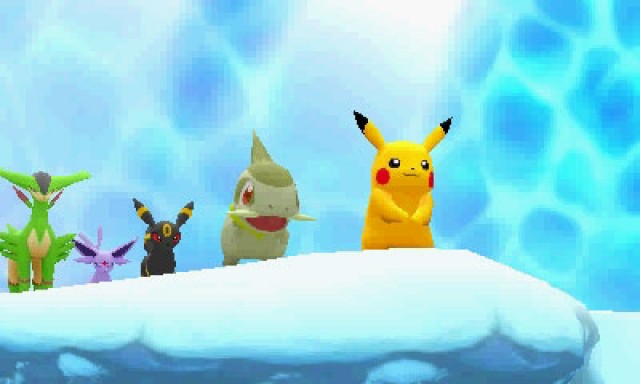 Final Thoughts?

Having played the previous Pokémon Mystery Dungeon title, I found Gates to Infinity a cut down version of traditional Japanese RPG titles, especially the roguelike genre which seems like it has been watered down. The premise of the game is definitely there but it seriously needs some tweaking and additional Q&A which is a shame as the Pokémon franchise is so fun.