Nintendo 3DS
Although we've previewed the Nintendo 3DS just before it's official launch (31/03/2011) in Australia, we decided to hold back on a full review of the console in order to give the unit a thorough testing and more than 10 games later, we're finally ready to give our final verdict. When it comes to fun, Nintendo are definitely our gaming forefathers and they've created some truly entertaining games and consoles. From the intuitive wireless controls of the Nintendo Wii which have now been mirrored by both Sony and Microsoft, to their spectacular new console the Wii U (2012) which takes gaming to a whole new thanks to their touch-screen controller, Nintendo definitely think outside the square. However with their newest portable console and the success to the DS, their new 3DS console supports glasses-free 3D gaming. You heard correctly!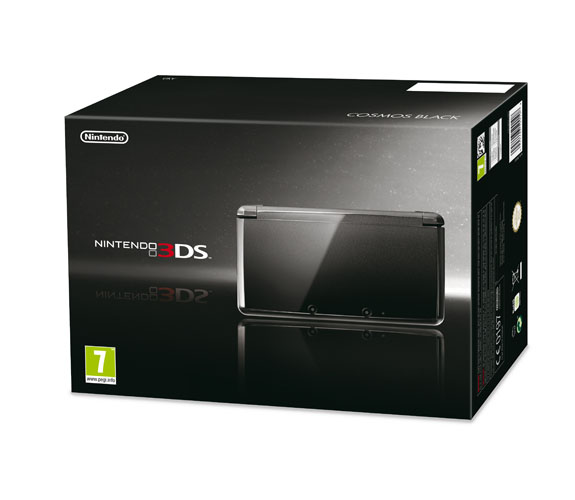 In laymen terms, this means that you can experience 3D graphics without the need for those fiddle some 3D glasses that are mandatory in both the cinemas and 3D compatible TV's. Although we were sceptical at first, the 3D glasses free technology actually works and games like Dead or Alive Dimensions, Pilot Wings and Ridge Racer 3D really make good use of this technology. Add in the exceptionally clear graphics and higher resolution and Nintendo have definitely changed the future of games. Unfortunately the glasses free technology comes at a cost and in order to fully immerse yourself into this technology, you need to be as still as possible. The limitation of this technology is that if you move your head slightly, it will cause all the 3D graphics to dart and then your eyes need to recalibrate to the 3D technology. This does get a little frustrating, especially if you're playing games that require you to move your 3DS console considerably such as PES 2011 or Street Fighter IV. However for what it is, it's actually rather impressive and the 3D looks fantastic.
Unfortunately there is another issue with the 3D technology employed by this console which drains the batteries quite fast when this mode is being used. Depending on what game and whether you're using Wi-Fi, the battery will last around four hours of constant play but could be less or more. This why Nintendo created a dock for this console that makes charging quite easy as you simply just push your console into the charger to start charging as opposed to a myriad of cables. In relation to charging, the console takes around 3.5 hours to successfully charge. In relation to 3D, it was a bit of a hit and miss for the majority of us and after the wow factor wore off, most games we played was with the 3D effect turned off. There is a slider on the side of the top screen that allows you to adjust the 3D effects or disable it completely. This is not to say that the technology doesn't work, it just has a few limitations and is a little gimmicky at the moment. Even so, it's a treat to use and maybe even a little special.
What's in the Box
Nintendo 3DS system

Nintendo 3DS charging cradle

Nintendo 3DS AC adapter

Nintendo 3DS stylus

SD Memory Card (2GB)

AR Card(s) (view the cards using the outer cameras to play supported AR games)

Quick-Start Guide

Operations Manual (including warranty)
In terms of design, the 3DS is quite sleek and fits well in your hands. Whether you have small child-like hands or behemoth fingers, you should have no problems in navigating the unit. It is a little bulkier than the previous DS but this console has 3D capabilities, a larger screen and is more powerful so it is a small price to pay for improved quality and features. The console also boasts three cameras, one while the console is opened and the other two on the back to take photos and even 3D photos. Buttons are all in the right places with the new additions being the circle pad that acts as a type of analog stick (HOORAY). This is located on the left of the console. It also has slider controls for volume/3D depth control and button to enable or disable Wi-Fi. The buttons also feel quite comfortable to use and all the controls, including the shoulders buttons feel in the right place. The buttons Start, Select and Home are also nicely located just under the bottom screen. It's a well designed console in terms of design and no gripes from us.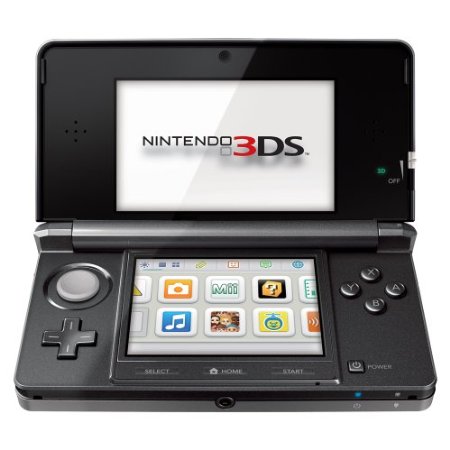 3DS Highlights
3D screen, enabling 3D view without the need for special glasses and the ability to adjust or turn off 3D effect with the 3D Depth Slider.

Stereo cameras that enable users to take 3D photos that can be viewed instantly on the 3D screen.

New input interfaces including the Circle Pad, motion sensor, gyro sensor

SpotPass, a feature that lets Nintendo 3DS detect wireless hotspots or wireless LAN access points and obtain information, game data, free software, videos and so on for players even when the system is in sleep mode.

StreetPass, a feature that lets Nintendo 3DS exchange data automatically with other Nintendo 3DS systems within range, even in sleep mode once this feature is activated by the user. Data for multiple games can be exchanged simultaneously.

Convenient features that users can access without stopping game play such as the HOME menu, Internet Brower, Notifications, etc.

Plenty of built-in software such as the Nintendo 3DS Camera, Nintendo 3DS Sound, Mii Maker, StreetPass, Mii Plaza, AR Games, Activity Log, Face Raiders, etc.

Nintendo eShop where users can view trailers, software rankings and purchase software.

System Transfer which enable users to transfer already purchased software from one Nintendo 3DS system to another. DSiWare purchased for the Nintendo DSi or the Nintendo DSi XL can also be transferred into a Nintendo 3DS system.

Compatibility functions where both new software designed for Nintendo 3DS and most software for the Nintendo DS family of systems can be played.

Parental Controls which enable parents to restrict game content by ratings as well as use of specific wireless connectivity, 3D functionality, etc.
The unit even comes with gyroscope technology that like an iPad or iPhone which allows you to tilt the device as a controller or while you are playing augmented reality games. For example, you might use the gyroscope to place a racing game so when you tilt to the left, the car will move to the left. Monkey Ball 3D uses this technology which is actually fun but unfortunately this hampers the 3D effect because of so much console movement by the user.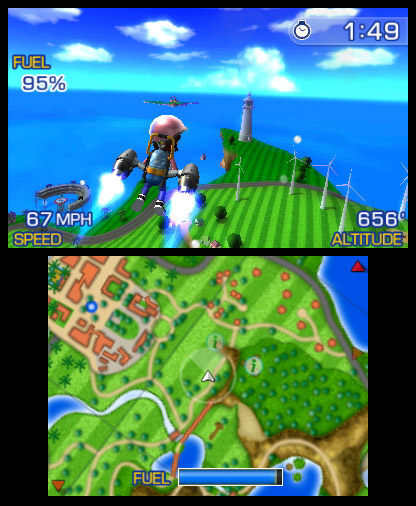 One issue with the launch of the console is that it lacked real internet access. Thankfully accessing the internet via Wi-Fi is now available as Nintendo have released a patch to rectify this. I'm not sure why Nintendo held back so long but it's great that it's finally here. It was a strange one because the console even had an icon for the internet which did put a dampener on it for some 3DS users. Happily, it's now available. Also, the Wi-Fi of the 3DS is quite decent as well and we had no dropouts whatsoever. When connected to our router or hotspots like Federation Square in Melbourne, it stayed connected and done what it was supposed to do.
Size (when closed)
Weight
Just like the DS, the 3DS boasts two displays, a top screen which is the 3D screen and supports a resolution of 800x240 with the bottom screen or touch screen boasting a resolution of 320x240 and in conjunction, both screens work quite well. Viewing angles is acceptable, although for best results, you need to view the unit directly head on. As mentioned, the camera supports three VGA cameras of 0.3 megapixels which translates to around 640x480. The two rear cameras allow you to take 3D images that is a nifty trick of smoke and mirrors. One issue with the screen is that it is a little too reflective so in bright lights, it does hamper your gaming experience.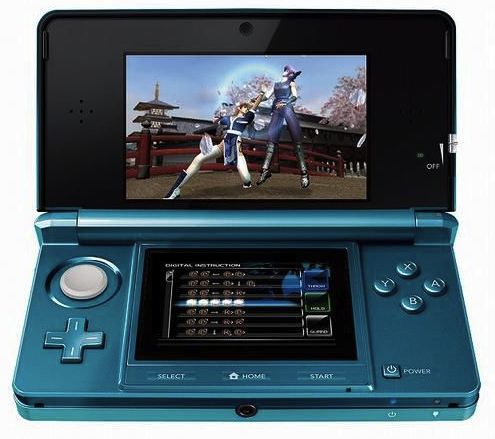 Gaming Controls
A/B/X/Y Button, +Control Pad, L/R Button, START/SELECT

Circle Pad (enabling 360-degree analog input)

Touch screen

Embedded microphone

Camera

Motion sensor

Gyro sensor
Console Controls
3D Depth Slider (enabling smooth adjustment of the 3D level effect)

HOME (HOME button brings up the HOME menu)

Wireless switch (can disable wireless functionality even during game play)

POWER button
Nintendo have also upgraded the operating system of the 3DS that allows for more user interactivity and control of what you can do on the console such as the Mii Maker to create your own virtual people or the Mii Plaza that allows you to collect and interact with other 3DS units via StreetPass. StreetPass is an interesting feature that basically allows your games to play against other people while you walk past them in the street. You might come over after going to the city and discover that your 3DS has been busy with Super Street Fighter IV or some other title. The console even comes with two augmented reality games that are AR Games and Face Raiders. They are nothing special and could be considered more tech demos as opposed to games but it does showcase this technology well.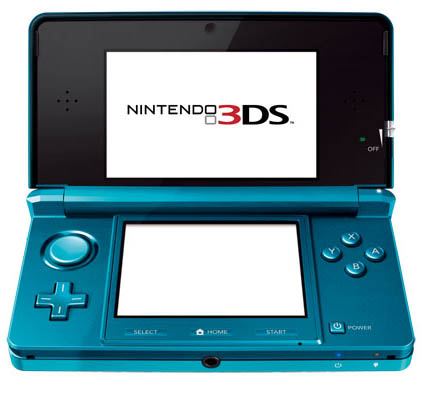 Camera, Screen and Wireless
Upper ScreenWide-screen LCD display, enabling 3D view without the need for special glasses. Capable of displaying approximately 16.77 million colors. 89.6mm display (76.70mm wide, 45.97mm high) with 800 x 240 pixel resolution. 400 pixels are allocated to each eye to enable 3D viewing.

Lower ScreenLCD with a touch screen capable of displaying 16.77 million colors. 76.70mm (61.46mm wide, 45.97mm high) with 320 x 240 pixel resolution.

CamerasOne inner camera and two outer cameras. Resolutions are 640 x 480 for each camera. Lens are single focus and uses the CMOS capture element. The active pixel count is approximately 300,000 pixels.

Wireless Communication2.4 GHz. Enabling local wireless communication among multiple Nintendo 3DS systems for game play and StreetPass. Enabling access to the Internet through wireless LAN access points (supports IEEE802.11 b/g with the WPA™/WPA2™ security feature). Recommended distance of wireless communication is within 98.4 feet. This can be shorter depending on the enviromental situation. WPA and WPA2 are marks of the Wi-Fi Alliance.
Gaming is where the console really shines and there's some spectacular launch titles available for this console. Dead or Alive Dimensions looks amazing on this console and best of all, it plays extremely well. Ridge Racer 3DS is probably the most fun I've had with this series since its launch on the PlayStation and then we have Steel Diver, a submarine simulator. It's great that we are getting more adult content for this console. However these games pale in comparison to some of the awesome upcoming titles that have yet to be released which include Legend of Zelda: Ocarina of Time, Kid Icarus and even a new Metal Gear Solid. Needless to say, we're very excited. Given that, developers are really supporting this new console and compared to the Nintendo DS, games have improved leaps and bounds on this console thanks to its crystal clear graphics, 3D and more powerful CPU. Did someone also mention a new Mario game! You betcha! However some developers are resting on their laurels and are producing shovelware. These are bad DS ports that now support 3D graphics… not cool.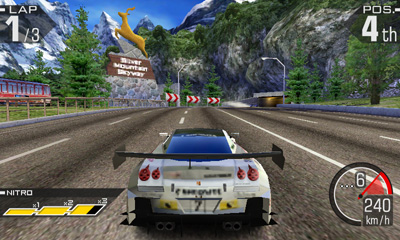 Conclusion
Now that Nintendo have released a software upgrade for their Operating System on the 3DS, this is probably the best time to purchase this console. The games on this console are amazing and Nintendo have really upped the ante in the world of potable gaming. However the biggest issue is that the 3D does zap the battery and this is dependent on a quite a few factors. Hopefully a new third party battery will be available and I'm sure that Nintendo will address this issue in the next version of this console whenever it gets released. Even so, the technological achievements of the 3D and the improved graphical capabilities of the 3DS have sold us. It may not be perfect but it's a valiant attempt and challenges the way we play and view games in the 21st century.