Just like clockwork, SEGA have released their latest Olympic Games special to coincide with the London 2012 Olympics as two gaming universes come together to celebrate this event. As a plethora of Nintendo and SEGA characters are featured in this single-player and multiplayer game, there are over 50 Olympic inspired events (mini-games) to play and best of all, it looks thoroughly impressive in 3D, especially due to the colourful visuals that grace this cartoon looking sporting title.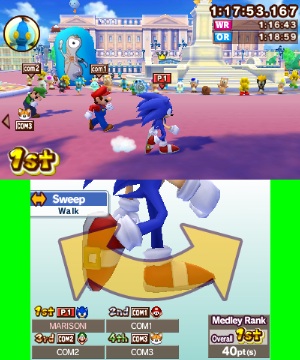 It only seems like yesterday (2008) that SEGA released their last Olympic crossover with Nintendo and although this game has been available on the Wii for some months now, the 3DS version is a much more simpler version. Given that, I would say that this game is definitely targeting the younger audience due to the simplicity of some of the games but even so, older gamers may get a kick or two out of this title, especially with all the Nintendo and SEGA fanservice.
Apart from engaging in endless events (Single Player), the game even supports a story mode which has some fun cutscenes thrown in for the gamer as Mario and Sonic attempt to stop Bowser and Eggman from destroying London. With the events, they are not full home console sporting events in length but rather mini-games that showcase the main spirit of these games For example, the 100metre sprint is basically over in about 10 seconds or tennis that is finished when a player wins 3-games. Small bite sized doses!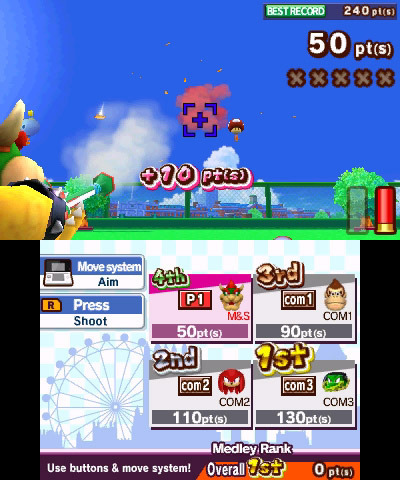 Events for Mario & Sonic at the London 2012 Olympic Games are quite varied and include titles such as soccer, running, judo, fencing, weightlifting, taekwondo, all with their pros and cons. Given that there are over 50 Olympic inspired events in the game, some of these titles are misses as well such as pole vault which is a little too simplistic or games that require rapid tapping of the controller which interferes with the 3D. However the good thing about the simplistic nature of some of the games is that the learning curve has been drastically reduced so you get straight into the game without overtly complex controls.

In reference to controls, some of the games require button mashing, other titles requiring the player to use the stylus on the screen or my favourite the accelerometer which requires you to tilt the 3DS for particular events. Like the games, some work and some don't. Back to single-player, the game allows the player to either select a single game where you select what sporting event you want to take part in or a Medley Match where you can select to play a series of events. With multiplayer, local play allows for other owners of the 3DS to either play with their own cartridges or via download play. All in all, it's a well thought out title.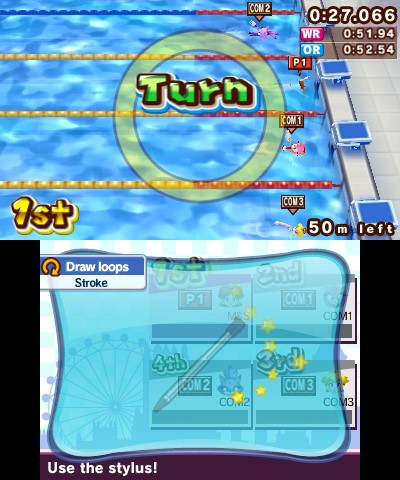 Graphically, Mario & Sonic at the London 2012 Olympic Games is a good looking title on the 3DS with lots of colourful environments, characters and snazzy special effects. Character animation is good and the implementation of 3D is decent, although games that require constant console moving does hamper this effect. Music and sound all seem to have been taken directly from other Nintendo and SEGA games (although tweaked for the Olympics) that compliments the cartoon experience.
Final Level

With over 50 sporting events, Mario & Sonic at the London 2012 Olympic Games offers some great replay value for the end-user, although it can become a little repetitive. If your expecting a full game experience like on the Wii or PS3, this is definitely not the title for you but if you're looking for a collection of fun and sometimes forgettable mini-games, than there's enough content in this game to keep you entertained. Between you and me... I actually had more fun playing the 3DS version compared to the somewhat convoluted Wii version! A great game for kids!