Zumba Fitness
We have two revolutions here... the Zumba craze which has taken the world by storm and the Kinect for XBox 360 which seems to have taken casual gamers... by storm as well. With that said, Zumba Fitness will not appeal to everyone and if I was to make an educated guess here, I think the majority of gamers will be female as they dance their bodies to a variety of Latin beats and dance moves.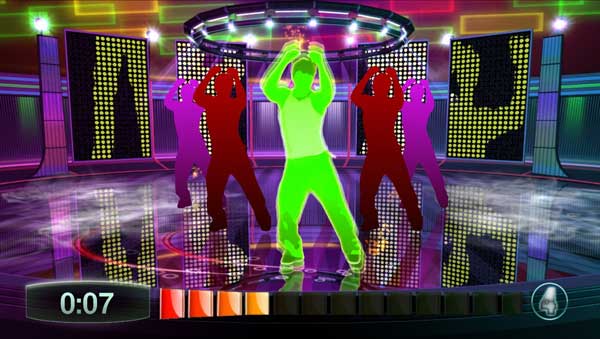 Features :
Utilizes the controller-free functionality of Microsoft Kinect to bring the Zumba Fitness experience home with you in the first interactive game based on the successful brand.
Learn and perfect nine different dance styles: Reggaeton, Merengue, Salsa, Cumbia, Hip-Hop, Mambo, Rumba, Flamenco and Calypso.
Includes more than 30 Zumba routines - some exclusive to the game.
Follow your on-screen Zumba instructor's routine in a high voltage party atmosphere. As you fine tune the steps, the stage and party transforms in dynamic new ways.
Supports up to four players -- both locally and online -- as you team up and try to earn the highest workout score as a group or play against each other in Zumba Attack! Mode for the ultimate fitness dance off.
Dance in a range of venues: learn the basics in the Zumba gym and then take the party to a fantasy night club, an industrial factory, a skyscraper rooftop and a futuristic Zumbathon stadium.
Includes "Learn the Steps" training, Beginner, Intermediate and Advanced routines for all skill levels.
Dance steps learned can be taken with you if you attend a real Zumba class or on the dance floor at your next party.
Cleverly enough, the creators of Zumba Fitness, Pipeworks Software have thought that by introducing the world of Zumba to the Kinect, it will allow gamers to not only play and have some fun but also lose some kilos. To an extent this works but the biggest problem with Zumba Fitness are the dance moves which are a little too fast. This is not to say it's a bad game but coordination is the key.
With the upbeat Latin music, the moves are quite fast and it would have been if the official Zumba instructors Tanya, Gina and Zumba creator Beto spent a little bit more time in explaining the various dance moves during the learning stage of the game. But just like any game, you need to spend some time learning and if you persevere, the game will be more enjoyable. The biggest downfall to Zumba Fitness is the menu system... once again. Just like quite a few Kinect games, the menu is excruciatingly painful to use. But once you go get into the game, it's time to ZUMBA!
Thankfully, I had my lovely girlfriend to assist in this review and with that said, the title supports up to four players for multiplayer fun with also a sturdy single-player game as well. The game does support online play for both competitive and co-operative modes but unfortunately this could not be tested for this review.
Before starting, you need to ensure that your Kinect has been configured properly or the gameplay will suffer. Once we got to the crux of the game, Zumba Fitness is a combination of fitness meets dancing and we did work up a good sweat. As we danced to our hearts content, we had a ball trying to mimic these Zumba moves with its South American music.
With a variety of dance modes available, you can play the game for a 5-minute workout or even up to 45 minutes as you dance along to a variety of Latin inspired dances such as Salsa's and Samba's. To start your Zumba fitness career, all you need to do is follow the onscreen character's movements and that's basically it. Just like Dance Central.
This dance system is coloured coded so if it's green, it means the player is doing well, however if it turns orange or red, your coordination is messed up. The good thing about the colour coordination scheme is that you can rectify your moves quite easily. It's a great little visual prompt system. Although I enjoyed Dance Central more, Zumba verges more on the fitness world as opposed to just a dance game.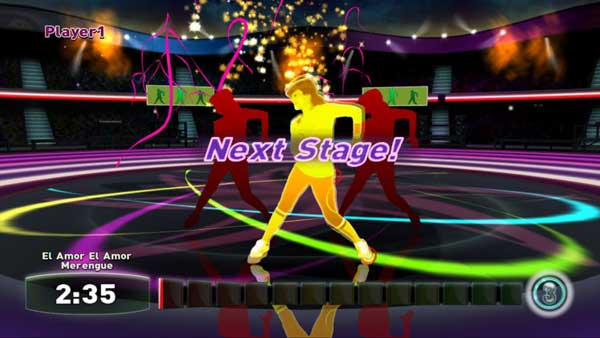 Graphically, the title has this real dance feel to it. The game does mimic all the Zumba characteristics quite well but in terms of outstanding graphics, the game is a little on the average side. But then again, this is more a workout/dance game as opposed to something hardcore. There are a variety of different "dancing" environments such as the cool Zumbathon stadium or the night club that does liven things up. The music is the highlight of the title with all those fast Latin beats that has made Zumba so popular. The voice acting is a little clichéd and condescending though :)
In conclusion, Zumba Fitness is a relatively affordable option for getting Zumba in your home as opposed to the $100+ Zumba DVD set. This game is not for everyone but if you're looking for a fitness game with some SLAM behind it, this may be for you. Just be warned that you will need coordination and the lessons needed to be a little bit more in-depth. Nonetheless, it's definitely for the casual market and I'm sure fans of Zumba will enjoy! 6/10 for serious gamers and 7/10 for Zumba fanatics!