Who does not know the old cliché line, Lights, Camera, Action! An interesting twist on the Karaoke theme comes "Yoostar 2 In The Movies" by Yoostar Entertainment Group, and developed by the talented folks at Blitz Games Studios. (Yes we have Karaoke Revolution American Idol in the house hold offices) As I said, it is like Karaoke, but not. Instead of getting up in front of friends and family and singing, you get to not only get up and perform lines from well-known movies, and television shows, through the technology of chroma keying you are actually part of the scene literally.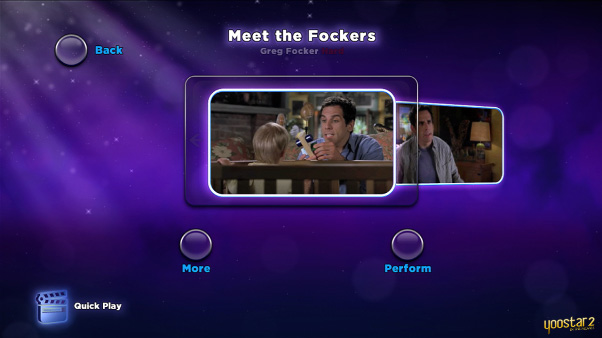 It is a kind of giddy fun being planted into a scene with some iconic legendary scenes such as the original Star Trek Trouble With Tribbles episode. Ones inner geek quivers with the happy dance. Being in scenes with well-known actors is a blast. What I like the most is that the play has options from performing the lines as written, or improvising, there after to scored by the game on your accuracy and overall performance. There are many creative fun ways to play here. Challenge mode gives you a progression of scene challenges that can open up additional areas on the road to your player's Hollywood career. Quick Play mode strings together up to five single- or two-player scenes in a row for fast-action fun.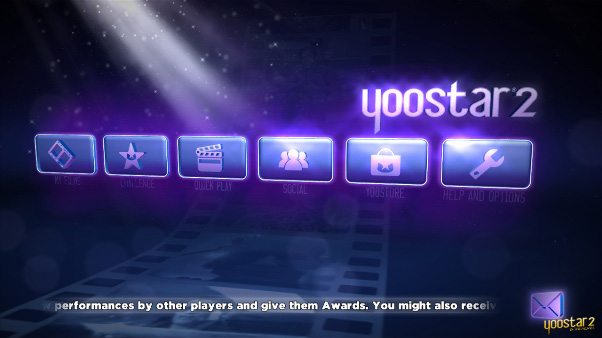 After doing a scene, the player has the choice of saving the scene to the hard drive in order to upload and share the scene. Yoostar 2 has it's own in- game social portal, though you can also upload into the PS Network, Xbox 360 Live, Yoostar.com and even Facebook. The whole experience of the game is expanded with an extra bit of fun. Yoostar Playground, it is a free Facebook game that takes it to different levels. Players in Yoostar Playground can take on the role of a Promoter, a Critic, Director and even an Editor. All these game play mechanics tie back into the main games player profile and scores.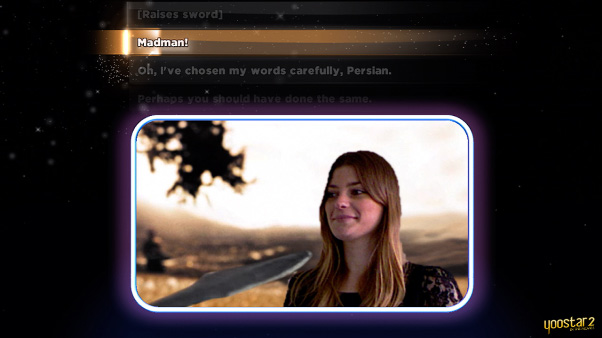 For those have a difficult time accessing Playground features through the console, you have to link the two. Thank you to support for supplying this information on how to do that.

1) Go to Playground to initiate the process. Playground can be accessed by going to playground.yoostar.com or apps.facebook.com/yoostarplayground

2) Select the ""Link Account"" tab

3) Choose your platform (Xbox or PlayStation) and enter your gamertag or PSN ID

4) A unique, secure code will be sent to your console - it will appear in the newsfeed on the Yoostar 2 Main Menu

5) Write down the code and enter it into Playground

6) Return to your console and go into the Social Menu in Yoostar 2 to complete activation

If you have activated your by linking your console with Yoostar Playground, please note that you must set your uploads to "Everyone" and select allow facebook each time or else your performances will not be visible in Playground.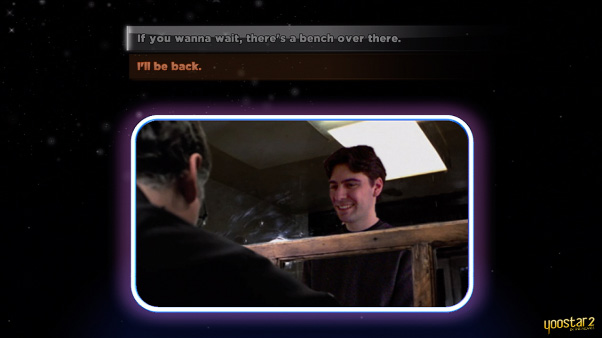 The game comes ready for the budding closet actor, sporting 80 movie scenes, 10 Hollywood Sets and 20 Video Backgrounds; better yet, there are already available DLC to enhance the game with hundreds of more scenes. This is a good thing, because DLC will ultimately be the games lifeblood, giving it some staying power and replay ability beyond its charming draw on release. One word of caution regarding DLC, the player will be wise to keep track of what DLC they get. Because some scenes sold separately, may also be available in DLC packs. It would not do to pay for the same scene twice. The single scenes at this time on Xbox Live are going for 160 points, and the first Scene Pack of five scenes is going for 560 points.

Yoostar 2 has a sumptuous choice of scenes right out of the box. Scenes include All-time classics like "Casablanca," and "The Wizard of Oz"; Popular TV shows such as " Star Trek", " Mad Men", and "CSI". Hits such as The Hangover, Tropic Thunder, Meet The Fockers, 300 and Kick Ass; Modern classics like "The Godfather" and "Rocky". With so many scenes, it is not only fun to play, but also challenging.

With so many scene sources and content there is bound to be some adult content, the game is good about warning ahead of a scene that there may be content that will not be suitable for some gamers. This is a small thing in the game, but many parents will find this to be a welcome thing. Yoostar 2 In The Movies is very much a social party type game, and a game that a family can play together, keeping that in mind; developers had the foresight to place those little warnings in the game on some scenes.
The game may need a few tweaks; then again, it may be as tweaked as it is going to get. Some people may feel a bit disillusioned that the game play is not as rock solid clear as the video previews and dev diary footage. To be fare I will point out two things, each one of the preview videos we have seen had always said game play was simulated. In other words, more of a concept of what the game inspires to be. Some players will notice a pixilation blobs and sparks around their selves when recorded into the game play. This can be expected a bit in a darker room, the quality of the game capture has a lot to do with lighting too. I experimented with different levels of lighting with various results. Having a well lit room worked best obviously. With the better-lit room, I was rather pleased with the results.

One hint for those that may run into no sound recorded from players when you play the game…nothing wrong with the game at all. You may actually have the Kinect microphone turned off. Go into the Xbox Kinect set up and turn the mic on.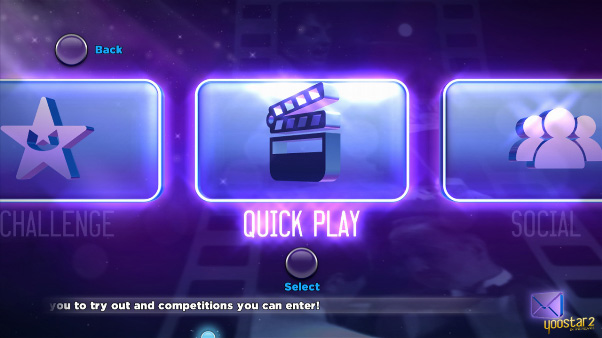 Controls in the game are responsive almost to a fault. The choice cursor snaps to the closest thing on screen for a choice if you are not careful. The interface takes some getting used to. I found my self-accidently choosing things I did not want to choose. Then having to go back and choose again, perhaps some more experimenting with the control tweaks in set up are in order.

While not a flaw, the one thing I am a bit let down about is that nothing is in full screen mode. The action plays out in a box on the centre screen. I pity the folks with a smaller TV set. Other things that I am sure if there is a problem reported from other players they will be working on a way to fix any issues, one that I ran into was occasionally things would freeze up and or go into a fast stutter on playback. In all night marathon of game playing for preparations for this write up, this only happened three times. In a space from a solid game run from 8pm to 3am in the morning. Therefore, I can see this game being one you will come back to for more game time; it was a bit hard to put down once really getting into the game.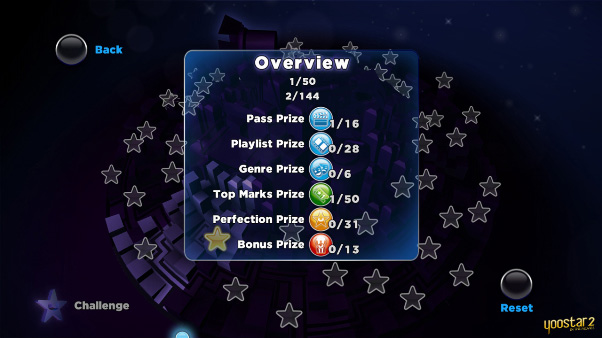 While these twitchy things mentioned amount to several minor annoyances that slow the game play down a bit, none of them is a game breaker. Yoostar 2 is not the ultimate powerhouse party game, but its star does twinkle in the sea of games. Perhaps with all of the planned support Yoostar 2 In the Movies will shine like the Hollywood star it inspires to be. For now, a solid party game and is well worth a go at your next get together.

Have fun, play games…and now be in the movies!

Edwin Millheim
United States Editor
Impulse Gamer