Although THQ have a strong hold on the wrestling market in the console world, the series has always been quite good, although there have been a few gnawing issues with gameplay which slightly tarnishes the series. Thankfully unlike previous instalments, THQ have actually upped the ante of this franchise and have smoothed out the gameplay, included some cool online elements and even included a Divas storyline for Road to Wrestlemania to name just a bit of the love that the developers have given this game. Some of the wrestlers included are Matt Hardy, JTG, Kofi Kingston, Natalya, Dolph Ziggle, John Cena, Undertaker, Randy Orton and the Edge to name a few of the stars. Yes sir, it's a Wrestlemania festivus!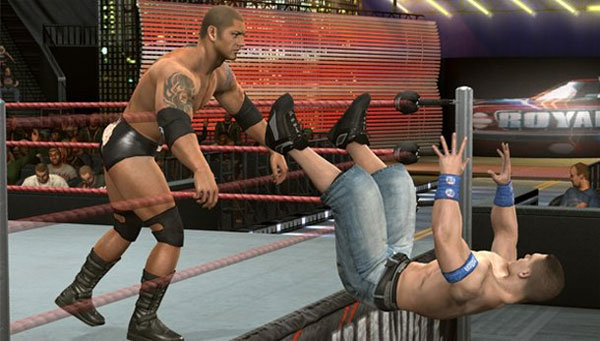 Features
CREATE-A-SUPERSTAR REDESIGN – The franchise's renowned customization interface delivers a new look, improved graphical quality and a host of new parts, allowing players to create Superstars who are comparable in quality with their WWE counterparts. Take creation one step further with a new Paint Tool to detail created Superstars with original tattoos, logos and other unique designs.

SHARE THE CREATIVITY – Share created content with the WWE Universe by uploading created Superstars, entrances, finishing moves, highlight reels, created storylines and more. Utilize the keyword search engine to view created content from around the world and download for use both offline and online.

SUPERSTAR THREADS – For the first time in franchise history, create alternate ring gear for Superstars by customizing the colors of shirts, logos, face paint, elbow pads, boots and much more. Save the alternate looks for use throughout the game and online to show off the Superstars in grand fashion.

WWE STORY DESIGNER – Embrace a directorial role to create and customize unique storylines. A brand new cut scene creation interface includes talent and location selections, dialogue writing, camera angles, Superstar emotions and much more. Construct each night's show card with matches, unique match stipulations, interference events, and other story twists and turns.

ROAD TO WRESTLEMANIA – The popular story-based mode returns with key updates and new storylines, including a first-ever Divas storyline and a Create-a-Superstar storyline.
As soon as the game loads, you're immediately thrown into the professional world of wrestling, thanks to the slick interface of the game. Of course it helps when the soundtrack for WWE SmackDown vs Raw 2010 is pumping and from there, you really need to decide just where to start. The gameplay of this game is extremely varied and contains a plethora of gaming options from traditional single matches which include one on one to Royal Rumbles. This my friends is pure wrestling fun as you throw, hold and pummel the absolutely living daylights out of your sweaty competitors. A new edition to the franchise is the Championship Scramble which puts five superstars in a ring who need to duke it out for supremacy for the title. Very cool indeed!
Our favourite from past games thankfully returns with Road to Wrestlemania that is basically a career mode for the professional wrestler where you pick one of the wrestlers and make your way to the top. It's a hard slog but the Road to Wrestlemania is quite entertaining and features a decent story behind this game mode. For those who like to see sexy female polygons, than you're in luck with the Divas who now grace this mode with their very own storyline. There is even a career mode where you can create your own wrestler and fight your way to the top, although for us, this is no way as fun as Road to Wrestlemania but still cool. I must admit that the customization options in this game are quite ridiculous in terms of the control it gives the player in creating their very own superstar.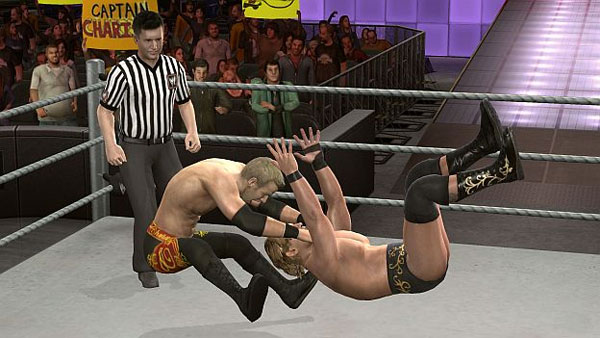 Of course, the star of the game, besides the wide gamut of gameplay modes and wrestlers is the gameplay itself which translates quite well to 21st century consoles. The control system works quite well on the controller with just enough shake, rattle and roll (Force Feedback) to know when things are going good or bad. The most noticeable feature in the game are the manoeuvres which now flow quite well and is reminiscent of EA Sport's NBA Live 10 franchise where the gameplay doesn't stop just because you're trying something new. Whether you're performing runs, holds or reversals, the game gives the player full control, however if you've never played this franchise before, than expect a rather high learning curve. Of course, there is always the tutorial.

As mentioned earlier, THQ have really improved their online aspect of this game and although you can battle and challenge players from across the world, you can even create your own stories, thanks to the Story Designer and I'm really looking forward to this once gamers have mastered it. It does take quite a long time to create, however through some effort, the results will be quite impressive. Whether you're adding intro music or creating your own mean facial expressions for those involved, this is definitely a winner when it comes to replay value.
Graphically, the game is similar to the previous title, however the player animations seems smoother and less clunky. The Divas of course look great and the polygons on all characters make for some realistic gameplay that at times it looks like TV. Best of all, the characters look like their real-world counterparts, especially their intros which is flawless. There is some issues with the collision detection of the game which is a little frustrating but it's good to take it out on the referee but then you'll need to start again.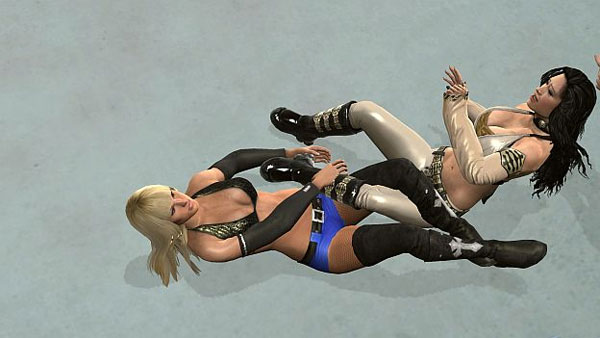 When it comes to sound, the voice acting is quite over the top and suits the genre as does the kickass soundtrack which is oozes with WWE. You especially notice this when you play Road to Wrestlemania as the big names of the wrestling world come to play with their voices. Let's get READY to RUMBLE! On a quick note between the XBox 360 and PS3 version, there is no difference to the gameplay or the graphics and both consoles work quite well. There are some slightly faster loading times on the 360, however as per usual, THQ ensure that neither owner of both consoles are disadvantaged.
Conclusion
Once again THQ have done something that we were not expecting and have shaken up the franchise with a variety of twists and turns. Although the gameplay displays more fluidity and hence makes the control system much more enjoyable, the star of this current instalment is the Story Designer that not only makes the franchise more interactive but creates a true gaming community. Showtime!