Worms 2: Armageddon
Ten years on from Worms™ Armageddon and the turn-based mayhem and destruction continues! Worms™ 2: Armageddon is the most fully-featured digital version of the game ever. With four player online and offline multiplayer, voice support, a raft of new weapons (including the return of some iconic weapons from the past), all-new high-definition landscape themes, new play modes, hats, skins, speech-banks, loads of other customization and to top it all off, a highly-involving single player experience with tutorials, deathmatches, races, fort games, and puzzles. It's a package as high on fun as it is destruction! [xbox.com]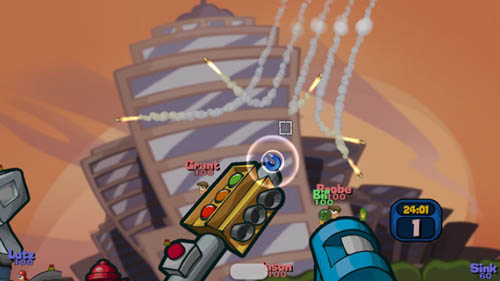 Another classic game returns on XBox Live with Team 17's Worms franchise that boasts the same fun gameplay and some updated high definition graphics. So what is a game about dirty worms all about?
Features
Extensive single-player content: Play through three tutorials, three firing ranges, a thirty-mission campaign, plus five secret unlockable missions.

Online and offline multiplayer: Battle it out in four different ranked game types and extensive leaderboards.

Massively increased customization: Choose from new hats, skins, speechbanks, gravestones, victory dances, and much more.

Retro-themed landscape artwork: The high-definition artwork is based on the most loved Worms game ever made.

Return of iconic weaponry: You've got more than 40 weapons out of the box, including the return of fire weapons and the beloved Holy Hand Grenade.
Actually, worms are a rather clean creature but in terms of the game, it's a turn based strategy game with a healthy dose of action and humour, not to mention a plethora of weapons available for your worms from grenades to bazookas.
Although this current version is based on the PC game, Worms Armageddon, this current installment "2" features some exceptionally sharp and colour graphics. Although the premise is virtually still the same, the online version gives the player access to achievements, leader boards and a brilliant four-player online mode.
The main objective of the game is to solve the current level that you are on which is reminiscent of those old puzzle games such as Lemmings. You basically need to eliminate your enemy worms, however they also have access to weaponry too which turns the title into a game of skill.
Add in the difficulty of getting from A to B and it's a fun yet annoying experience as you try to figure out these colourful gaming environments. You are also awarded gold which can be used to purchase additional items for your worms such as clothes (yes, I know) but more importantly, more kick ass weapons.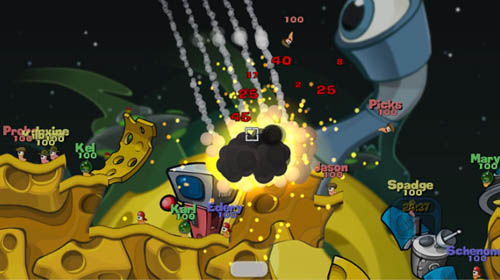 Although single-player is fun, the multiplayer is where Worms 2: Armageddon goes into high kill as players attempt to eliminate each others worm armies. Add in a "race" mode and things become fast paced which elements of frustration and of course entertainment as you attempt to beat your foe.
Graphically, the title may not boast state of the art next generation graphics, however it's Saturday morning cartoon look suits the genre perfectly. Match that with some interesting special effects from explosions and lighting and the game looks decent.
The soundtrack is a little "90's" but it does pay homage to the original PC game but the best aspect is the Worms-like talk which sounds fast and funny. Add in a variety of sound effects and this compliments the graphics and of course gameplay.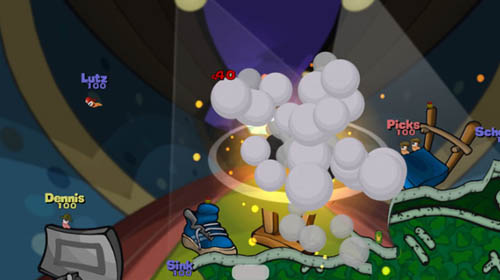 At the end of the day, Worms 2: Armageddon is an entertaining game and is a breath of fresh air from stock standard sports and shooters. It's a thinking man's game that can be played for 15 minutes to hours upon hours. With DLC planned for the franchise, this game is going to get bigger and better. Whether you're a casual or hardcore gamer, Worms 2: Armageddon might be the break you need.