Koei is back with yet another Warriors game in the series. This time around you are faced with the character Orochi who is a demon who wishes to face off against the most powerful warriors from previous games that have come before. Not the most original plot but still proving to be fun for those who are fans of the series.
Once again, there is a fusion of magic and sorcery in the title with Orochi showing just how big his cajones are by ripping holes in time and space to get his fight on. I think heís forgotten that the first rule of Fight Club is that there is no Fight Club, so for stamps he wants to whip some buttÖ namely yours!
For those in the dark about this game, there is not much to it. Youíll be dumped into a battle, fight the hordes, cast some spells and use other special attacks and items. On top of that you are treated to some delicious eye candy along the way as no one can argue that the effects donít look spectacular.
It appears that this game is built upon primarily the previous game engine that was made for the PS2 and then upgraded somewhat to take into account the better graphic capability of the 360, though really looking at it you can tell itís not taking full advantage of the technology that the 360 delivers in terms of graphics. But as previously mentioned, itís still good enough to look at.
During the game you will fight many enemies and then progress to sub boss and boss fights that are pretty neat. Some small additions have been made to the series by allowing you to combine weapons and other resources. Despite this at its heart you are faced with a button mashing experience.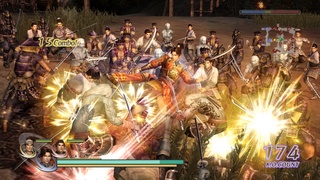 Iím not sure that this game will encourage new players to the world of Warriors. It simply lacks that original spark that lights up a gamers eyes. We are faced with rehashed levels, warriors, and although there is a new storyline, itís not the compelling experience you would hope for, itís simply a quick excuse to explain why you are where you are.
I am sure however that if you are a fan of the series then it certainly delivers the goods and then some. At least you wonít have to learn that much in the way of new stuff as frankly there isnít much of it. I would have to say that a rent of this game is essential before purchasing. I am looking forward to seeing what Koei produces once they breath some new life into their creative team.