Viva Piñata
When Microsoft bought gaming developer Rare those so many years ago, the development house have created some interesting titles with their new employers, however nothing quite reached that same level of the Japanese quirkiness... until now... Viva Pinata is that game and transforms players into virtual gardeners where you must create a magical garden to encourage denizens such as worms, birds, dogs and bunnies to come live in your utopia.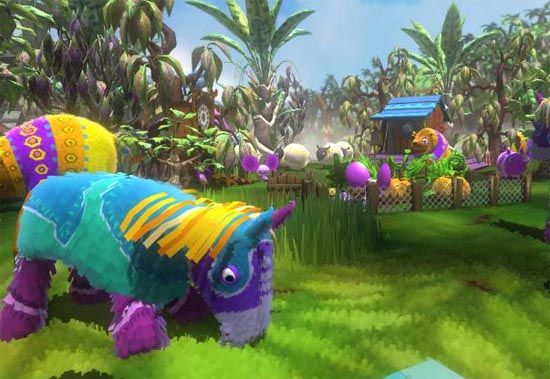 In order for this happen, the player must recruit wild piñatas but first they must ensure that these loveable little creatures have enough grass to call home. However, piñatas also have another side to them then just producing baby piñatas, they also eat other piñatas and to make matters worse, in order for you to purchase additional items for your garden, piñatas can also be sold at the markets for human children to beat the living daylights out of them at parties. So light a candle for all those brave piñatas who have fallen in battle in order for the gamer to create their gardening Utopia.

If this sounds all too complex, bare in mind that Viva Piñatas is aimed at the younger generation of gamers, however older gamers will also thoroughly enjoy this sickeningly cute game. The first level of the game is a tutorial where you will meet your garden guide whose garden has been destroyed by junk. By assisting this character, she will tell you the secrets behind the game and how to basically get your foot in the door.

The game also has a more difficult side to it as well which may deter some of the younger gamers for complexity because there is a world of micro-economics located throughout the entire game and you will spend many levels trying new and different things in order to successfully complete the title.

The piñatas are the star attraction of the game and as with humans, there are different races of piñatas that also interact with each other such as fighting, breeding or eating each other. To compound the situation further, another race of piñatas called the "sours" are like your natural disasters in games such as Sim City that cause a plethora of problems in your ecosystem that you must either fix or try to prevent them from happening game.
The title also supports a multiplayer option that contains a leader board to show friends how well your gardening is performing and you can even send these friends boxes of piñatas, whether good or bad which is kinda of cute. This is basically where the fun of multiplayer ends as you cannot interact with other gamers gardens and it feels like this was tacked on as a afterthought by the developers or management.
Graphically, Viva Piñatas is almost like a Saturday cartoon series that was created in the 1960's with extremely colorful graphics, cute sound and definitely a world where a gamer of all ages can easily get lost in.

In conclusion Viva Piñatas is probably the cutest Sim City, Animal type game that you will ever see on the XBox 360 that features a rather addictive and immersing single player experience that can also be frustratingly difficult. With some of the most colourful graphics that I have seen in ages and great replay value, this game is definitely a title that should be seen by those gamers wanting more than their standard first person shooter.