With another Toy Story movie out at the cinemas and this one boasting glorious 3D, it was inevitable that a video game would follow. Then you have the dreaded movie game curse and more often than not, a video game based on a movie is pretty horrendous at that. But as of late, this curse has been broken and we've seen some great movie based games.
So where does Toy Story 3 fit into the grand scheme of video games? Ironically, it's loosely based on the movie but as a game, it succeeds on most levels. With that said, the game is aimed at the younger gamer but even those younger games need something well made and Toy Story 3 is just that.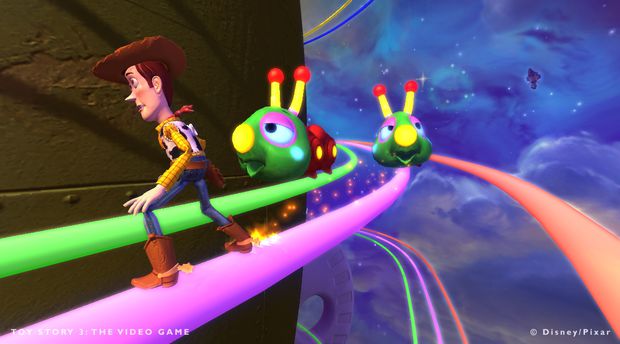 At its heart, Toy Story is a third person arcade game that lets you control a variety of characters from the movie. The story story mode loosely revolves around the film with key segments from that film such as the Day Care Centre and the rubbish tip with the trash compactor. Basically, Woody and Co must save each other from the dreaded overlord teddy of of the Day Care Centre and basically find a way to return home. The story also boasts some snippets from the movie as a reward for progressing.
Although the game features all your stock standard arcade platforming clichés from running, jumping and dispatching enemies, the characters and the voice acting actually make the game even better than it really is. It may not add anything new to this genre, however when it comes to fun and excitement for the younger gamer, it works. Even for this old dinosaur reviewer, Toy Story 3 was a fun experience, albeit the sometimes frustrating control scheme. The game even borrows elements from the LEGO game series as you need to swap between characters to solve various puzzles.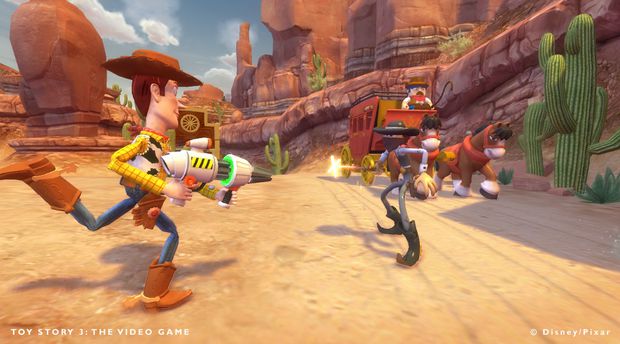 The good thing about Toy Story 3 is that not all the characters control the same and their environments can be quite different, whether it's Woody chasing a runaway train or Buzz firing his lasers, it's quite reminiscent of the movies. Unfortunately the controls are not always 100% accurate, especially when it involves timing or distance and more often than not, I found myself somewhere where I shouldn't be.
There are a few different gaming modes in Toy Story 3 which include the traditional arcade story mode which most gamers should be able to polish off in around 5 or so hours and my favourite mode, the toy box. The Toy Box really opens up the game to the Toy Story universe and is an open-world game, similar to Grand Theft Auto or Red Dead Redemption which allows you to control different characters and embark on character specific stories.
The open world adventure of Toy Box allows you to customise your toy town, embark on a variety of games from racing, hunting for gold and even rescuing aliens. As you complete these goals, the player is rewarded with new unlockable content such as new buildings and even characters. The best part is that these unlockable include other characters from the Pixar universe.
For multiplayer, the game supports another player who can jump into the game at any time to help you explore or even race against each other. It's definitely very family friendly in this aspect and I must admit that we had a ball playing it with other people. This is also good when someone gets stuck in the game as well.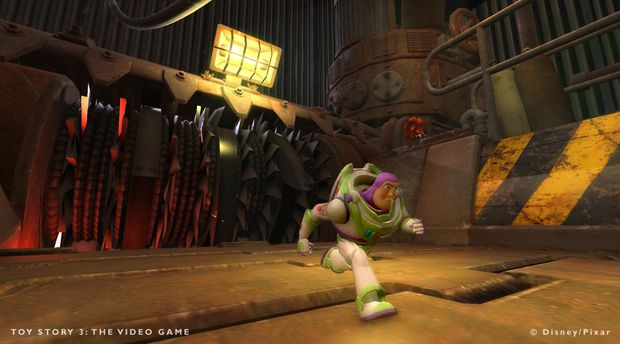 Graphically, the game looks like the Pixar movies with some great attention to detail, albeit in a cartoon way. With lots of colours, special effects and larger than life characters. The voice acting and music is on par with the gameplay and I commend the developers for putting together a decent movie adaptation, even though the movie takes a back seat role.
In conclusion, Toy Story 3 is a fun game for the younger gamer that older gamers will still get a kick or two out of it. There are some frustrations with the control and the story mode is a little short and disjointed but the Toy Box is brilliant and I hope to see more of this style of game. There's definitely something for everything in the Toy Box!