Tony Hawk's American Wasteland
NO LEVELS. NO LOAD TIMES. Just never-ending action that doesn't stop until you leave the game! Tony Hawk's American Wasteland gives you - for the first time ever in a Hawk game - the freedom to skate, or bike, throughout a rich, expansive open environment. Once you arrive in Los Angeles, the vast city that gave birth to skate culture, the sky's the limit as you progress through the Wasteland story and choose missions that will have you immersed in the action without ever skating the same line twice!
Features:
Freedom To Ride Forever: No load times. No level-based gameplay. In American Wasteland, you travel throughout the vast urban terrain of Los Angeles including Hollywood, East L.A., and other landmark areas without restrictions or repetition.

Ultimate Player Control: More tricks and expanded controls than ever before!

New on the board tricks include the Bert slides, Natas spins handstands, and one-footed grinds and manuals

New off the board tricks include wall runs, wall flips, and charged jumps

Choose Board Or Bike: For the first time, you can choose to ride BMX bikes throughout the entire game, with all-new physics, a BMX specific control system and several BMX-specific goals.

Customize Like Crazy: Enter and explore dozens of shops in game to customize your gear and your look! Check out skate shops, barbershops, tattoo parlors, and clothing stores as you accomplish goals and earn cash.

Expanded Online & Multiplayer: For the first time ever, Xbox Live in addition to PlayStation 2 Online! New two-player co-op play available in Classic Mode, in which you can complete classic THPS goals alongside your friends.
Get your board and get on the road in one of the most free roaming Hawk games to hit the market yet. Once again the franchise has you playing as Joe Everybody who has a chance to make it in the skate world.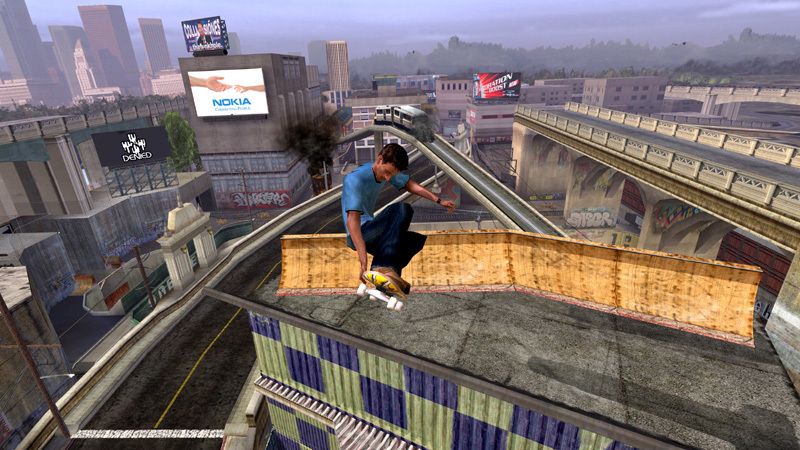 The title this time is fairly story driven for a Tony game with what appears to be an emphasis on character development that was actually good in making you feel like a part of the gang that you are skating with. There are appearances by Hawk himself at competitions along with other skaters that fans out there will recognise.

The controls are pretty easy to pick up and you will find that the game makes the assumption that you have not played before, which as a fan of the series, I found it annoying that I could not automatically do some simple tricks that I knew that would have allowed me to rack up points involving manuals and the like.

One thing that gamers will notice is that the title doesnít load as such when there is a new level, you can still skate and move around however the transition areas such as a bus or tunnel are very very boring and you can hear the disc getting accessed in the machine. The area is not as open as you would be led to believe either initially with very small areas opening to make a much larger area.

This can be deceiving however and make sure that you are really taking notice of what is out there. With the ability to get off the board, you just might find yourself able to climb up on things you would not have thought possible.

Skating aside and there is a ton of it for you to enjoy, gamers can then take to the streets on take on the cool BMX side of the game, thatís right BMX! These are more of a side mission rather than a valid concern, however the BMX portion should be more than enough for fans of the genre.

On the graphics front, though, the Xbox 360 version of American Wasteland does see some noticeable improvement over the Xbox version. Sadly the difference isnít by any means revolutionary and itís not as gorgeously detailed as, say, Project Gotham Racing 3. The environmental detail has been reworked slightly so textures really stand out and things like glass seem like real glass. The characters look amazing from afar but up close theyíre every bit as detailed as the Xbox or PS2 version. Cutscenes are a lot smoother and the flow of the game is even smoother.
Sound-wise, the game is chock full of licensed tunes that are not only abundant but also pretty great. Youíll find everything from Green Day, Saves The Day, Bad Religion to The Doors and Oingo Boingo. The voice acting is top notch and really hilarious in parts but itís the heavily detailed sound effects that work well enough that youíll hear everything around you from the sound of a busy cafť to a protest on the sidewalk outside the Kodak Theater. Itís great stuff that sounds even better if you have a good sound system.

Recommended to all fans of the Tony Hawk series or for those that love an extremely well designed title!