The Maw
Okay! This is quite a freaky and colourful game about aliens, however somehow in this strange universe, it has charm and an amazing fun factory. At its alien heart, The Maw is an action arcade game that revolves around an alien called The Maw and whatever he or it eats, he absorbs their powers and grows! Unfortunately Maw is quite stupid but thankfully, he is kept under control by his friend Frank.
Although you need to explore, fight and eat, the game even contains a healthy amount of puzzles and by using Frank and Maw together, you'll be able to access other parts of the gaming environment that would have been inaccessible if you could only play one character. Needless to say, this relationship works quite well.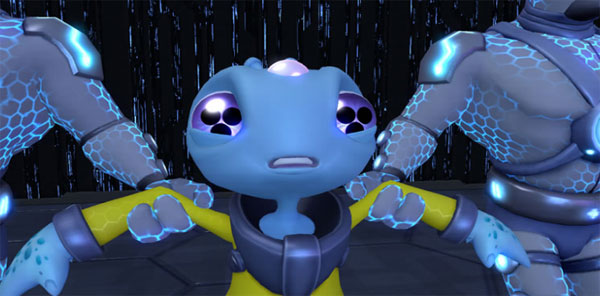 The game begins on a space craft with the large and lazy Maw and his tiny friend Frank and unbeknown to them, this ship is about to crash on a mysterious and uncharted planet. When it does crash, both of you need to survive the challenges that lay ahead.
The idea behind the Maw is to ensure that your hungry beast is fed and thankfully there are a variety of beasts on this planet to assist with his hunger, of course some of these want to eat you as well.
Thankfully as Maw eats, he becomes bigger and as he absorbs other creatures powers, it changes what this one eyed beast can do. This is another cool aspect of the game as what you eat is what you are and when Maw eats a fire alien, in essence, this one eyed alien takes on their powers. He even gets a horn later during the game that allows him to ram other creatures which is a real hoot. For such a little game, it's quite diverse as to what you can do.
Of course, you also get to control the pint sized Frank and fortunately he has a leash to keep Maw under control, however this leash can be used as a weapon to throw items and enemies. The puzzles in the game change as much as the gaming landscape and the diversity is a breath of fresh ait.
Although there are a healthy amount of traditional arcade levels, there's also some cool weirdness, such as riding on the back of Maw and shooting aliens, it's all part of the strangeness of this very fun and entertaining game. The only issue is that the game is relatively quite short which is a shame because just as you're getting into it, end ends.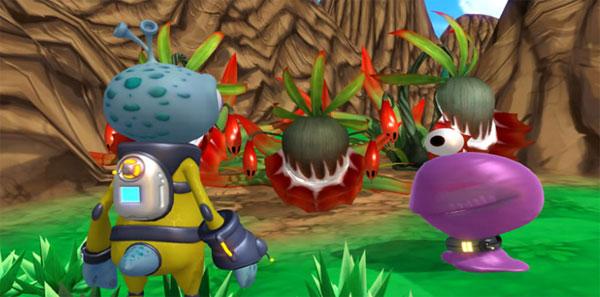 Graphically, the game is a very good looking title for XBox Live title and Twisted Pixel, the developers have truly created a fun and colourful cartoon look. And yes, it does look like something that has come out of Hollywood with the great graphics, almost making this look like it's based on a movie game.
Of course, the star of the game is the Maw who looks fun and uses a variety of facial features to progress the story. Frank is also well animated and contains some even more amusing facial features. The gaming environments are well designed and there are some truly comedic cutscenes in the game that I haven't laughed this hard since Sam & Max.
Add in a great musical score, thanks to Winifred Phillips (God of War) and some truly bizarre and wondrous sound effects and The Maw is definitely worth the entry price.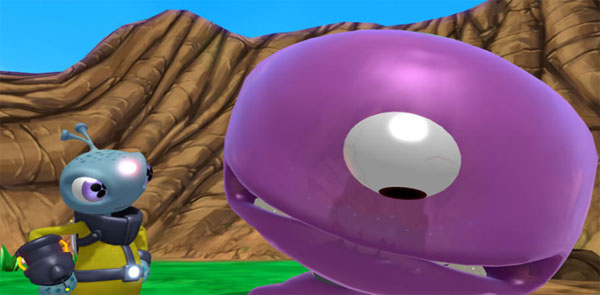 The only downside to the game is that it is quite short. Let's hope that Twisted Pixel will create a full game in the near future because the duo of Frank and Maw really works and best of all, the gameplay is fun and can be played by all sorts of gamers.