Super Street Fighter IV
With over 20 years of history behind this franchise, it's obviously that this title has hit the right spot with lovers of fighting games. Originally a 2D fighter, this latest instalment still pays homage to the original game but this time, it's been created for the high-end consoles and 360 users can now experience one of the best fighters of 2010. At its core, the game is a faux 2D fighter that features one of the world's most detailed fighting system as you beat the absolute living daylights out of your opponents. The most noticeable change to this franchise is the inclusion of online play that is like having an arcade room in your home... you heard right! With that in mind, gamers can now challenge players from around the world in order to showcase their prowess at this classic game. Let's kick butt!
Features
Enhanced online play featuring new modes: Up to eight players can participate in elimination battles.

Participate in an endless elimination online match where the winner stays on and plays against the next player in true arcade fashion. Spectators can also chat with each other as they watch the match.

Record matches and discuss the action while watching replays of great matches from players around the world.

Tournament Mode coming as DLC after launch.

Return of the classic car and barrel bonus stages made popular in Street Fighter II both available in arcade and challenge modes:

Car stage: Annihilate the car with regular and special moves before the time runs out.

Barrel stage: Players are given 20 barrels and must destroy as many as they can within the time limit.

More classic Street Fighter characters re-imagined for a new generation of gamers, including favourites DeeJay and T Hawk.

All playable SFIV characters will be unlocked out of the box.

Gameplay has been rebalanced to provide challenges for both newcomers as well as the most seasoned Street Fighter pro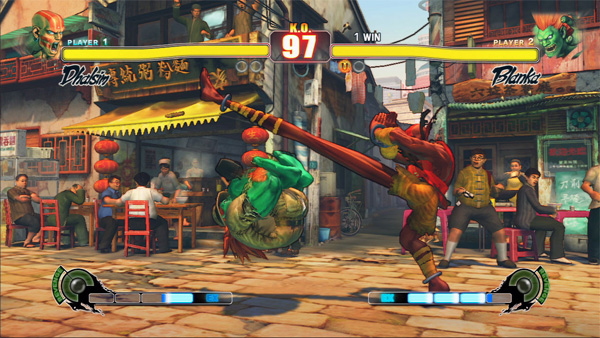 Before embarking on your fighting journey, the player is treated to a visually stylised introduction that loosely tells the tale of this game. There is a variety of game modes from arcade to challenges and of course online. For example, by selecting arcade mode, you need to pick one of the many characters available that includes classics such as Rye and Blanka to new additions to the franchise such as Seth, an alien like entity or the obese fighter Rufus. In this mode, each of the characters has their own story to tell and the viewer is treated to a few anime inspired cutscenes that is also used as a reward system. Matches can be tweaked from difficulty settings to time and even the option of having online players, just like the original arcade game.
The learning curve for this game is extremely steep. On easy, most gamers with no expertise will easily be able to pickup the controls of the 360 and start playing. You can even access a list of manoeuvres for whatever particular character you are playing. As you progress up in difficulty, successfully managing these manoeuvres on your enemies becomes more and more difficult but that's all part of the fun. Thankfully if you are knocked out of a fight, you can jump straight back in, either with the character that you are playing with or even a totally new one.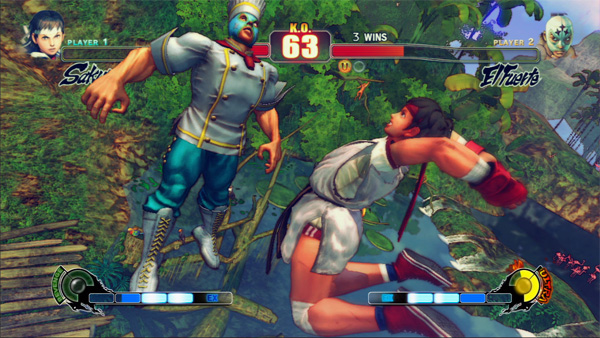 For me and thousands of players from around the world, the Street Fighter franchise was made by the variety of movies that each of the characters had access to. Everyone was completely different in their fighting style, whether it was martial arts trained fighter from Japan or a Wrestler, both were quite different.
With so many fighting moves available, it's understandable to feel small when you first start playing the title but with practice, your skill set will increase and then one day, it will all come together. As opposed to standard attacks such as punches and kicks, there are also powerful combinations and attacks which are linked to various meters in the game. For example the focus attack allows you to perform some quite lethal combinations, however in turn and for fairness, you become more open to attacks. Needless to say, the balance works out quite well and if you're getting your derrière handed to you, this also builds another meter that will increase your damage. It's a great strategy that not only keeps the game fair but allows for almost endless combinations and tactics. There's even challenge rounds (remember the car and barrel games from the original) and some interesting training rounds where you can fine tune your skills.
As mentioned, Super Street Fighter IV online truly rocks and you can join in both ranked and unranked matches. In playing this game for just over a week like a madman, I was quite impressed at some of the other players around the world. The only issue we had with online is that at times, the game does become laggy but once again this is dependent on your internet connection and time of the day that you are accessing it.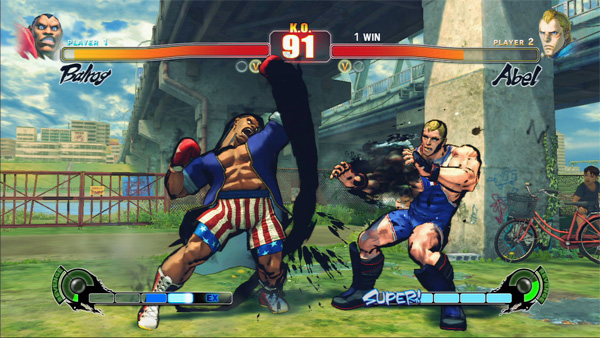 Graphically, Super Street Fighter IV is a great looking game that looks like an interactive anime experience. The characters have this almost cell-shaded appearance to them with bright colours and larger than life models. The environments look great and there is quite a bit of details and we could not fault any of the graphics. Add in a pop sounding musical score and a variety of thoroughly over the top voice acting and Hong Kong martial arts sound effects and you have a very well made game. Even though it looks like the original game, the facelift that it has received has truly turned it into something very unique and not only gorgeous to look at but also to play and listen.
If you're a lover of fighters and you can only afford one game for 2010, than I highly suggest you check out Super Street Fighter IV that is easily one of the most enjoyable and challenging fighting experiences that I have played in the last few years. The controls are perfect and are well mapped on the 360 controller that offers something for both novices and experienced gamers. Great graphics, good sound and brilliantly addictie gameplay… this game is perfect!