Splosion Man 360
It's a good time to be a gamer from the quality games available at stores to the quality games available for download and developers Twisted Pixel have created one of the most entertainingly fun arcade games called Splosion Man!
Available via XBox Live, Splosion Man is a cartoon inspired arcade game with a unique almost cell-shaded graphical environment that is probably the most original looking game all year.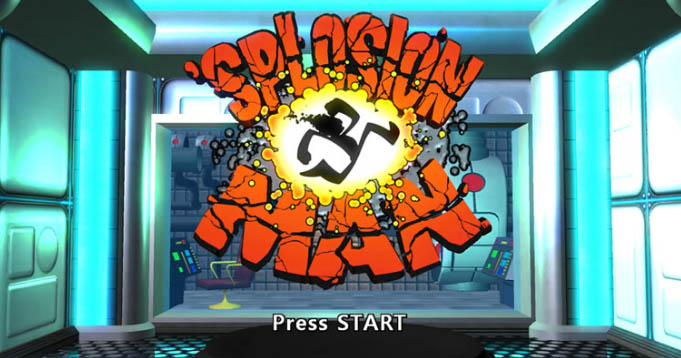 After downloading Splosion Man, the gamer is automatically in for a treat from the quirky menu system to funky music and best of all, its classic platforming fun. The story of course revolves around Splosion Man, an experiment gone wrong who has the ability to "blow" himself up. Check out Mr. Innocent below!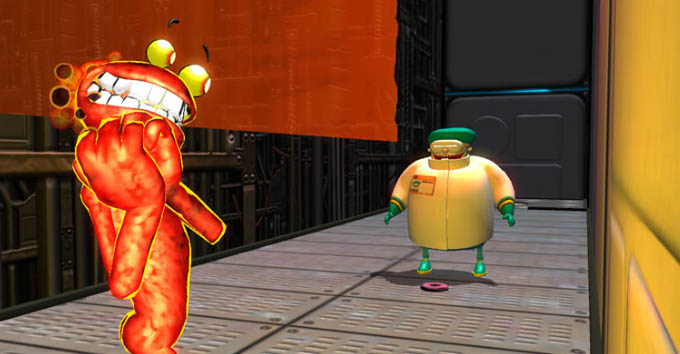 The "explosion" part of the game goes hand in hand with the gameplay that is not only used to defeat enemies but is needed to assist with the puzzles in the title such as navigating through a variety of different environments.
It should also be noted that the gameplay is quite fast paced as you bounce around via your explosions. Seeing Splosion Man perform his aerobics or "combos" is a pure treat and is quite surreal at times, like a Saturday morning cartoon character taking an acid trip. The gaming environment contains quite a few combustible items which only assist in the gaming experience as you fly around.
Although the enemies in the game can be a little tricky at times, the difficult aspect of Splosion Man are the obstacles that you encounter as you attempt to navigate around them such as spikes or mad scientist like traps. Thankfully the save points in-game are quite generous and even though you have infinite lives, the frustration will eventually become apparent but then again, how can you be mad at such a cool looking and fun game? You can't because if you keep messing up, the game will fast forward you to the next level… very nifty indeed.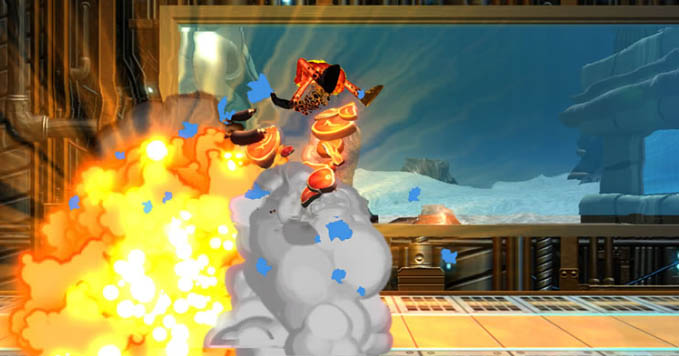 As previously mentioned, the graphics of Splosion Man is quite outrageous with some well designed gaming environments that do pay homage to those classic arcade games of yesterday. Of course the star of the title is Splosion Man himself who looks quite surreal, especially with his Quagmire (Family Guy) giggle. The soundtrack is impressive and suits the game perfectly and thankfully changes as does the varied environments that you jump, blow-up and battle your way through an almost unending line of enemies.
The game contains a great cooperative mode which can be played with a friend or even better, via XBox Live. Thankfully the multiplayer mode works as well as the single-player mode as you attempt to defeat the nefarious mad scientists and their minions.
In conclusion, it's good to see an original game hit the market that is quite affordable priced and contains decent graphics, a great soundtrack and some fun gameplay, Splosion Man is deliciously delectable.