After a lengthy wait, Kinect for XBox 360 has finally been released and SEGA have jumped on the controller free experience with Sonic Free Riders, their first Kinect game. Unlike Sonic the Hedgehog 4: Episode 1 which is available from XBox Live, Sonic Free Riders is more a racer as opposed to the traditional arcade Sonic game. This is where you jump your ďvirtualĒ hover board as you move your body in order to control your gaming avatar in this Sonic inspired universe.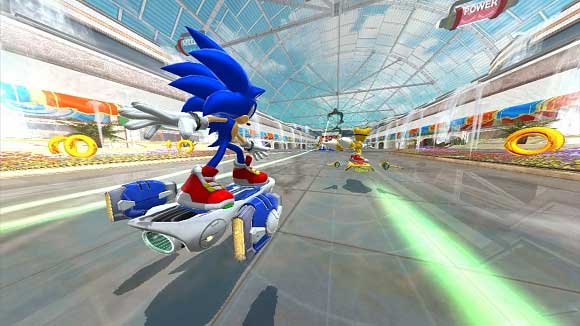 Before I get to the review, let's just get something straight here. There are NO games for hardcore gamers with Kinect... ditto... capiche? End of story! For now, Kinect targets the younger gamer and I thoroughly laugh at "hardcore" gaming sites giving low scores for this title. It's like asking a first person shooter fanatic to review EyePet, it isn't going happen and it won't be pretty. We enjoyed Sonic Free Riders and compared to some of the other Kinect launch titles, it's actually one of the better ones and I did get some of the target audience to play this game as well. So enough bickering... let's get to the review!
The best way to describe this game is to image Mario Karts without the controls because as you race around, you need to avoid enemies by manoeuvring, using power-ups and even weapons. However before you jump into this high speed madness, you need to ensure that your Kinect configuration is correctly setup because if itís not, your gaming experience will be severely lacking and quite inaccurate at times. Iíve learnt this from other Kinect games and by spending the some time to setup it up, the whole wireless experience definitely becomes far more superior as opposed to jumping straight in. You also need room away from the TV, a good 2.5metres should be suffice.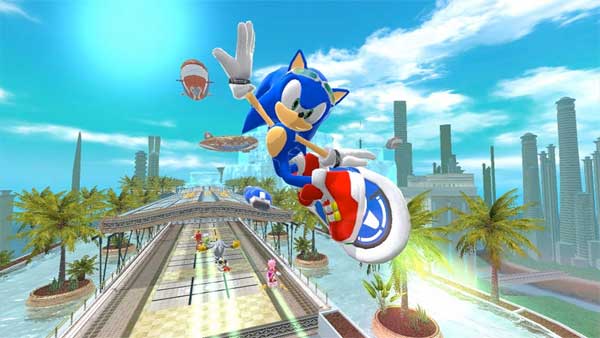 Once setup, Sonic Free Riders offers a few different gameplay styles that include both single and multiplayer fun. The good thing about Sonic Free Riders is that the single-player game is actually quite entertaining and the main draw card here is Grand Prix. Merging a Sonic game with Mario Karts, you need to collect the classic Sonic rings, perform some ridiculous Sonic inspired jumps and of more importantly, beat your opponents. The game is definitely better for short gaming sessions as opposed to longer ones and kids really enjoy it, especially the competitive ones.
Your controls in the game is your body and steering is done by moving to the right or left and then for some added accuracy you can lean forward and backward slightly for those sharper turns. Then you have jumps and ducks. Sometimes you need to jump an obstacle in your path or duck to prevent from being hit.
The good thing about Sonic Free Riders is that the although the game is physical, itís relatively quite laid back as opposed to a workout like Active 2 for Kinect. Even so, after a few games, it can get a little physical. Add in a variety of boosts and the game becomes a strange amalgam of a controller free Mario Karts that works on most levels.
The only downside of Kinect is that you need to play it in a well light room or it loses its accuracy and this is when it has problems detecting the player. Itís still early days for the Kinect and once the developers have more time with this new technology, the controls of games such as Sonic Free Riders will definitely be improved. For now, itís accurate but there is still some delay from body to gaming console. Let's not mention those annoying Kinect menu systems either! Sonic does suffer from poor menus.
The gaming environments of Sonic Free Riders are definitely inspired from all those classic 16-bit SEGA Sonic games. As opposed to those 2D games, this title has a real 3D feel to it and the track designs are well thought out with just enough elements of difficulty to keep you entertained.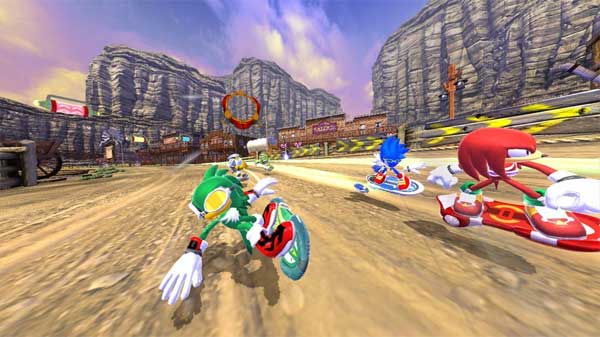 As you race through the air, dodge obstacles and smash your opponents, there are some interesting shortcuts and secret areas that are sometimes a little difficult to find but are well worth the effort. Once you have finished a track and hopefully gained a top spot plus collected lots of gold rings, these can then be used to purchase additional items such as new hover boards or other cool bonuses. It's almost like a skating game! As mentioned, the game does support multiplayer that allows for both local and online play. Local play is a little cluttered but online play does offer more freedom.
Graphically, itís quite a colourful game with a cartoon like atmosphere to it. There is a real sense of vertigo and speed while youíre playing this game and all the characters are animated well. The soundtrack has this real boppy Sonic feel to it and the sound effects are just as over the top as the characters who star in this game. Annoying yet fun voice acting, this is pure Sonic in terms of graphics, music and sound.
For a first generation Kinect game, Sonic Free Riders definitely gives the gaming community an interesting premise. Even though the Kinect is a glorified EyeToy for XBox 360, SEGA have managed to successfully capture the Sonic franchise, turn it into a racer and more importantly, a controller free racer. The only concern I have with this game is its overall replay value. Itís like getting a box of your favourite chocolates and eating them repeatedly for the week, you might be over it soon than expected. Needless to say, itís definitely a decent attempt from SEGA.