This interesting game from Activision revisits the popular Spyro franchise which revolves around one of the world's friendliest purple dragons... Spyro! However Activision have done something totally different with their latest game and as opposed to just a stock standard video game, the developers have included a Wired Portal of Power™ that connects into your USB on the XBox 360. Add in 3 Trading Cards, 1 Sticker Sheet, 3 Web Codes, character posters and 3 monster figures (Spyro, Gill Grunt & Trigger Happy) and you get a truly amalgam of toy meets video game. But before we get to the Wired Portal of Power™ and the other accessories, let's talk about the story which is definitely aimed at the younger gamer but even older gamers might get a kick or two out of it.
Skylanders: Spyro's Adventure features a classic Spyro story of good versus evil and the Skylanders who protect the mythical Skylands have been frozen and banished to Earth by KAOS . Your job as the hero and liberator for the Skylands is to find the protectors and bring them back to life via the Portal of Power™. Interesting enough, this game was written by the folks from Toy Story (Joel Cohen and Alec Sokolow) who definitely create a story that children will enjoy and it's actually quite a magical, engage yet clichéd tale. In reference to the Skylanders, each of them has a power based on their spiritual elemental which is Magic, Tech, Life, Earth, Fire and Undead. This also translates well to the battles as well.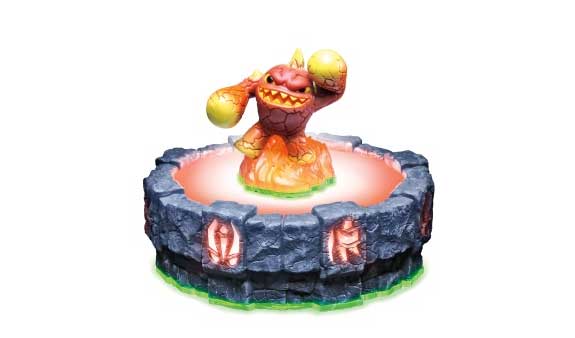 With that said, the starter pack of this game comes only comes with 3 Skylanders but there are a total of 30 that must be freed and just like Pokemon (gotta catch em all), they all have their own unique powers and abilities. The Skylander figurines are also compatible with other console systems as well, which does create this fun collectible environment for the younger gamer.
There are a total of 32 figures available from all good game stores and needless to say, it's actually quite fun seeing your figurines on the Portal of Power and although they don't duke it out on the accessories, it does create a sense of ownership. It should be noted that the figurines or toys are well moulded with some great detail as is the portal itself. It's a very cool looking accessory.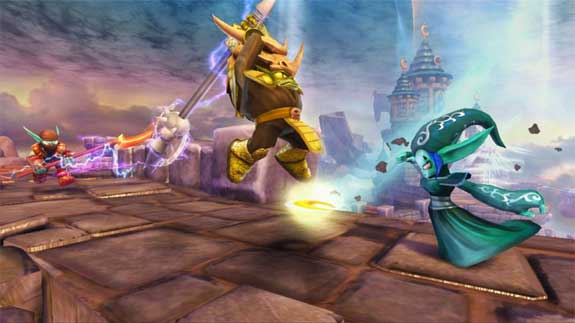 Although the game can be played solo, where it does shine is through its multiplayer option as players can either play versus or team battles. In essence, the game is a combination of platformer meets a card versus game as you explore levels, go on quests and more importantly battle enemies to save the Skylanders.
However it's definitely more fun with a friend along for the ride. Battles are the highlight here but in order to get more powerful, you need to start with the basics that only include two attacks for starters such as melee and ranged. As you do "power-up", your Skylanders inventory of attacks gets more powerful as do their abilities.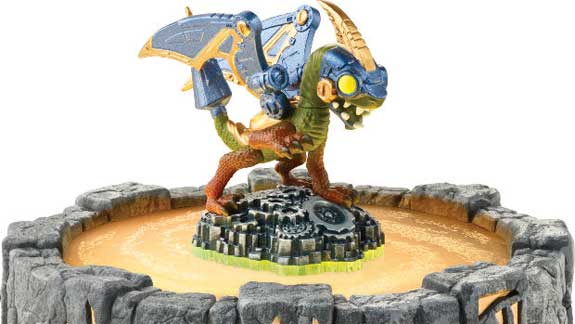 What's also cool about these figurines is that whenever you place them back on the portal, they retain the experience of previous battles and this includes other consoles that include the Wii, PS3, PC and even the 3DS!
As you do progress in the game, you will be awarded coins which can then be used to customise your Skylanders from tweaking their abilities and statistics to purchasing them new accessories. Unfortunately these don't relay back to the figurines themselves. Maybe the "holo" version in 25-years will allow us to do this. By buying more figures, it also increases the number of lives you have to complete the game but of course, this comes at a cost.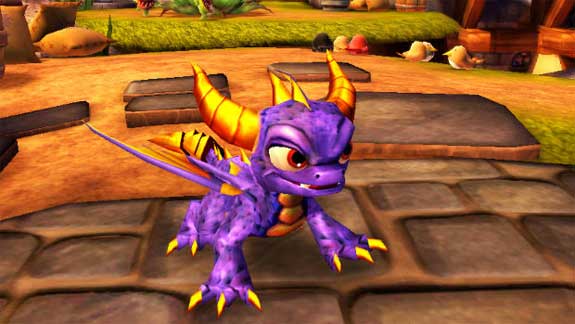 Another entertaining thing is that all the Skylanders have their own abilities and weaknesses so sometimes certain Skylanders work better than their counterparts so there is an element of strategy involved. So if you do get stuck, you simply take off the Skylander from the portal and add another one into the game who "magically" appears on the console.
You can complete with the game with just the starter figurines but it's definitely more fun with additional characters that adds to the longevity of the title and perhaps the franchise. In relation to longevity, you can replay the levels again because there is so much to collect and there's definitely lots you can miss such as soul gems which assist in the final power-up for your Skylanders. The various "hats" that you find in the game also assist in upgrading your Skylanders like the Fez and it's quite an addictive experience upgrading your creatures. All in all, this arcade, platformer and collectible game is rather nifty!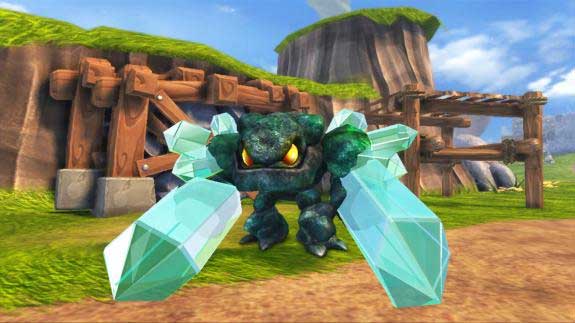 Graphically, the game is quite colourful and cartoon inspired with its stylised characters and detailed gaming worlds that are bursting with vibrancy. There is some great lighting used in the game and the movies are a treat to watch. There was no slowdown whatsoever in this game and graphically, it was a very smooth looking and playing game.
Musically, this game rocks, thanks to maestro Hans Zimmer who really creates this otherwordly and inspirational soundtrack. Add in some fun voice acting and a plethora of over the top and amusing sound effects and together with the graphics and gameplay, Skylanders comes together perfectly on the XBox 360.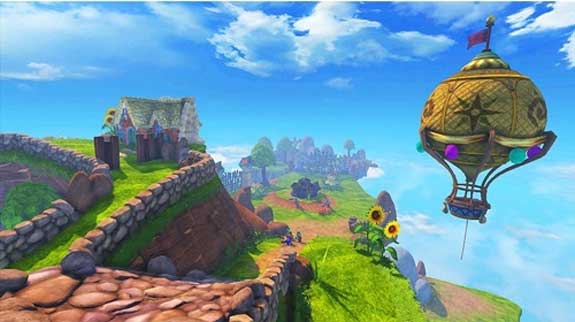 Final Level?
With Christmas just around corner, Impulse Gamer could happily recommend this to most parents with younger gamers in the house. Not only are the figurines quite cool in appearance but it opens up a whole new gaming gimmick that actually works on all levels. It's a cross between a toy, card game and arcade game which makes Skylander: Spyro's Adventure such a compelling game from start to finish and then several more revisits. The cross platform experience is brilliant but just be warned, that it may end up costing you a little more than anticipated.