Moving itself onwards from the previous game, Skate 3 takes a slightly different tact from its predecessors as you attempt to create your own unique skating brand and more specifically your own business. Even though this may sound like a sim game, it's actually far from it and at its heart, it's still a skating game where you need to pull off a variety of manoeuvres, complete set goals and of course challenge both virtual and real players from around the world… the later is if online is your cup of tea.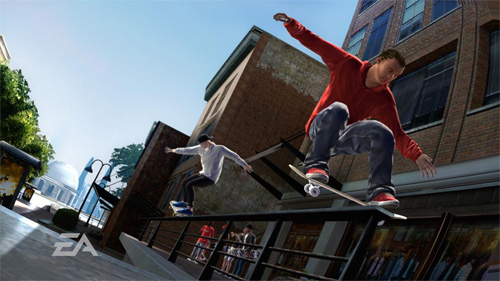 Of course, the better you perform in the game means the better your business will perform that increases the number of boards that your company sells. Like the previous games, you need to compete in a set number of challenges through the various gaming environments from stunts, time-trials, competitions and even photo shoots. It may be more of the same but there are a few twists and features to keep it quite distinct from the original two games.
Features
Team Up. Throw Down. - Work together to take on challenges and progress together through the career campaign or slay all suckers in head-to-head competitive battles for bragging rights. Players can keep tabs on the happenings of their teammates and rivals with Skate.Feed, the all-new game and web social network.

New City, More Tricks, More Skate - Say hello to darkslides, underflips, and the all-new skate mecca, Port Carverton - featuring unique districts, plazas, skateparks and endless lines, this is the true skater's paradise.

Build a Brand, Become a Mogul - Form teams and rise up to become a skate industry mogul by selling boards. From completing online challenges to creating skate parks to having your graphics downloaded, almost everything skaters do in the game counts towards their progression.

Skate.Create and Share - Returning favorites Skate.Reel and Skate.Graphics are back. The all-new Skate.Park is an open canvas for players to create their dream plaza or mega-ramp park. Once created, they can share their masterpieces with the world by uploading them directly from their console.

Always Room For Meat - Hall of Meat is back and gnarlier than ever. Gamers can brutalize their skaters in the harshest ways possible with all-new total body control bails. Get ready for carnage that is sure to make players cringe.
The control system is reminiscent from the Skate 2, however it feels more polished and even though its not as sturdy as some of the Tony Hawk games, it still gets the job done but for those not familiar with skating games, most competent gamers will easily be able to pick it up in no time. One annoying aspect of the game is that it doesn't award mediocre players very well and if you're one of those double jointed gamers who can pick up a controller and always score high, than you'll be looking for some very high sales of your boards. Thankfully you can still complete the tricks without all the bells and whistles to progress which is definitely a step in the right direction as opposed to Skate 2.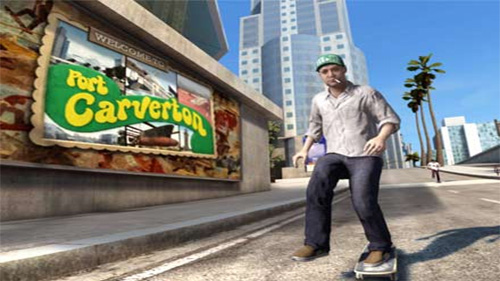 Another interesting aspect of the game is that you now have team-mates who help you complete challenges such as team races and trick events. This adds a new level to the interactivity of the game as it's not just a solo experience. This works on some levels such as new gameplay but on another level, sometimes the AI leaves a little to be desired but it's all part of the fun and frustration of Skate 3. You still have to navigate objects in this world and of course pedestrians and generally most will get out of your way and if they don't, there's some really fun bone-breaking accidents to be had.
The single-player game is quite competent but where the game excelled was through the multiplayer mode via online. With plenty of game types to choose from, we had no problems in connecting to the servers and start challenging these virtual skaters from the around the globe. And if you're feeling arty, the game contains a very powerful skate park creation tool that allows to create some very interesting and impressive environments for you and your friends. You also have the obligatory leaderboards and an interesting update each time you log on that shows an updated list of achievements and scores for your friends.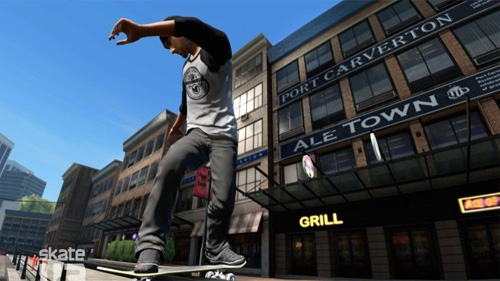 Graphically, Skate 3 is a very good looking game with some great attention to detail in the environments you play. Even though the city looks too perfect, it's fun to race around the city and explore all the different areas from business districts to gardens and even little homely suburbs. Thankfully those annoying security guards are no longer in sight in Skate 3 which gives you more freedom to explore and master those sometimes elusive skate manoeuvres. The soundtrack is quite pumping for skating title and of features all the sounds of the city plus that skating board sound effects that assists in the overall gameplay.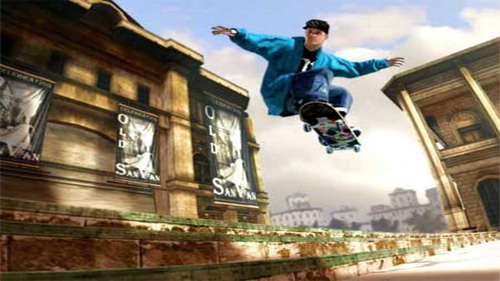 Compared to the previous game, Skate 3 is an improvement and if you're a Tony Hawk fanatic, I still suggest you check out this game because the attention to detail in this game is quite good, from sweet skating manoeuvres to graphics that look quite realistic. It may not offer the genre anything new in terms of "new" content but as a skating game, it works on most levels and I know for me, I love pulling tricks on places I've never skated on before.
Check it out!