It's good to see that the arcade genre is still strong and popular within the broader gaming community and Shadow Complex only proves this point even more. Available via XBox Live, Epic Games have created a classic arcade side scroller with a twist and have even broken the 2D barriers as gamers battle it out in an almost Super Metroid experience on the XBox 360.
MICRO REVIEW

The Good
A 2D/3D side scrolling platformer that transcends the traditional genre.
The Bad
Interconnected environments can be confusing and game is a little short
The Ugly
Some will compare this as a Metroid clone
Verdict
Best arcade fun all year, highly recommended!
Set in the world of Orson Scott Card's best selling novel, Empire, players embark a truly cinematic experience that pushes the boundaries of traditional arcade side scrollers. With a thoroughly enjoyable and at times violent storyline, gamers must use any means possible to find their abducted girlfriend.
As you step into the shoes of Jason Fleming (voiced by Nolan North), you know that you are not just the average military man but something more thanks to your father's background. Even though you did not want to step into his shoes, you are forced to pick up the gun.
The gameplay itself is like Super Metroid meets Iron Man and from the very first moments of playing the game, you immediately know that you are in for a treat from the lush graphics to the extremely playable gameplay. With that said, this game is so reminiscent of those 80's arcade games like Elevator action and considering the flux of first person shooters on the market at the moment, this is a breath of fresh air.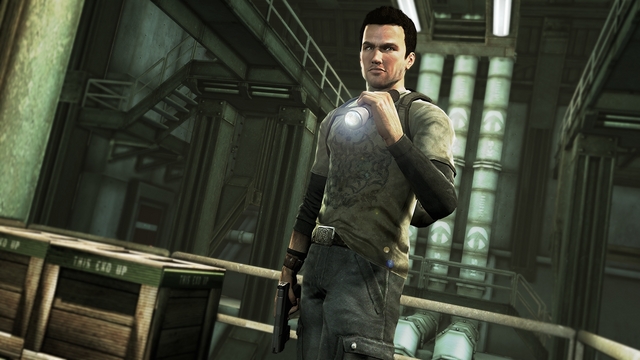 Even though this game is a side scrolling arcade game, the developers have managed to successfully transform the traditional boundaries of this genre as gamers must also attack enemies in other areas such, almost making the game a 360 side scrolling game. For instance, you may need to attack enemies in the background and this is done through the analog stick which is needed to aim. This aiming can be a little tricky at first but on easier levels the auto-aiming assists greatly. Other cool tactics is that you can even use boxes in the game for cover and run at high speeds once you have attained a certain Iron Man like armour.
Weapons are very varied and diverse and you even have the ability of upgrading weapons, once you have attained your power suit (Omega Suit), nothing will get in your way. If you do get stuck, you can use a torch that in essence, shows you what you may have missed or which way you need to go.
Apart from that navigating is done through the right analog stick which is also used for swimming and there is a jump, crouch and action button. The controls are pretty much perfect, although certain parts in the game can be tricky such as running jumps or getting to difficult to reach places via double jumps or climbing on walls.
The gaming environments are really great for exploring and you even have a Metroid-like is map because the gaming world is quite huge and you need to think outside the traditional 2D sphere.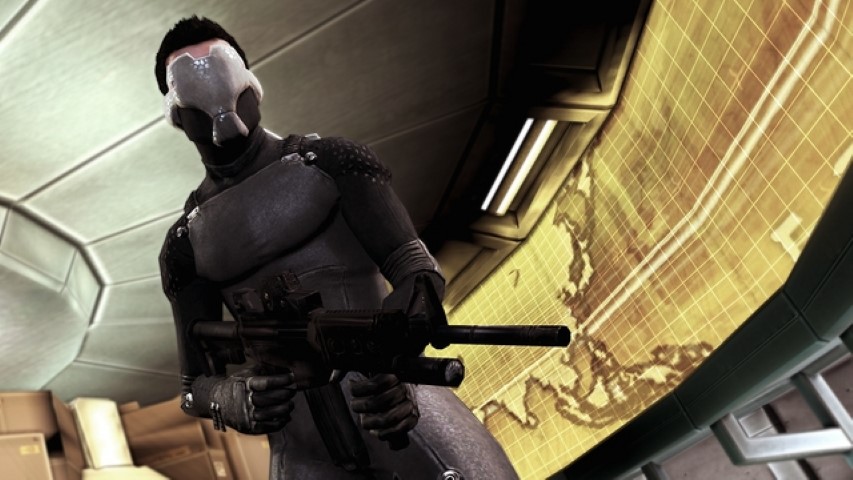 What made this game so addictively entertaining is that there's always something happening in the game which gives you a good incentive of finishing the game, whether it's for powerups, weapon upgrades or new enemies, you just don't know what's around that corner.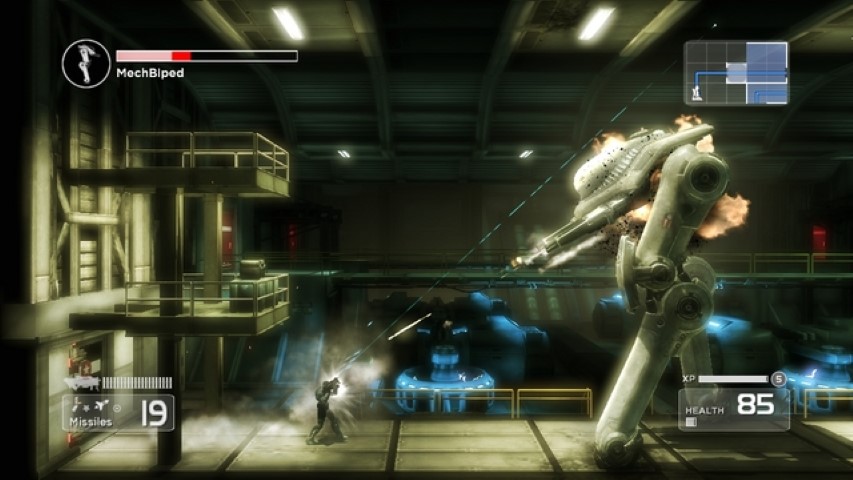 Fighting the enemies is a pure treat as you blast everything in your way, however with the upgrades and suit, this experience becomes even more entertaining. There are even some stealth aspects in the game (move over Tom Clancy) that has you performing a few sneaky maneuvers on unsuspecting victims.
The game contains the occasional boss fight to liven things up which can be challenging, depending on your gaming experience. If you're XBox is connected to Live, the game even pops up a display comparing how well you are doing against one of your friends. As you can see, quite a bit of thought has been put into this game.

Graphically, the title is easily the most impressive games on XBox Live at the moment with great level designs, a great colour palette and even better looking characters. Add in a variety of special effects and lighting and this is one professionally looking good game that is oozing with eye candy. The outdoor areas looking amazing from flowing waterfalls to extremely detailed forests. Imagine if a game like this was in the arcade... wow!
Even the cinemas have "effort" in them and of course assists in rewards for the player. As with the graphics, the dialogue, sound effects and musical score suit the story and gameplay perfectly and you really can't complain in both these departments. Of course the reason why the graphics look so good is because the game uses the Unreal Engine.
Final Thoughts?

In conclusion, it's these small gems that makes gaming so fun and even though the gaming environment is quite huge, you just want to keep on exploring to see what you missed, whether it's an enemy or power-up. This also assists with replay value and there are not many arcade games out there that have you coming back for more, even after you have finished it. Shadow Complex will take the average gamer around 5 - 7 hours to successfully finish this game, however those explorers may take a little longer. Finally a game that not only pays homage to the original concept of arcade games but transcends it to a 21st century level.