Although Sony has the stranglehold on quiz games in the console world, Microsoft have come to the rescue yet again with with another interesting installment entitled Scene It? Box Office Smash, the latest sequel to the series. For the uninitiated, Scene It? Box Office Smash creates a great party game quiz experience in your lounge room that gives the player, four wireless buzzers and an almost unlimited range of movie based questions.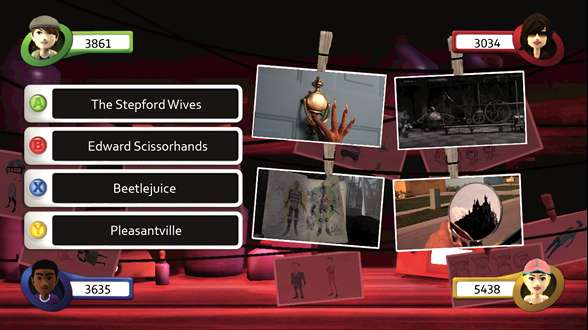 Features
New movies, new questions and new puzzle challenges. It's not just trivia; it's trivia about movies you love, with hundreds of all-new questions, audio clips, photo stills and HD movie clips never seen before in any "Scene It?" game. "Scene It? Box Office Smash" also features brand-new types of puzzle challenges that are sure to keep gamers guessing all night long

Movie trivia the world will love. Movie fans in France, Italy, German, Spain and the U.K. have even more to love, with content from some of their favorite local films included in versions of the game sold in their countries.

New online multiplayer capabilities. Airplane flights are expensive, and your friends are everywhere. Solution? A "Scene It?" match over Xbox LIVE. Better than a phone call, playing over Xbox LIVE builds new memories with old friends and the opportunity to test your knowledge against friends or movie buffs around the world with several new online multiplayer modes.

Picture yourself at the movies. With the new Xbox LIVE experience, players can literally put themselves into the game through custom characters that respond to your play and react to one another throughout the course of the game.

More questions on Xbox LIVE. With downloadable content available via Xbox LIVE Marketplace and a content tracking system that minimizes question repeats, players always have a fresh play experience.

Everyone gets in the game with the Big Button Pad. Chips are better with guacamole. Games are better with friends and family. So gather your friends and family for a race to the buzzer, and see whose movie knowledge reigns. With the intuitive wireless Big Button Pad, even the most console-phobic person will play, and maybe even win. Available with four wireless Big Button Pads, or without for aficionados who already own them from the previous Xbox 360 release "Scene It? Lights, Camera, Action."
Scene It? Box Office Smash, now known as BOS for this review can be purchased as either a bundle which include all four game show style buzzers ($99.95AUD) or just the game which retails for around $69.95AUD. The aforementioned product is perfect for those who already the previous game.
Although this if the first time that I have played the Scene It series, the difficulty that I see with BOS is coming up with something unique as compared to Sony's Buzz series or the previous versions. So how does Scene It compare with Buzz? I must admit that the developers have tried some interesting twists and turns to the gameplay. As with Buzz, some of these work and some don't. The problem with BOS is that it is lacking that true game show feel and the announcer seems a little forced and contrived at times. On the other hand, Buzz was extremely annoying, however BOS needs to have a touch more of this.
The gameplay in BOS is quite diverse and it offers both gamers and casual gamers a variety of different modes that include short/long matches, local and online play. Where the game does shine is with four players and I must admit that we had a blast playing it. When playing it online, that sense is somewhat diminished, however it was still an entertaining experience via XBox Live.
The questions in BOS have quite a good range of the industry and there were quite a few movies, we had no clue about which is a good thing. The different style of questions in the game are quite clever such as "Pixel Flix" which shows a movie clip that has been translated into an 8-bit game and if you have worked out which movie this is from, you need to push the buzzer and then select one of the four corresponding colour coded buttons for the answer.
Other methods of play, include crosswords, pictures of props from movies, credits of movies where you have to guess the film and our favourite "Celebrity Ties" which is twist on the classic game of six degrees of separation which asks the player a variety of questions on these actors and movies. With 22 different game show style of questions, the developers ensure that nothing becomes repetitive, unlike at times Buzz on the PlayStation 3.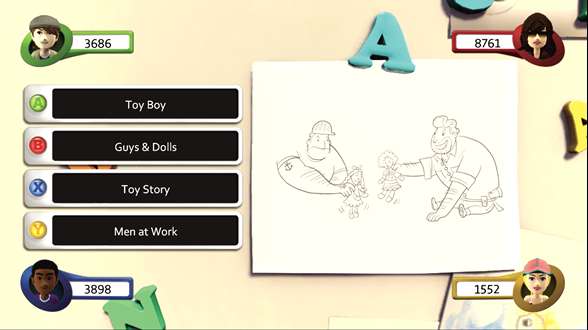 The control system of BOS is perfect and the buzzers are quite comfortable to use and feel more refined than the clunky Buzz buttons. It's quite simple to use, there is a big coloured "buzzer" type button on the top, followed by four small colour coded buttons below. On some games, if you push the big buzzer first, you can answer the question first, followed by a multiple choice of answers. It's very simple to use.
Graphically, the game is quite cartoonish and lacks that lackluster game show style experience. Cute is probably the word that best sums up the graphics. The movie clips are of high detailed caliber, however the game is quite a basic looking title. The announcer is a little boring, however most sound effects are good.
At the end of the day, Scene It? Box Office Smash is a decent party game that needs to played with as many people as possible as this is what makes the game truly enjoyable. Online is interesting, however not as fun as playing with someone physically next to you. Definitely for those movie buffs out!