The folks handling the press for Scary Girl sent us over a code, and I have to admit I waited a bit long to get a closer look at this game. I was thinking oh, another Xbox Live Game. I should know better by now. Scary Girl is an absolute delight. Its bold art style harkens to the graphic novel book by Nathan Jurevicius of the same name and character, which you can check out on Amazon…if you want the book. Now on to the scrumptiously cute game called Scary Girl.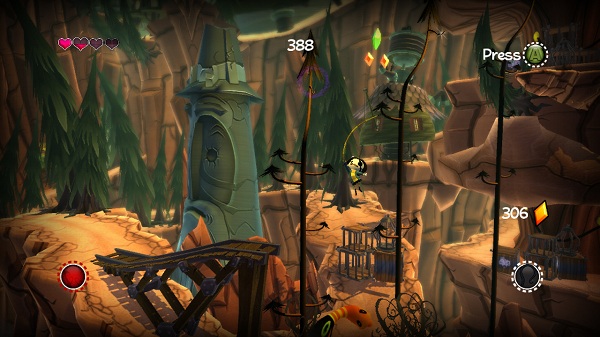 Our girl hero in the story "Scary Girl" was raised by an intelligent squid. Scary girl has an eye patch; one arm is a tentacle that ends in a hook. The game takes us through some plat forming that fans of those types of games will enjoy, and new fans may just fall in love with this quirky character. Leaping, jumping, swimming and flying for short distances and fighting her way through the levels, with odd creatures that fill Scary Girl's spectacularly bold world. At first glance it looks totally 2D, but the camera is rather dynamic, showing that there is some depth to the gaming world. Some paths split and the player can choose which way to go. It all looks like something out of Tim Burton's childhood dreams really; it's a style all its own that makes the player wish the adventure was just a bit longer.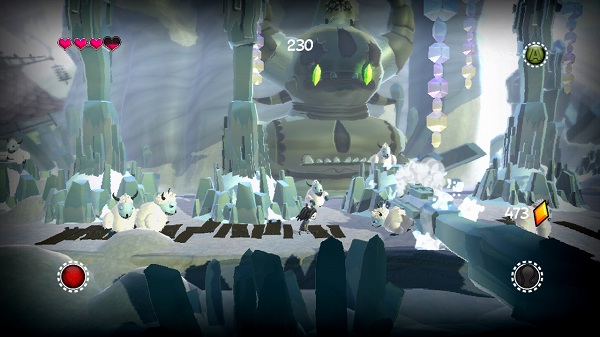 Each stage of the game seems to be broken down into three parts, leading up to, ta da…of course a boss battle. It's old school gaming here when it comes down to the big bad at the end of levels. To beat them you are going to have to have some form of strategy and even figure out some patterns to run to have the most effect on the dastardly boss at the end of the levels.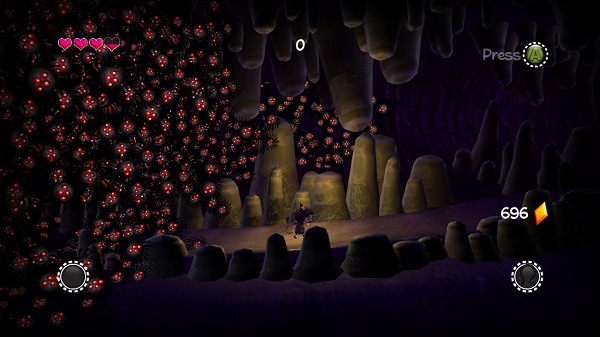 All of the battles are fun, and so is the special attack that Scary Girl can muster to put the beat down on her enemies. There are upgrades in the game which can be gotten by collecting enough gems, some can replace her hook with useful items, and then of course there are special combat moves which everyone will have a blast at. Once in a while some of the world does get in the way during battles and obscures your view, but not a game breaker either. It all starts out pretty easy and ease the player in, a few levels in it can become a bit brutal so in those first levels, get used to the controls and get ready to step your game up.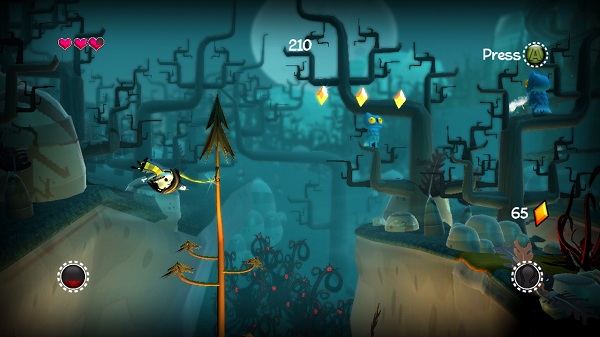 Much like Wolverine from the X-men, Scary Girl can build up rage. When she gets a full rage meter, off she goes into Rage Mode. Once using the pent up rage she Morphs into a surprising shape and gobbling up foes and in turn gaining health that she may have lost during her battles. The game designers balanced with rather well, you cannot just go nuts and use the rage attack right and left. The rage meter empties out far faster than it's able to be filled. Scary Girl must perform combo attacks to start filling the rage meter.

Scary Girl, a visual treat and even more fun to play.

Have fun play games
Edwin Millheim
Get the game on Xbox Live Arcade, or PSN
BUY THE GRAPHIC NOVEL FROM AMAZON