Sacred Citadel &
Sacred Citadel Jungle Hunt
(Available on PC, Reviewed on XBOX 360 via XBLA)
Sacred Citadel and its add-on Jungle Hunt is a classic old school side scrolling beat 'em up that requires you to move from left to right and smash the absolute living daylights out of your enemy opponents. The game is reminiscent of those classic arcade games (provided you're old enough to remember) like Double Dragon and Golden Axe but it's developers have slightly modernised it.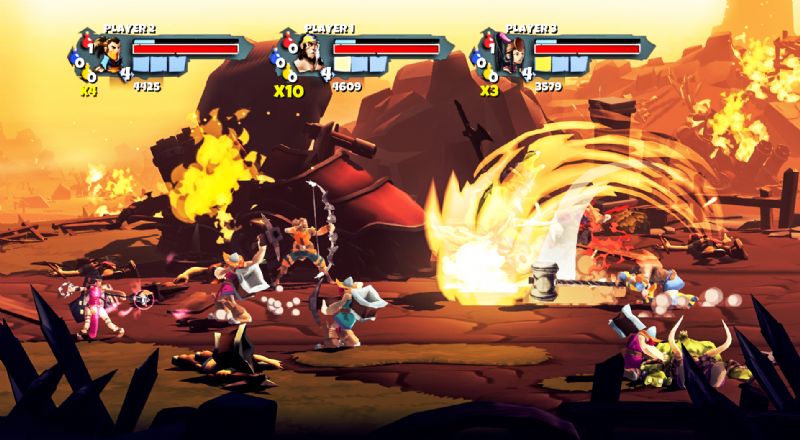 Before starting the game, players (up to three) must choose their character and each has a unique fighting style. The characters in question include a Warrior, Mage, Ranger and Shaman which are the classic Sword & Sorcery archetypes. My favourite character in Sacred Citadel was the Ranger who with their trusty bow allowed me to shoot enemies on the other side of the screen, unlike the Warrior who needed to engage in melee attacks.

The games do have a story that requires the player to defeat one of two powerful enemies and of course the standard good versus evil plotline... yada yada yada and basically it's time to kick some evil butt. In the first game, the player and friends must challenge Lord Zane and his hideous army of Grimmocs which threatens to enslave the world of Ancaria. The add-on for this game is Jungle Hunt that after defeating Zane, the players must hunt down "Big Mama", one of the most powerful Grimmocs who has stolen an ancient artefacts and has gone rampant in the jungles.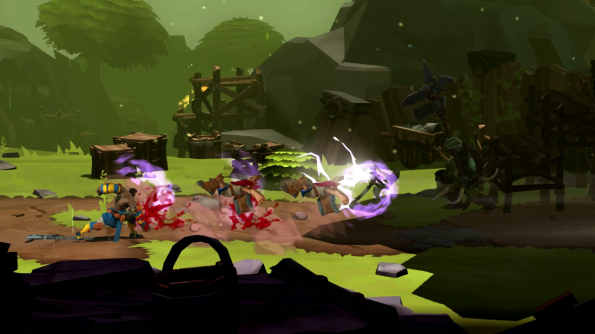 Fortunately these text cutscenes can be skipped which allows you to get back straight to the action. Once you're in the game, you will also soon realise that this game is not your traditional button smasher. The game supports both a primary and secondary attack with the ability of combinations that definitely adds to the strategy of your gameplay.

As you progress through the various levels of Sacred Citadel and Jungle Hunt, you will encounter new environments, monsters and situations that still require you to hack 'n slash your way to victory. Add in bonuses and the ability to collect coins, potions plus weapons and Sacred Citadel unfortunately does become a tad repetitive, especially in single-player. Where the game shines is through its multiplayer component which really takes you back down memory lane to those classic arcade machines of yesteryear.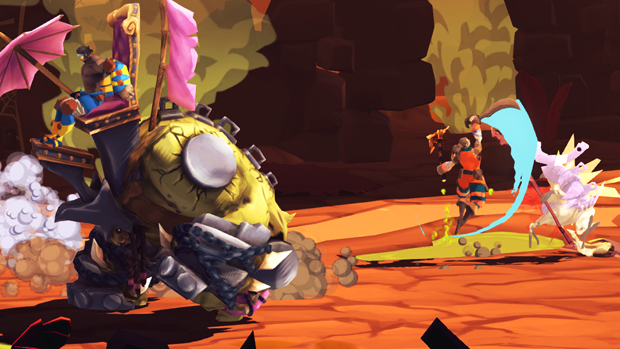 Players can also "level" up as the game keeps score of your experience points which is displayed on the HUD. To compliment the experience bar, the game tallies your health and has another metre for your special attack which can only be unleashed once this bar is full. Apart from attacking, you have a block ability and even the option of performing rolls which is needed for certain battles. As you progress, the game does allow you to unlock new abilities for your characters that helps keep things interesting and are sorely needed for boss battles. All in all, it's a modernised beat em' up that works but definitely requires additional players for the fun element.
Graphics/Audio

Graphically, Sacred Citadel is a good looking title on the XBox 360 with its cell shaded graphics and colourful environments. Characters move with that old school grace but the only complaint I had with the graphics was the scrolling mechanism. The scrolling of the game is controlled by the game itself which does become a little jarring because no matter how far you move to the right, the game will not scroll until you have dispatched all your enemies. Once again another homage to gaming of the previous century. Sound and music work well with both the gameplay and graphics.

Final Thoughts
Sacred Citadel and Sacred Citadel Jungle Hunt is recommended to those lovers of old school arcade fun. Graphically it's a good looking title and the gameplay is sturdy, although does become repetitive. To fully immerse yourself into this experience, you really need to play with others. The first game contains five solid levels with the add-on boasting an additional three.
Check it out if you want some mindless fun!