They're Baaaaack! The Rabbids are back! Take your friends and family and hide, those mischievous Raving Rabbids have now invaded the XBox 360 Kinect with Ubisoft latest Rabbids title, RAVING RABBIDS: ALIVE & KICKING.
So, for the uninitiated or for those that haven't seen the whacky game trailers on Impulse Gamer or YouTube, a rabbid is some kind of naughty rabbit gone bad...Yup... it's a mad scientist's experiment. And unfortunately for you, these vermin have invaded the real world and your goal is simple, remove these pests from the streets using any means possible!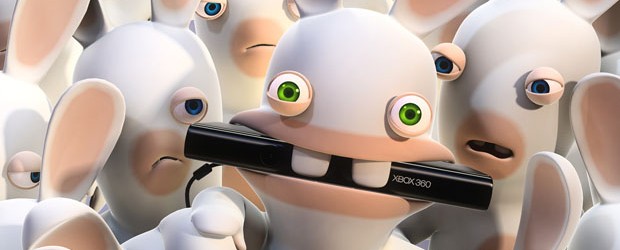 Similar to the Wii version, Raving Rabbids: Alive & Kicking is a collection of mini-games for the XBox 360 Kinect and just like all titles that feature a collection of mini-games, some work and some don't.
Using the controllerless technology of the Kinect with some augmented reality, this game is not only weird but there is actually something endearing about the entire premise. Given that, Raving Rabbits: Alive & Kicking is quite a politically incorrect game at times and although some of the humour is childish, crude and sometimes embarrassingly bad, there are times that will you busting out a laugh due to the strange cinema, concept or mini-game that you partake in.

As this is a Kinect game, the title requires the player to use their body to navigate the game by moving their arms to perform some weird mini-game like licking cake or punching and slapping these horrible little creatures.
The Kinect device works relatively well with most of the games, even though some of the concepts are a bit of a hit and miss but the Kinect is still not 100% accurate. With that said, there is sometimes a slight delay between your actions interacting with the game but fortunately this does not hamper the gameplay too much. The game can be played in single-player but it's definitely more entertaining if you have a few friends over (up to four players).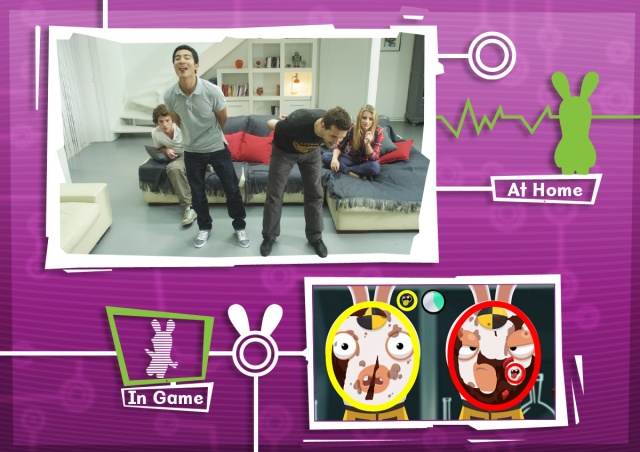 My favourite mini-game in this release was the air guitar which basically amalgamates Guitar Hero with real-life air guitar and creates this really embarrassing Kinect mini-game that was a hoot to play.
This game is so good because Kinect works so well with it as you pretend to hold a guitar as you strum to make the music play. There is even a version of Lemmings (for those older gamers) that requires the gamer to navigate the Rabbids through dangerous obstacle course.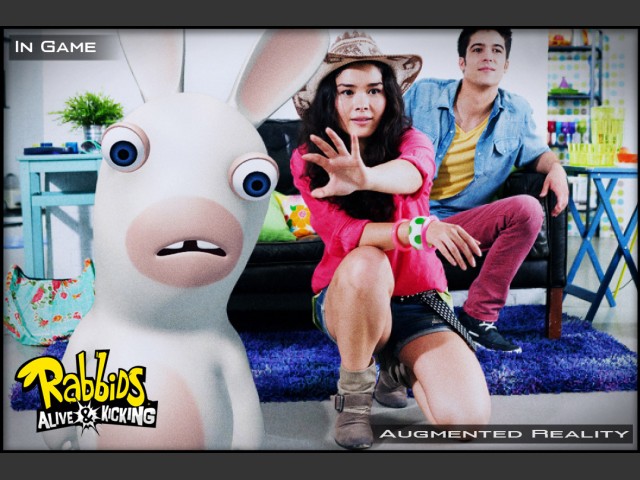 With almost 40 games, including a Rabbid remake of Pong which was cool, not all the games are perfect and there are a few average games that are reminiscent of the EyeToy from the PlayStation 2 which requires you to hit and smash things on the screen. But hey... if you want to slap things, this game even has that included... poor little cows. It should also be noted that the augmented reality games are actually rather impressive and are almost on par with the EyePet on PS3.
In terms of replay value, the game does reward you with money which is actually toilet paper that can be used to purchase additional items for your Rabbids and their environments like hats and cows. Also, achievements can be unlocked for just doing weird and politically incorrect things which is a fun highlight because you can never guess how the game will reward you. It's also amusing to see the game take random photos of your efforts as your standing in some weird positions or pulling a face that you never thought you do... classic stuff.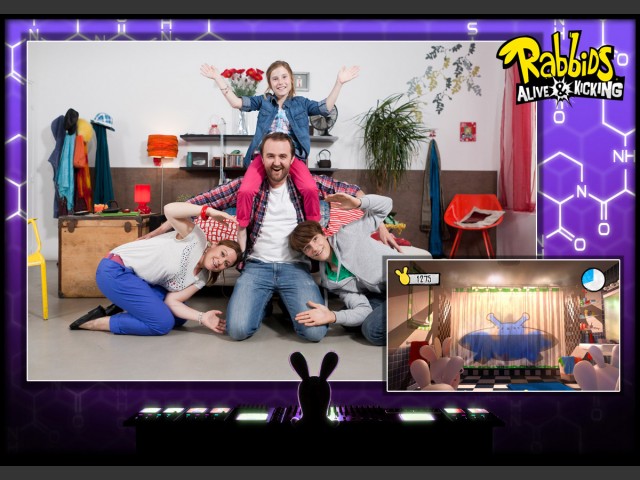 Graphics & Audio

Graphically, Rabbids on the Kinect looks like some strange psychedelic dream from the 60's due to its larger than life colours and environments. It's a cartoon gone bad on some illegal substance that somehow brings their world into your living room thanks to the augmented reality. It's actually quite impressive as generally you're watching your living room filled with these critters.
Musically on the other hand, the game contains a whacky and over the top soundtrack that suits this premise perfectly. Sound effects are equally as clichéd but somehow it all comes together with the gameplay and the graphics. Weird!

Final Level

With around 40 mini-games included Raving Rabbids: Alive & Kicking, the biggest highlight of this game is how well some of these games work, especially with the Kinect controller which has copped some flack over the last year. Even though this looks like a game designed for kids, it can be played by all gamers, provided you like standing on your feet. Gamers from all walks of live will have a ball playing this, especially if you're having a party and unlike a karaoke or dancing games for the 360, this definitely brings out the naughty child inside everyone.