Although there have been quite a few ATV games on the XBox 360 and the PlayStation 3, this franchise has suffered a rut in recent years… and the biggest addition to the genre was that of Motorstorm and unfortunately Motorstorm was a PS3 game. Thankfully for XBox 360 owners, Black Rock Studio have truly created a revolutionary ATV experience that not only contains exceptional graphics but also true next generation gameplay which thoroughly immerses you into this exciting racing game that is true extreme sports.

Key Points
Featuring never-before-seen, vertigo-inducing massive aerial jumps in real-world quad locations, Pure delivers heart-pounding off-road racing unique to the genre.

Players start by choosing among a variety of male and female character riders. They can then either race against deft A.I. opponents or online players (up to 16-player multiplayer) in frenetic races and freestyle competitions all over the world.
Pure features three main modes of gameplay that include freestyle, race and sprint. For race, players must race against a variety of other opponents with their goal being the first to cross the finishing line. Of course you must use the revolutionary Pure gameplay to assist you in crossing the finishing line by performing stunts and using nitro to boost you along.
Freestyle allows you to forgo the race aspect of the title and allows you to concentrate on performing tricks only, match that with a variety of power-ups littered through the gaming environment and it's quite an intense experience. Sprint on the other hand is similar to Race, however is an abridged version of the race mode and is great for short races. Ideal for gamers who only have a short time to play.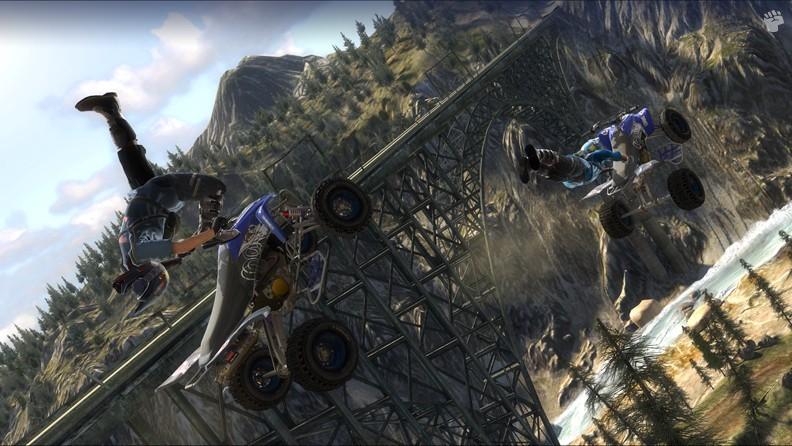 Pure contains a great single-player mode that contains a World Tour with a variety of unlockable circuits with different events that most seasoned gamers should have no problem in knocking them over. The developers have also ensured that there are a variety of unlockable items to be found.
For lovers of online, Pure allows you to engage in all the different gameplay modes which includes freestyle, race, sprint and lastly, match that with 16 players and you have a truly entertaining online experience.

What sets this game apart from others in the genre is integration system of stunts or "tricks" according to Pure which has been flawlessly inputted into the gameplay. By performing a variety of over the top stunts based on real-world tricks, players are awarded nitro which can then be used to perform even more complicated and powerful stunts.
By using the analog stick on the controller, you must time this correctly when you are about to go over a jump which will increase how high in the air you will go. Fortunately the title contains a mini tutorial level which will teach you the basics of how to use this trick which the gaming engine incorporates into the title.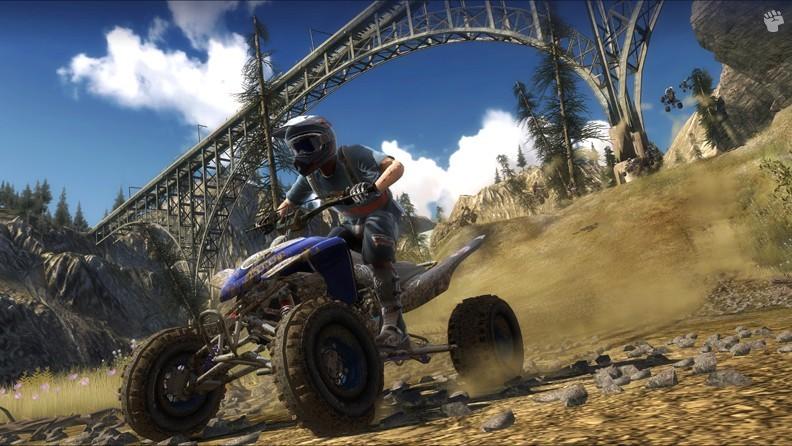 As with games such as Tony Hawk, you can even perform a variety of tricks one after another that is pure ingenious in terms of gameplay. By ensuring that you mix and match these tricks together, it will also assist you in obtaining more nitro. Some of the stunts which are performed in Pure can only be done through ridiculously high jumps and almost causes you vertigo as you fly through the sky.

Graphically, Pure is one of the most impressive ATV games on the market at the moment (Move over Motorstorm) and simply looks brilliant on the XBox 360 with exceptionally sharp and colourful graphics. The attention to detail is bliss and the vehicles look quite realistic and move with a real-world grace. It's almost photorealistic in appearance.
The backgrounds, although a little sparse at times are quite detailed but where the title does excel is through its frame rate and draw distance which goes hand-in-hand with the gameplay. The exceptional smooth frame rate and very rare popups easily allows you to transform into the rider you are controlling.
There are even some nice special effects and lighting effects littered through the gaming environment that provides the finishing touches on this addictive and entertaining game.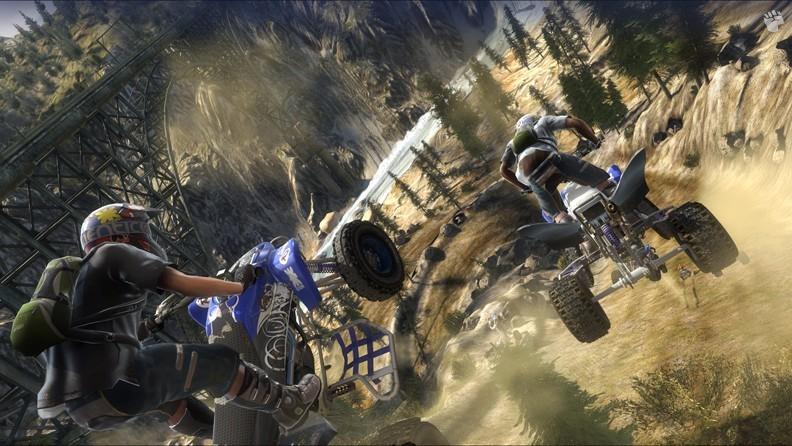 Sound wise, Pure has a pumping soundtrack which suits the extreme sports genre and contains 25 licensed songs to help plunge you into this adrenaline pumping world. The sound effects of the vehicles are also quite detailed as is the background ambience which of course includes crashes. It should be noted that the title should be listened through a surround sound setup to truly enjoy the racing and stunt experience.
At the end of the day, Pure is easily one of the most entertaining racing games of the year which features great gameplay, superb graphics and decent sound. Best of all, it game can be played by casual to hardcore gamers and Black Rock Studios have kept the title fun albeit a little frustrating but it's one of the those games you can continue coming back to and match that with online mode and Pure is brilliant!