Prey
Prey is another first person shooter (in the already saturated market) that has finally been ported to the XBox 360 which promises players another exciting instalment by 3DRealms. Originally, 3DRealms started in the shareware market and since then, they have released a plethora of extraordinary cheesy but entertaining games such as Duke Nukem 3D. However with that said, my first impressions of Prey was a mixed bag because one minute the game looks like a highly polished title such as Half-Life or Quake 4 but the next, something feels missing. Prey also uses the Doom 3 engine from id that 3D Realms have recreated this imaginary universe of Indians and aliens.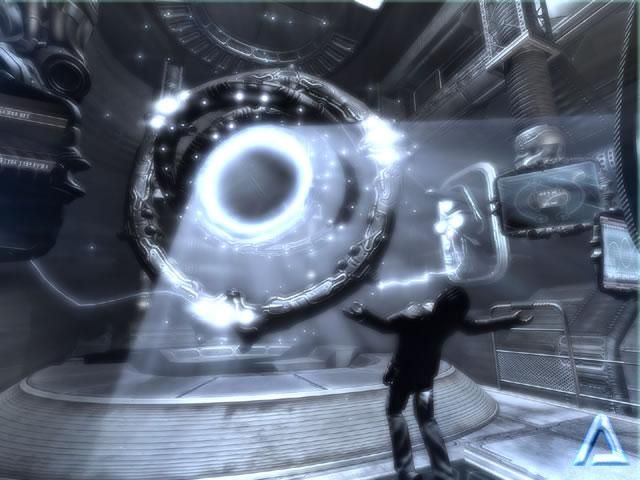 Features
Built on an enhanced Doom 3 engine, the most impressive 3D engine used in a released game.

Portal technology adds a new dimension to gameplay, allowing enemies to appear out of thin air and create new and completely original puzzles and gameplay styles.

Portal technology adds a new dimension to gameplay, allowing enemies to appear out of thin air and create new and completely original puzzles and gameplay styles.
The story of Prey revolves around a reluctant native American Indian who has his world torn apart when Earth is invaded by aliens. Tommy who has turned his back on the Cherokee, has embraced a more western perspective who is eventually persuaded by his grandfather (insert hundreds of cliches) and his spirit guide that there is more to life than just capitalism. The journey of Prey is best described as a new beginning and how this reluctant hero finally embraces his past to not only save the world but also his sensual and sexy Cherokee girlfriend.
The developers have done some interesting things with the storyline of Prey, having the title set in a few different gaming environments such as that of the world of the living and the spirit realm. Although in its basic essence, Prey is a first person shooter, the switch between the living the spirit realm is a novel idea that doesn't become overused and does give a unique aspect into this genre.
Prey supports two different levels of difficulty that include normal and Cherokee with a variety of different alien and futuristic weapons available to the player. Apart from the stock standard guns and rifles, the player must also use the spirit world to not only access parts inaccessible parts in the game but also spirit attacks on enemies. Interesting enough when the character does die, the gamer can also challenge the spirit realm to send his soul back into their character, hence giving you another chance at life.
As all good first person shooters, the gamer must use a variety of futuristic weaponry to destroy his enemies, complete certain quests, solve various puzzles and save the world.
Although all these aspects of Prey is quite novel, what really lets the gameplay down is the less than professional character acting that is anything short of annoying. Tommy is always questioning what he sees in an extremely cheesy voice with the odd four letter word here and there and the rest of the characters are equally cheesy with their overthetop acting. Bare in mind, this outrageous character acting is a staple diet of 3DRealms but unfortunately this reviewer found this more annoying than entertaining, especially after playing some high-scale productions such as Quake 4 or Perfect Dark Zero that has the cheese factor but in a more professional tone.
Graphically, Prey is quite impressive on the XBox 360 that features a wide gamut of special effects from reflective surfaces to the eerie ether world of the spirit realm. Interesting enough, the background environments are quite detailed in Prey that clashes with the relatively bland looking characters. With that said, it seems that Prey is just a XBox port because when you first start-up Prey on the XBox 360, it asks the gamer to update their system that is indicative of an XBox 360 patch to play XBox games.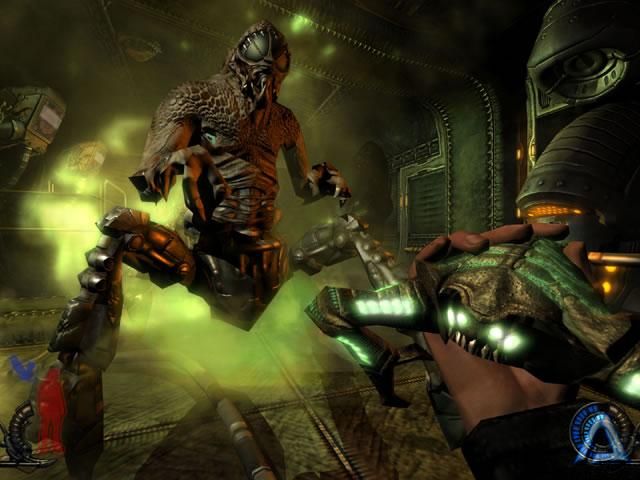 In conclusion, Prey should take the average gamer around 15 hours to successfully complete, provide you thoroughly explore the gaming environment but unfortunately the title seemed to be half finished. The graphics were a mixed bag that bordered on the both the XBox and XBox 360 worlds, as if certain aspects of each console were mixed and matched into this new version of Prey. The storyline, although extremely cheesy as per all 3DRealms games was vaguely entertaining but unfortunately the overthetop and sometimes down right boring voice acting really spoiled this reviewers experience of the game.
I truly wanted to like Prey and gave it more than ample time to impress but some things are best suited for the 1980's or 1990's. Recommended to gamers who enjoy the games from 3DRealms but for more experienced gamers, they may wish to rent before they buy because there are better shooters on the market at the moment. Prey is not a bad game or a great game, rather it borders on average to good, still worth a look!