Nyko Charge Station 360

Since you have to feed your hunger for gaming, you also have to feed your controllers hunger for batteries. The Nyko Charge Station 360 for the Xbox 360 controllers is an ideal but of hardware to keep you gaming for hours.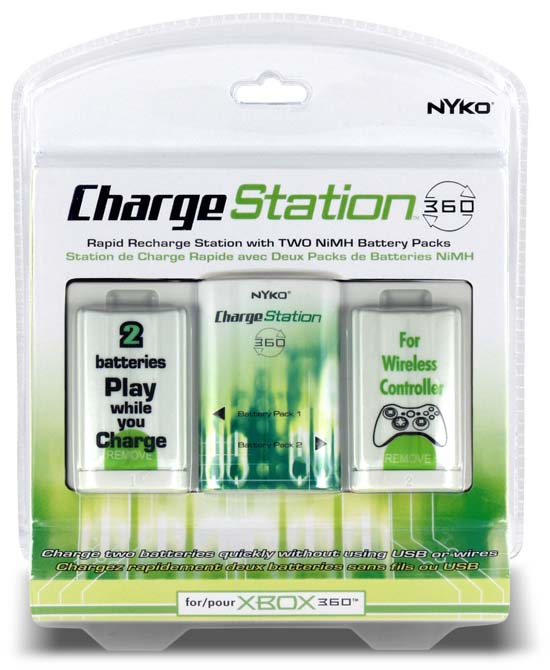 The unit is a pretty good deal; it includes two NiMH battery packs and the rapid recharge station. Granted we did have an issue with the first unit. The batteries would not hold a charge. We plugged in the charge station and the lights blinked green for a moment and then went out. Plug them into the controller and they don't work. No charge. Very odd.

Now the batteries had a clear-plastic sticky-strip over the terminal leads on the back of the battery. They were not easy to see. Remove the strip and they should work. On ours it did not, now thatís ok. Surprisingly enough Nyko customer service was rather helpful, even after we already had another unit sent from our company contact, we made sure to give customer service a call and see how that would go. The customer service representative offered several trouble shooting tips and even offered the option for a replacement unit. Well done Nyko, taking care of a customer is always a good sign.

The new unit worked out great and the batteries kept a charge for some major gaming. Shael went a good three hours with one game and I went on to use the same battery as we switched up and I went into a bit of a gaming spree of my own.

When first plugged in the batteries showed up falsely as charged. When trying them out, they did not work. Trying out the plug and play recharge kit, they showed as low or no charge but did start charging. Taking them off the plug and play charge kit, we placed them into the Nyko charge station, around two hours and the batteries where ready to go. Ever since then we have tried recharging and using the batteries and they are now working just fine. The Nyko Charge Station is a good buy for that gamer that wants to have extra batteries ready when the gaming bug hits them.
Maybe itís my soft side, or maybe itís the way the company showed that they are ready willing and able to assist a customer, even if you run into an issue, give it a chance and give Nyko customer service a call. Youíll be glad you did. The Nyko Charge Station is a low priced solution for any hard core gamer that should be close at hand in your gaming house hold. Check out what they have to offer at www.nyko.com

Edwin Millheim
Have fun, play games