Need for Speed Most Wanted
Wake up to the smell of burnt asphalt as the thrill of illicit street racing permeates the air. From the makers of the hit Need for Speed Underground series, Need for Speed Most Wanted challenges players to become the most notorious and elusive street racer.
The Need for Speed series once again returns to the console world with Electronic Arts combining a plethora of gameplay options from the entire saga of this series to include street racing, police chases and everything else that made the Need for Speed series one of the most entertaining games of the century. The XBox 360 version contains everything to make a brilliant racing game, beautiful graphics, sturdy gameplay and a pumping soundtrack.
Features
Combining illicit street racing and tuner customization with the intensity of strategic police pursuit that surpasses any Hollywood-style chase scene, Need for Speed Most Wanted will be on every gamer's 'must-have' list this holiday season. Out-race rivals, evade cops and exploit hundreds of miles of open road as gamers make their way up the Blacklist.

To become the most wanted racer, players must build up their street cred and Rap Sheet with gripping, white knuckle, head-to-head races with the top drivers on the streets, as well as pull daring, evasive moves to out-run and out-fox the cops that patrol the open road. Players can manage their heat or utilize a number of strategic tactics to keep the cops off their tails as they leave their rivals behind to suck their exhaust fumes.

Need for Speed Most Wanted also features a variety of the hottest cars that range from tuners to super cars. You can customize your ride to race against any class of vehicles.
Need for Speed Most Wanted contains a variety of different gameplay modes with the campaign mode being the main form of play. The gamer starts in a fictional town where he is looking to engage in some illegal street racing. Unfortunately for your character, you are soon arrested by the police because of a racer named Razor Callahan who has plagued you through your entire life.
Teaming up with the extraordinary sexy Mia, you soon work your way up the blacklist of street racing, until you finally engage with Callahan. Although the story seems a little clichéd, it actually works quite well and the developers have successfully melded in game graphics with CGI to help progress the storyline.
Most Wanted is an arcade racer plain and simple. The parts you add really only affect the speed and the performance of the car. Some may need to get used to the physics of the cars since they are a bit loose and still skate a bit. After a few races or the other events, you will get used to the way they handle but if you are playing Project Gotham Racing 3 lets say, and then switch over to Most Wanted, you will have to readjust the way you handle turns and your overall driving style.
There are some very cool cars to unlock or get by picking the pink slip icons and range from tricked out Supra's, Corvettes and even Lamborghini's. This is an impressive list of cars and the only thing that some fans will notice is the new way of buying the custom parts like front ends, rear ends and sides. These are now all included in a body kit limiting the amount of looks and overall parts but the hoods, spoilers and other items are pretty impressive.

The campaign mode of Need for Speed most Wanted has you going after the racers on the Blacklist by both winning races against their minions before you tackle each main Blacklist racer. You also have to show your metal by outfoxing the cops who can find you at any time, whether you are racing or not and speaking from experience it can take a long time to finally get them off your tailpipe.
You can win Blacklist cars from your rivals and then modify them with a ton of visual and performance options. Most Wanted also keeps the free-roaming aspect from Need For Speed: Underground except when races are staged. There are also special challenge races where you test your car's speed through a series of tollbooths, pursuit challenges and more.
Gamers will have the choice of either automatic or manual settings. Each set of controls are well explained and laid out perfectly and responds well. There is no delay, however, a few of the more advanced controls like the nitro meter and boost will take some time to learn how fast it recharges.
The trickiest control feature is using the Speed breaker hitting. This slows down time and allows you to make hair pin moves without slowing down. It looks neat and comes in handy but can also screw you up. You need to know when to use it and is never recommended during a police chase where it looks like you will get busted. It is meant to get around turns and other obstacles. Needless to say the wireless controller on the XBox 360 is brilliant and this should make the world racing for novice gamers more exceptable.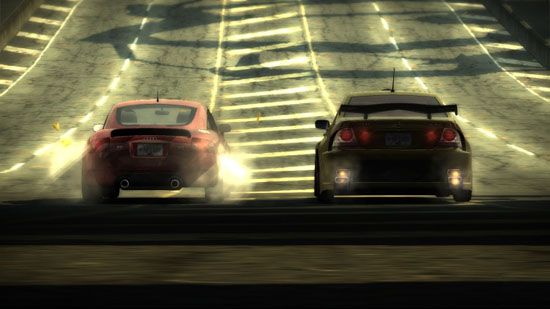 Graphically, Need for Speed Most Wanted looks like a visual treat on the XBox 360 that contains some of the most realistic racing environments to have ever graced the console. Match that with a variety of special effects, realistic car models and some great physics and this title is easily the best damn racer that I have played in a long time.
Once again, the team from EA have implemented another hard rock soundtrack to help immerse you into the world of illegal street racing and match that with some professional voice acting and realistic sound effects of cars screeching, breaking and crashing and you have one great sounding game.

In conclusion, Need for Speed most Wanted is a worthy car game that features sturdy gameplay, exceptional graphics and a variety of different gameplay modes to keep you entertained for weeks on end and when it gets a little boring, invite some of your friends over to play head-to-head. Highly Recommended!
XBox 360 Features
1-2 Players

120KB to save game

HDTV 480p/720p/1080i

In-Game Dolby Digital

Gamepad

Supports Family Settings

* Online Multiplayer 2-4 Players

* Leaderboards

* Voice
* [XBOX Live features require Broadband Internet Service, Microsoft Passport Account and paid membership for online play. Some services and downloads require additional hardware (eg headset and camera) and fees.]