NBA Live 08
The latest edition to the NBA franchise has arrived on the XBox 360 with EA Sports NBA Live 08 that has produced some of the nicest graphics and gameplay to date. Featuring a variety of new and improved gameplay options, improved shooting mechanics and flawless 60 frames per second graphics, NBA Live 08 is definitely the closest us mere mortals will ever get to play with the big guns of basketball.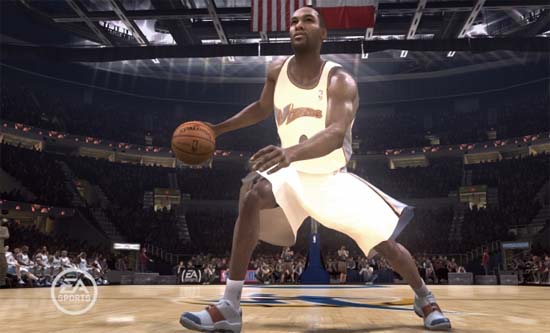 Features
Although NBA Live 08 is your classic arcade style basketball game, this current incarnation is a combination of simulation meets arcade with its easy to master gameplay that allows you to pull off a variety of realistic maneuvers. The added quick strike ball handling option allows for greater ball control that is flawlessly handled by the analog stick.
A new improvement of the gameplay is the offensive capability of title and with a press of the button, your player will follow his opponent like a shadow and all the gamer really needs to concentrate on is stealing the ball.
EA have also improved the AI of the system and depending on your personal difficulty level is quite manageable and not ridiculously hard. For those lovers of franchise, the Dynasty mode in NBA Live 08 offers the gamer a plethora of micromanagement options such as training, uniforms and trading.
For lovers of multiplayer, NBA Live 08 has some great online options via XBox Live which will definitely extend the longevity of the title by allowing gamers to play real opponents of all difficulty levels. Needless to say, there are quite a few basketball sharks on XBox Live.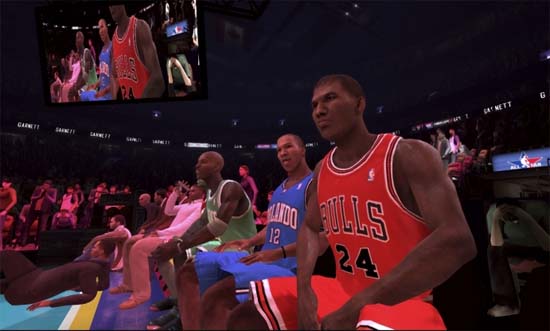 Graphically as briefly mentioned earlier, NBA Live 08 is a visual treat on the XBox 360 that has some realistically modeled stadiums with some of the best crowd animations to date. Of course the stars of the game are the basketball players themselves that move with a fluid like grace that has not been seen on a high-end console before.
Even when you see the players (depending on how fanatic you are of the sport), they are quite recognizable and have some great facial animations. Best of all, the title runs at a glorious 60 frames per second and we found no slow downs whatsoever.
Once again EA has created a very "sports" orientated soundtrack that will get your adrenaline pumping quite early on in the game with its rock/hip hop theme. Match that with realistic commentary and some extremely great on-court sound effects, not to mention the screams and chants of the crowd and one could be forgiven in thinking they are at a real NBA match.
In conclusion, EA's NBA Live 08 is definitely a great game on the XBox 360 with its all-new and improved gameplay which will allow all gamers of all difficulty levels the ability to take on the greats. The new features in the gameplay and refined A.I. will keep you coming back for more and more and once you've completed the title against the A.I, why not try for some online play. Brilliant graphics and a sturdy gaming engine. Great stuff!