Based on the novel Metro 2033 by Dmitry Glukhovsky, this post apocalyptic story is brilliantly engaging and unlike quite a few first person shooters, it has quite a complex and twisted tale. The content of the story is also not for children and at times is quite heavy in adult themes which only assists in some of the twists, so watch out for those post apocalyptic babes! You have been warned!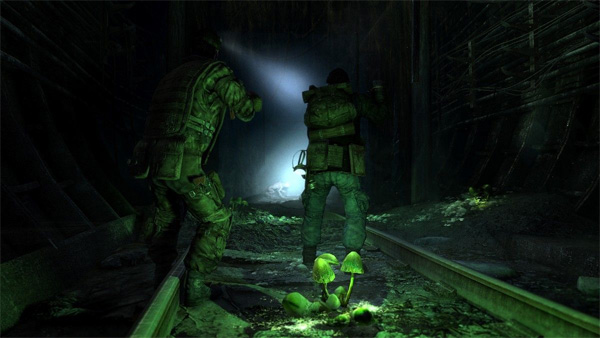 Even though this world is ruled by mutant creatures, mankind is struggling to get the upper hand again, though itís a depressing reality that will eventually have them becoming extinct. At times, Metro 2033 is quite reminiscent of S.T.A.L.K.E.R. and the Fallout, however is still quite unique and has enough elements and story to make it stand strong. Apart from the central storyline, there are dozens are side quests and thankfully a compass is used to direct you to key points in the game.
The atmosphere and level design of Metro 2033 is very engaging and the developers have successfully created this post apocalyptic universe that has mankind living in an underground rail system as the world above them falls apart. In the game, gamers play Artyom who has decided to risk his life in order to save his underground station. From here, Artyom needs to embark on a dangerous journey as he travels through the underground networks, searching for some assistance to save his ďcityĒ.
At times, the feel of Metro 2033 is quite claustrophobic and there are some parallels to Half Life in terms of the player being on edge, not expecting what will appear around one of the tunnel corners or what they expect to see on the surface. As mentioned, the story of Metro 2033 is quite in-depth, especially in terms of the attention to detail. Just by standing around and listening to other characters in the game, they will give you snippets of information about this world and its execution is quite realistic.
As a first person shooter, Metro 2033 boasts a very good gaming engine, especially for combat and the cover system works well. The combat is quite diverse as you battle humans and mutant like creatures. The control system works well the 360 controller and this is one game you cannot just lounge on the couch to play. Even though the world of Metro 2033 is quite bleak, you will find acquaintances who will travel with you for short amount of times and when you travel alone, the sense of abandonment if quite evident.
The combat engine works well in the game, although the limited ammunition does create some issues, especially if youíre a little trigger happy and want to finish the game like Aliens. There are lots of different weapons available in the game from handguns to flamethrowers, however ammunition is a problem, so you cannot take a weapon for a test drive because you donít know whatís around the corner.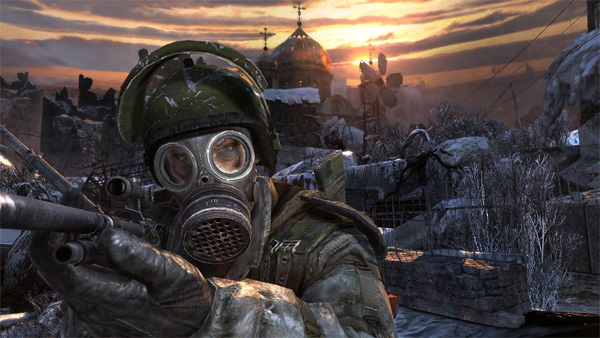 The only issue that I found with the combat is that at times, your gas mark does impede on what you can see and when youíre shooting blankly around trying to hit your mutant, I could think of a few great choice words to vent my frustration. Funny enough, youíll also be staring at the ground quite a bit in Metro 2033, looking for trip wires and explosives that are basically traps to keep out those mutants or nasty humans. Although weapons can found throughout the various locales that you visit, the main currency in Metro 2033 is ammo which can also be used to purchase ammo. Using ammo to buy ammo? Okaaay! Just visit your friendly and seedy arm dealers for some true post apocalyptic bargains.
Besides your trusty weapons and precious ammunition that must be used sparingly, your gas mask also allows you access poisonous areas in the game that gives quite a claustrophobic feeling, especially when condensation starts to form on the glass or worse, it gets a crack and your anxiously trying to get out of the nuclear waste. To add an element of realism into the game, you need to replace the filters in your gas mask or youíll soon find yourself choking to death! That wheezing sound will stay with me forever I think.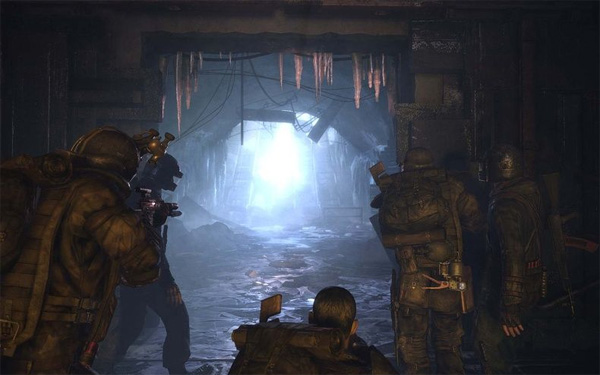 Graphically, the game is a well designed world with some surprising attention to detail from the dark tunnels of the underground rails to the devastated cities of Moscow from nuclear ruin. The characters are well animated and have some good looking texture details that move well or strangely as do the mutants but it come together well. There are plenty of special effects and lighting in the game but the scenery of the game is the winner here. The voice acting is professional and the sounds effects match the gameplay perfectly. A couple of characters sound a little dodgy with their accents that will make you smile but thankfully the game does make good use of the digital sound capabilities of the XBox 360, especially with surround sound. The soundtrack is also ambient without it being too over the top.
At the end of the day, I thoroughly enjoyed Metro 2033 which was quite a unique first person shooter and proves that this genre can have a very good storyline, just like BioShock. The attention to detail and realism works well on the 360 and the lush graphics and powerful sound only fuels the fire. This is easily some of the best games Iíve played all year which kept me on the edge of my seat throughout the entire game. Even though the gas mask was quite frustrating at times, it allowed for some nerve biting gameplay that only assisted in drawing you into this destroyed and broken world. Recommended!