A sequel was inevitable and those guys from BioWare have refined their original game, streamlining certain gaming elements that caused some issues with Mass Effect 1. Even so, Mass Effect revolutionised the world of science fiction RPG's and if you have any interest in either sci-fi or role-playing games, than you really should check this amazing story that returns gamers to this futuristic universe of both familiar and unfamiliar places.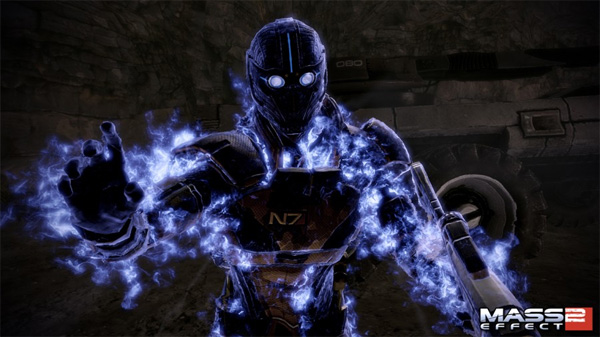 Considerable darker than the original game, players are once again reunited with Sheppard, an almost Han Solo type archetype, however the player has full control on their alignment and direction. With a story bigger than Ben Herr, Sheppard is once again drawn into something that he would rather leave alone and due to his questionable acquaintances, you need to assist Sheppard in discovering why human colonies around the galaxy are disappearing.
Like all good RPG titles, Sheppard is not alone and as you progress through the game, you will soon acquire quite a Motley bunch of "friends" to assist you in your journey whom all have their own agendas such as the ultra sexy Miranda or the alien assassin Thane. With your crew assembled, it's time to embark on your spacecraft, the Normandy SR-2 and needless to say, you're going to need all the friends and firepower that you can muster because if you thought the original story was epic, BioWare have definitely set a new bar in Mass Effect 2.
To compliment the RPG aspect of this genre, the story is progressed nicely through conversations between NPC's that give the player a choice of actions with real repercussions. Of course this is where alignment comes into play but unlike Dungeons & Dragons, the spectrum is not limited to black or white. A really cool aspect to the conversations are interruptions as just like real-life or the movies more so, conversations can sometimes be interrupted for impromptu action situations that makes the game feel more real and less staged.
In terms of character creation, this is done at the start of the game which acts as a tutorial and determines some of your alignment plus which archetype class you'll become such as Soldier, Infiltrator, Vanguard, Sentinel, Adept or Engineer. Each class is of course different in terms of what they can do such as improved hacking skills or what weapons they can use.

Using the standard formula of RPG titles, Mass Effect 2 has a wide gamut of storylines to engage in and not all are connected to the central tenant of the game. This method gives the illusion of freedom to the player and almost makes the game a futuristic sandbox. If you have never played the original game before, don't fret because you can still jump straight into the sequel without the convoluted back history.
Of course, if you have played the original, you do have the option of importing characters over. Unlike those RPG's that stop and start, Mass Effect is quite a dynamic RPG that revolves around a third person perspective and really involves a good level of strategy as you engage the enemy that is reminiscent of a third person shooter. It even boasts a cover system that is quite competent, however when you do need to use a skill or item, the game can be paused. Although combat is the key to Mass Effect 2, the developers ensure that this is not top heavy but is well set out throughout the varied missions that you embark in.
Controlling your characters are easy thanks to the intuitive menu and if you feel like the RPG aspect is too complicated, the game can control levelling and the like. The only issue with the game is that it is a little stop and start at times and the combat in the game is not as flawless as I hoped.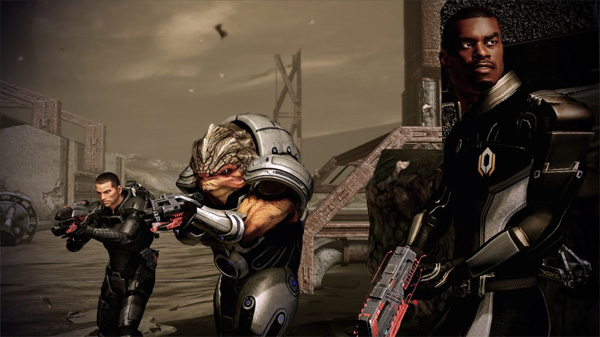 In terms of weapons, the games contains a healthy myriad that is similar to those squad based shooter and before embarking on your missions, you need to stock up from your weapons lockers on board the Nomandy-SR-2. Of course ammunition can be found on the battlefield but upgrades and new weapons are transferred to the Normandy upon purchase. In relations to armour, you need to return to your quarters on the Normandy and change them over but a really cool option is that there is an armour editor that allows you to create your own. So Boba Fett move over!

The skills available to your characters is also streamlined, making it more accessible to new comers with more workable menus and less time accessing them. Apart from the RPG aspect of this game, Mass Effect 2 contains an almost real-time strategy aspect as you explore the universe with the Normandy. Although it's a top down view, it allows you to navigate from planet to planet as you search for resources and missions to engage in. This definitely gives you a breather from the action orientation of this game as your guns cool down from blowing aliens and humans into the ether.

Graphically, the background environments that you visit are quite diverse from amazing planets to claustrophobic cities, the attention to detail is amazing. The level design not only compliments the gameplay but enhances it as the worlds you explore mimic the real-worlds or what you would expect on an alien planet. I remember one planet that I explored had a similar memorable experience like the original Star Wars when Luke stared at two moons of Tattooine which makes you appreciate the game ever more, thanks to the love that has gone into the creation.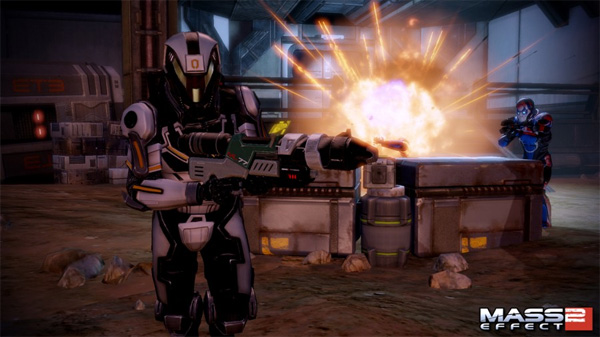 The voice acting of this game is quite professional and I cannot fault it at all, nor the impressive ambient sound effect that does change with the action and story. Of course there are a plethora of sci-fi sound effects from futuristic guns to lasers, aliens, background sounds and everything else to make this universe come alive on your XBox 360. With that said, to truly enjoy this title, a high definition is needed plus surround sound wouldn't go astray either.

If I had to sum up the game in two words, it would be "captivating" and "cool" as developers BioWare have really gone beyond the original and have made a large toy box, even bigger. Although at first, you do feel quite miniscule to the gaming environment but once you have found your feet and your guidance, Mass Effect 2 becomes a fun RPG that is difficult to put down and if you love exploring strange alien worlds plus battling a variety of strange aliens, than you've come to the right place. In terms of replay value, some gamers will return to the Mass Effect 2 universe because there is quite a bit in this game that you will have missed the first time around. Classic gaming with a 21st century twist!