Kinect Sports
Since the launch of the Kinect in Australia, this new technology for the XBox 360 has really taken off. Although we've seen a fair share of bad and mediocre Kinect games, there's a couple that standout from the crowd such as Kinect Sports. Kinect Sports may just be another Wii Sports clone but after a good workout session and in my professional and personal opinion, it is a far superior product thanks to the Kinect technology.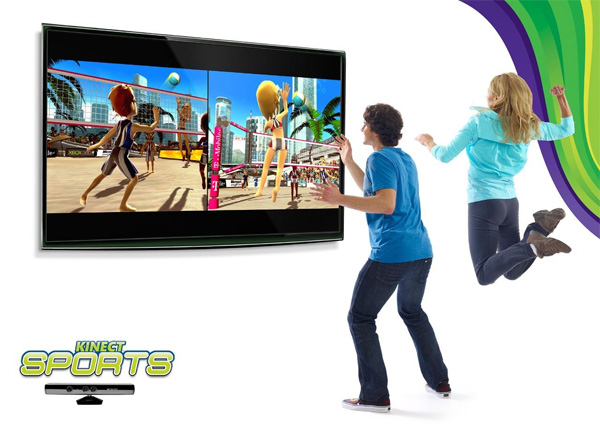 What about originality? Kinect Sports may not offer the world of gaming the next blockbuster controller-less or motion controller sports title but it has definitely refined this genre in terms of accuracy. Another cool aspect of Kinect Sports is that the atmosphere is quite fun and spontaneous which I'm guessing is due to the fact that were Rare developers this title.
As soon as the disc was loaded by XBox 360, we were greeted to a fun and intuitive menu system that supports up to 4-players (local and online multiplayer), a 2-player co-op mode, an interesting Party Mode plus some mini-games. It's also good that Rare have kept the menu system quite simplified as opposed to the sometimes convoluted menus of some Kinect games. Thankfully there is a bare minimum of options and all you need to do is hold your hand over it and it will select what you want.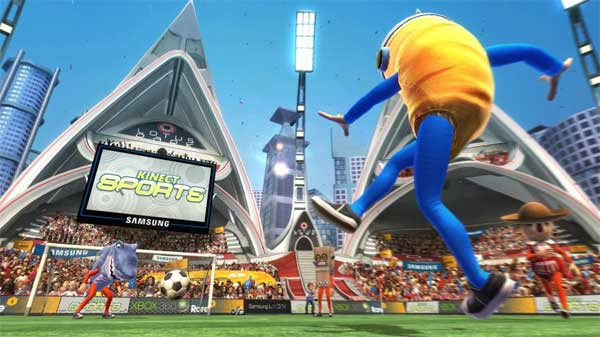 The games of Kinect Sports are quite varied which include Beach Volleyball, Boxing, Championship Bowling, Soccer Team, Table Tennis and Track and Field. Best of all, the games work quite well with the Kinect and we enjoyed all games. The first game off the ranks is Beach Volleyball that allows you to bump, set and spike the ball over the net. Even though you have no ball, the controls are actually quite accurate which surprised me. It's a fun experience that works on all levels, thanks to the sturdy gameplay.
Boxing on the other hand and just like UbiSoft's Fighters Uncaged which felt a little unresponsive. The first thing that most people want to do when they play boxing is lunge at their opponent one hundred miles an hour but unfortunately this does not work like that. However compared to some other boxing games (Wii, PlayStation Move and Kinect) because of the simplified controls, it done an acceptable job. This is probably the weaker game of this release.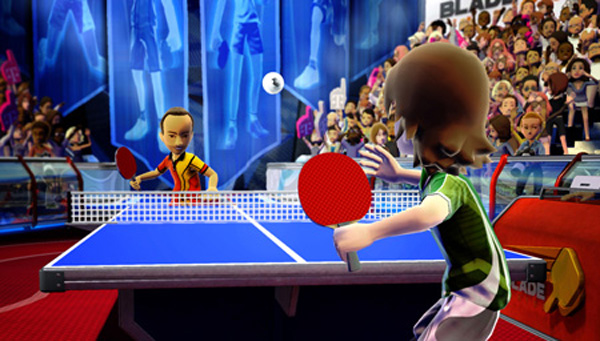 One of my favourite games was Championship Bowling. Initially I was a little apprehensive about this title because it didn't feel right to "bowl". With Wii Sports and because of the controller, it does help trick your brain better as opposed to pretending you are holding a ball. The most difficult shots to pull off in Championship Bowling is when you have only a few pins left because trying to get that imaginary accuracy is a little difficult. Nonetheless, I enjoyed this game.
Depending on what difficulty level you play Soccer Team was another highlight of Kinect Sports. On the easier levels, the game feels like a limited Wii Sports title but on something more challenging, the game does give you a run for your money. Your goal is simple, kick the football into the goals but you have access to your entire team to assist. If you kick the ball to another team mate, you automatically swap characters. If your opponent has the ball, you need to move either left or right to intercept the ball. Scoring goals is the highlight though, thanks to the various short modern rock songs that are played when you score.
Track & Field is another fun game really gets your heart-rate up because of the various events like discus, sprint and hurdles. All the games translated well to the Kinect and whether you were running on the spot "pretending" that you were in a sprint or attempting to jump the hurdles, all in all it worked quite well. The other two games in Track & Field are long-jump (another cool experience) and Javelin (so-so).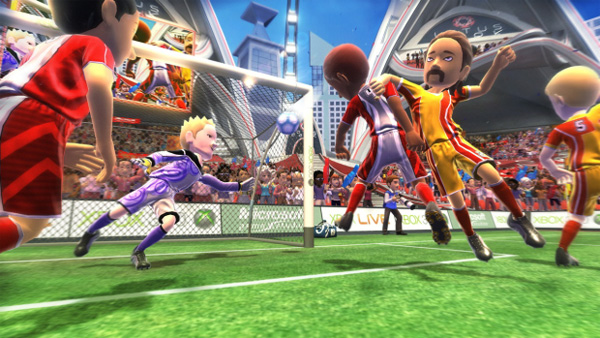 Finally we have Table Tennis, reminiscent of tennis on the Wii and is a little strange at first because you have nothing in your hands. Once your brain gets over this fact, you can really knock up on some long matches as the no control format is quite accurate in recognising your different types of hits. If you still want some more Kinect Sports entertainment, you can engage with other players (local and online multiplayer) or try one of the mini-games. The Mini-games are just variations of the main games and are considerably shorter. For example, you can play either of the Track & Field events or just play the goalie in soccer. I also enjoyed Paddle Panic that basically continues to shoot balls at you and you have to hit them away. They are fun but clearly not as enjoyable as the main games.
Local multiplayer works but you just need to ensure you have the space to successfully play as Kinect is definitely a space hog. Two player split screen is the best though, because it gets another person involved for fun. Online is average but nothing is more entertaining than playing against friends and family such as Party Mode that allows a large group of people the chance to compete in all the mini-games. Party Mode supports 12 players with two teams of six with both teams vying for the top score. And then you have all the highlights of your Kinect Sports games. After you complete an event, the game will show you some "highlights" from your play... most look quite bad because it generally ends up taking a photo of you looking quite uncoordinated... amusing to say the least.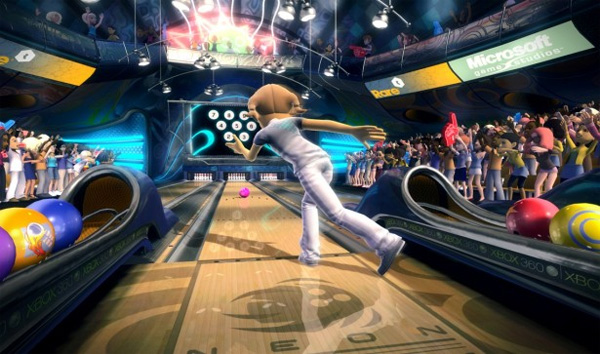 Graphically speaking, Kinect Sports is a "casually" good looking game. The game uses your XBox Avatars to star in the various sport games and the stadiums and various sporting environments look quite colourful and cartoony. The games themselves mimic their real-world settings quite well such as the bowling alley or the colourful tropical beach for beach volleyball. The sound effects suit the events perfectly as do the awesome sound bites from various modern pop songs such as "Shut up and Drive" by Rihanna. Even though these songs are short licensed samples, it really gets you bopping when you win.
Kinect Sports is fun. Simple! Not only does this showcase the Kinect but the developers have highlighted the potential of this wireless control system. More importantly, all the games are fun to play but like the saying, the more the merrier. Good graphics, great licensed music and fun gameplay, Kinect Sports is a must have title for your 360!