Kinectimals
Just Nintendogs which was the world's first "decent" pet simulator game, Microsoft have upped the ante by releasing one of the world's most realistic pet simulators available on any console called Kinectimals. What makes Kinectimals so appealing is that it uses the Kinect controller free technology which means that you can interact with the animals on screen with just your body. As opposed to Nintendogs which boasted simplistic graphics, Kinectimals takes this new genre to a totally new level thanks to its realistic graphics and flawless interactivity.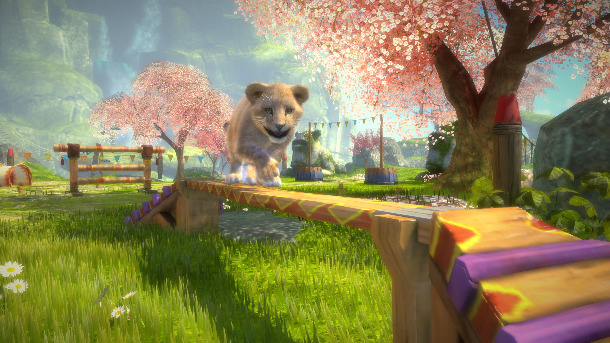 Like Nintendogs, the player chooses their own animal to raise as they venture to the animal island called Lumeria, a perfect sanctuary that has not been influenced by mankind. Although Lumeria is inhabited by all sorts of animals, we discover that a pirate once visited these shores many many years ago. However as opposed to the rough and tough pirates of the Caribbean, Captain Blackwood was a noble man, hence this perfect sanctuary for animals. When you arrive on the island, you are introduced to Bumble who acts as your animals guide and mentor through the lands of Lumeria.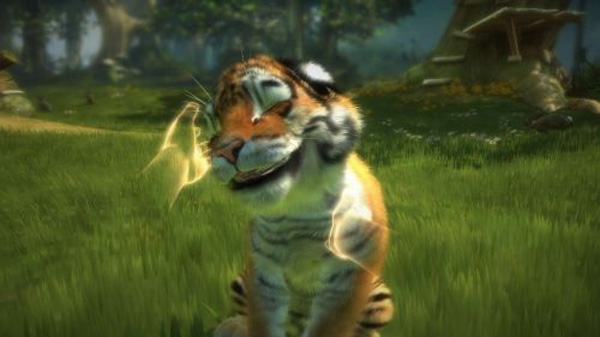 Your first task in Kinectimals is to choose your cub. There are five different species of cats available which include cheetahs, lions, tigers, leopard and panther. Once you have chosen your new cub, you then need to interact with them which includes patting, feeding, cleaning and of course playing. The game makes good use of the Kinect technology as you interact with these animals and the mini-games are actually quite fun like playing soccer, fetch and even a remote controlled car area. It's also great how the animals imitate your movements and if you jump in the real-world, they will also jump in their virtual environment. It's all very clever. As you do progress, the game then unlocks additional species for the player to pick and some cool items to be found along the way.

There are challenges that must be completed in the game such as searching the island for pirate treasure or assisting your cub through one of those pet like obstacle courses. The strangest thing about Kinectimals is that at times, it's like the player is being trained because for quite a few of the challenges, you need to go through them. This gives you a mini-workout! There are lots of items that can be purchased from the local store on the island which happens to run by another animal, a lemur to be specific which allows you to purchase toys and furniture for your pets home.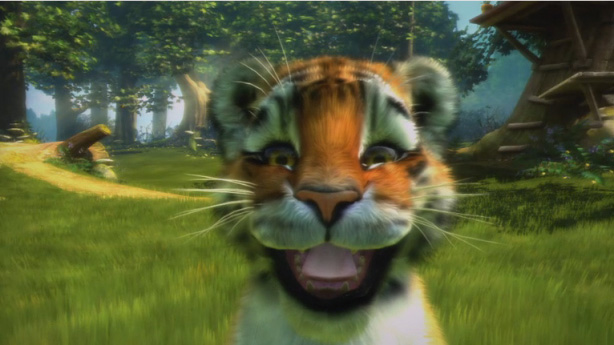 Add in a plethora of unlockable content and Kinectimals is a very engaging game that offers some great replay value as you teach your animals new tricks, purchase them new toys and generally have the most realistic interactive experience to date. It should also be noted that just like EyePet for the PlayStation 3 or Nintendogs for DS, Kinectimals has been designed for the younger gamer or children. If you're looking for something more interactive and challenging, I suggest you look elsewhere because this game is simplistic at best.
However it's a great example of what is possible with the Kinect and personally, this is one of the best games available for this new system. For kids, the game teaches them all they need to know so there is a minimal amount of adult supervision because your guide has a true knack of explaining things very well. This is one well thought out game!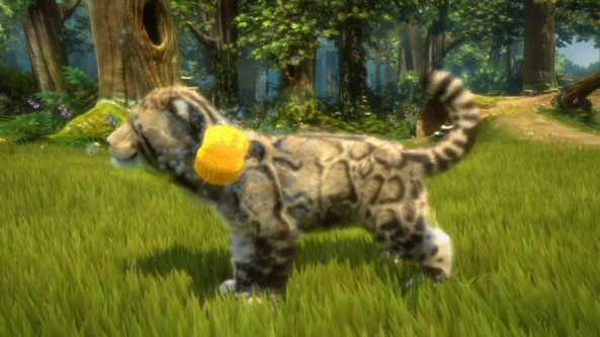 Graphically, Kinectimals is probably one of the nicest looking Kinect games on the 360 with some amazing realistic animals. From the fur to the way they move, all the animals interact quite well with the player. Add in a tropical setting that would not look out of place in the Caribbean and Kinectimals is truly a sensory overload to the eyes. Interestingly enough Kinectimals has one of the better menu interfaces as well! Add in a very mellow orchestral soothing soundtrack and a variety of animal sounds and Kinectimals looks and sounds great.
Final Thoughts?

Kinectimals is a Kinect game made right and even though it has been designed for children, the developers have added enough Kinect content to impress even adults. It may be designed for kids but I had a ball playing with these virtual animals as did my 10 year old niece. I really cant fault this game and kudos for Microsoft for creating something unique and ultimately quite playable!