Just Cause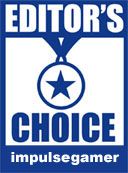 Just Cause is the latest XBox 360 blockbuster to land on the console that features the story of Rico Rodriguez who has been hired by a CIA operative to overthrow the corrupt president Salvador Mendoza. The developers have ensured that the missions in Just Cause are varied and diverse and contain interesting elements such as hijacking shipments to assassination attempts.
As with all good console games, there are a variety of checkpoints in mission and unfortunately you can only save in certain places in the game. However in order for this to be achieved, the player must work hand-in-hand with the local rebels to not only overthrown the government but also throw the drug lords into turmoil.

Features

* Massive game world - 32 x 32 km without any loading times, limitations or invisible walls.
* Various environments; big cities, towns, resorts, casinos and many more.
* 100 vehicles; Land, sea and air.
* 25 weapons.
* 20 story missions written by Matt Costello and Neil Richards.
* First game based on the acclaimed Avalanche Engine
The essence of Just Cause features similar elements from games such as Farcry, Tomb Raider and the Grand Theft Auto series that combines these genres into one entertaining arcade adventure that will have gamers craving for more. With that said, your character can perform a variety of manoeuvres from parachuting to car jacking and then shooting his way through an myriad of mercenaries, all in the name of action and adventure.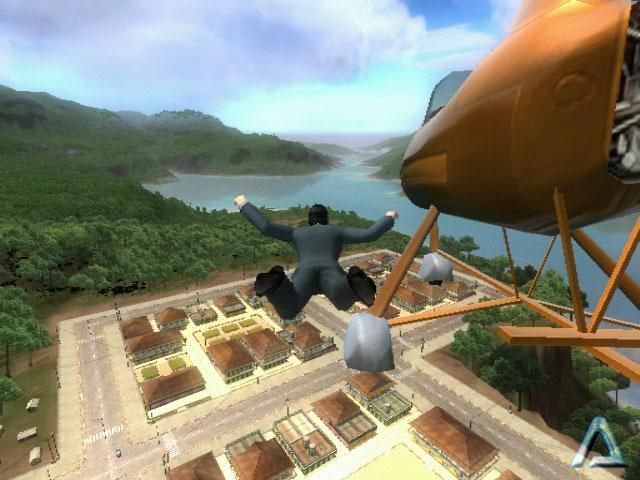 Combat is unfortunately a hit and miss affair in Just Cause and the artificial intelligence of your opponents range from easy to difficult, depending on your prowess as a gamer. As per all good combat games, once you have dispatched your enemies, their corpses are right for the picking and whether you're looting ammunition or weapons, you'll always have plenty at your disposal.
Although when things get harsh on the weapon front, your trusty stock standard pistols will provide the player with unlimited ammunition. When you do get involved in the enemy, the targeting system of Just cause is fairly lenient and uses an auto-targeting system for the player to engage their does with.
Apart from fighting you way through these mercenaries, the player also has access to virtually every vehicle in existence that include boats, cars, motorbikes, jet skis and helicopters that can be used to navigate the gaming environment. Or for those that wish to dispatch their enemies in a unique fashion, these vehicles can also be used to dispatch your enemies.
As with your stock standard pistols, the vehicles in Just Cause also contain unlimited ammunition and although some may be groaning at this thought, it's actually quite entertaining and really gives you that action movie experience. If things get hairy while you're running around on foot, you can fortunately call for back up in terms of vehicles that will be dropped from the sky.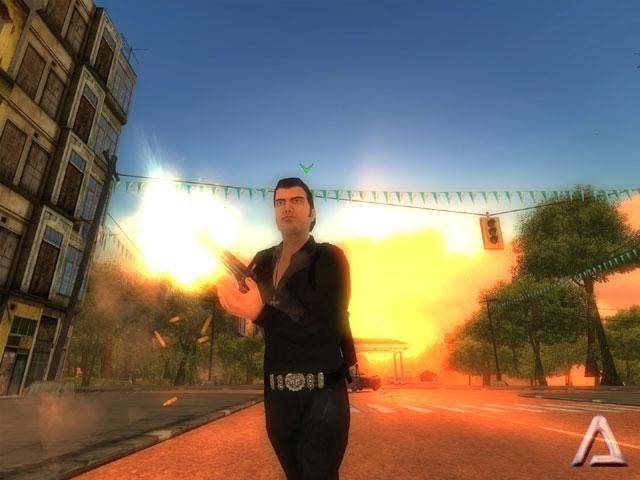 Graphically, Just Cause is a visual treat on the XBox 360 that features some truly stunning gaming environments that have an amazing draw distance which really immerses you into the gaming environment. The game also features a variety of awesome special effects from realistic lighting, volumetric clouds and also Hollywood style explosions.
All the characters have been professionally created and contain high resolution textures that actually make you think that you are in a South American country. Match that with High Definition Wide Screen television and you are in gaming heaven.
The music in Just Cause brings in some great classical guitar that mixes between a variety of different cultures to give you that true international eclectic mix. Match that with some over the top voice acting that is clichéd and cheesy but really suits the genre perfectly and you could almost have a bad 1980's action flick. Great stuff from the developers!
In conclusion, Just Cause is an entertaining game on the XBox 360 that I would recommend to those gamers that want a traditional Hollywood style action game that features the extremely clichéd storyline, beautiful graphics and a rather sturdy gaming engine (although with some bugs) that will have you playing this from start to finish. Unrealistic and over the top but thoroughly entertaining!