THQ's Juiced 2 - Hot Import Nights is your classic street "legal" racer that features state of the art graphics and engaging gameplay which plays more as an arcade racer rather than a simulator such as Project Gotham. Although it is easy to pickup the control and start playing, Juiced 2 - Hot Import Nights features an innovative drift system and when mastered by the gamer will make this an extremely thrilling and enjoyable title. The developers have ensured that Juiced 2 - Hot Import Nights allows players to experience the real-life HIN tour which is one of America's largest custom car shows and racing challenges. Definitely a game for those who love to customize their cars and race legally without ending up behind bars.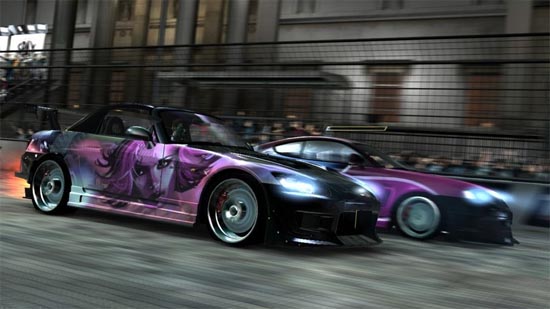 Features
Real-life HIN Racing Experience - Juiced 2: Hot Import Nights combines an intense, addictive racing experience with the culture of the real-life HIN tour, the nations largest lifestyle custom car show

Drift/powersliding races Perfect your skills in multi-car drifting races

Driver DNA Tracks each individual players driving habits, creating a profile that can be downloaded off all online gaming services

Celebrity Driver DNA Download celebrity DNA and test your star power skills

In-game gambling Watch and bet on live races with up to 1000 others

Unmatched Customization Be who you want to be With 90 digitally scanned cars and over 250 aftermarket mods and numerous combinations of character features, players can treat themselves to the ultimate car and driver customization

Online Pink Slip and Crew Racing Tap into your inner risk-taker by challenging other players for their cars and putting yours on the line. Dominate the rest of the competition by racing online with friends you hand-pick for your crew.
The game contains a variety of different gameplay modes with the main gameplay being the career mode that has the gamer selecting one of fifteen cars in order to start racing. The cars in Juiced 2 are also based on real-world models, ensuring that additional piece of realism to the gameplay. Apart from racing, Juiced allows you to mod your car and the developers have included a bar to see where you car rates between 1 to 100 and as you progress through the title, you can purchase additional mods for you car. These mods also include some really impressive visual mods that we will discuss in the graphics area.
Once you have completed a variety of races and tasks, the game will then allow you to enter another tier which will have more cars, tracks and competitors for you to challenge. However even if you have successfully completed, you will need to purchase a car that is adequately powered in order to proceed in the next tiers. Wish to make more crash? Simple! Just bet on the race and if you can pull it off, you should be able to purchase some more mods.

The races or tasks in the game are also quite varied such as defeating a specific driver in a race or by ranking in the top two in order to win cash and pink slips. As with the original game, you can select the driver to bet against which allows for some great replay-ability options. Racers also have their own "DNA" which basically keeps a record of how well you perform throughout the game which even allows you to upload statistics.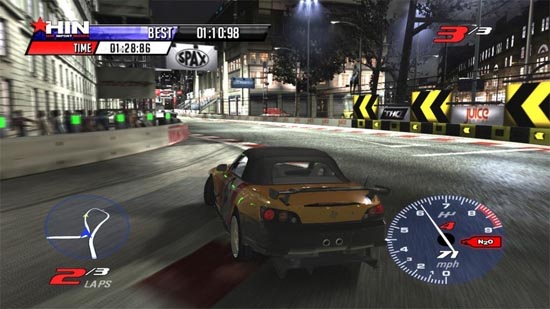 Juiced 2 features some extraordinary realistic graphics which probably makes this one of the most impressive street racing games on the market at the moment with its realistic car models, detailed textures and brilliant background environments. Although the star of the game are the cars themselves that also move with a real-world realism, the backgrounds should also receive a special note with quite an amount of attention to detail which easily draws you into this gaming world. The developers have also put in a variety of special effects from lighting to weather as you drive through these 3D created cities. The title also contains a variety of brilliantly visual mods for your car (see screenshot 1) that is every car owner's dream.

Musically, Juiced 2 features a pumping musical score that suits the genre perfectly and match that with a wide variety of car sounds from skids, crashes and the powerful grunts of engines and you have one decent sounding game. Play it loud!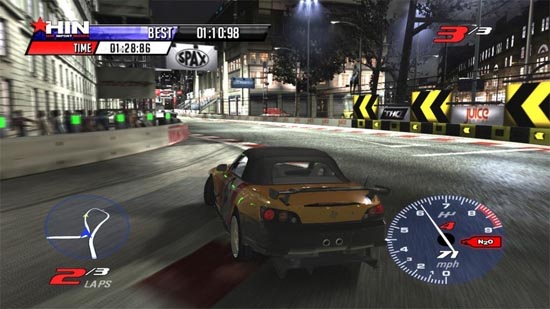 In conclusion, Juiced 2 - Hot Import Nights is an apt Street Racer game that features all the neon lights and dark backstreets of a variety of different cities. The developers have done some great modifications since the previous incarnation and juiced 2 - Hot Import Nights probably has one of the best drift aspects around. Decent graphics, a great soundtrack and sturdy gameplay.