Jeremy McGrath's Offroad
So the folks reverb, sent over an Xbox Live Arcade code for us to check out Jeremy McGrath's Offroad. I really have to say, I have to get into the mindset most times to play a racing game…Oh wow! Look they are turning Left! What will happen next…oh wow they are turning left again!
Don't get me wrong; there are a couple of racing games that get me into them with the thrill of the race. So I was happy to get that feeling of literally scotching up on the edge of my seat as I went hell bent on winning my first race in this game. Jeremy McGrath's Off-road gave me that adrenalin rush feeling that is so much fun to get when you really get into a game.
For an arcade title it does it's best to deliver some higher end gaming fun. It delivers too. If you walk into this knowing it is only an arcade titles, then you won't be disappointed, in fact you may be pleasantly surprised. If you are coming into it, looking for massive amounts of content, then you have come to the wrong place. The game for being an Xbox Live Arcade and PSN release has a lot to offer. Just not enough to be a Five Star title…and that's ok, it's not trying to be. Let me break some of it down.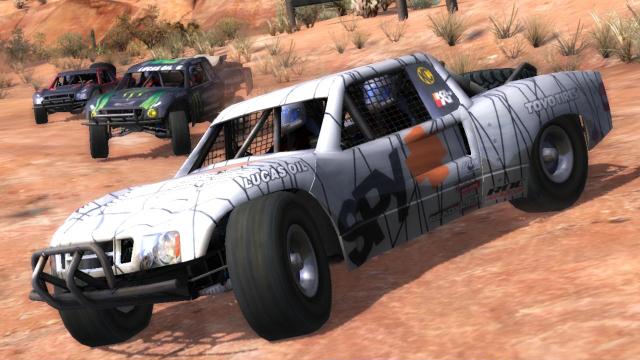 Jeremy McGrath's Offroad gives players a chance to get their racing on with a lot of off road dirt tracks, jumps and dips and oh yes, and a few different classes of racing vehicles.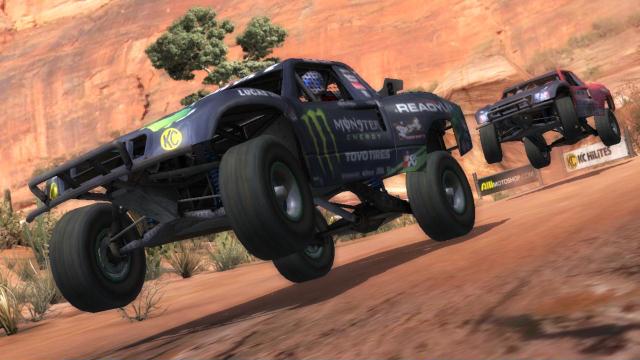 There is a career mode giving players the chance to race for the Pro2 Championship within the Lucas Off Road Series. Starting out with a racing buggy, there are chances to upgrade as you go into Rally Cars and Pro lite trucks. Leveling up is easy in this game; the game is very player friendly. During a race players can earn experience no matter what their standing, even dead last…the cool thing is they get experience for jumps, passing other vehicles and other cool race moves. The experience converts to points, of which then can be used to upgrade different aspects of a vehicle. The main focus being Handling, Speed, Acceleration and Braking.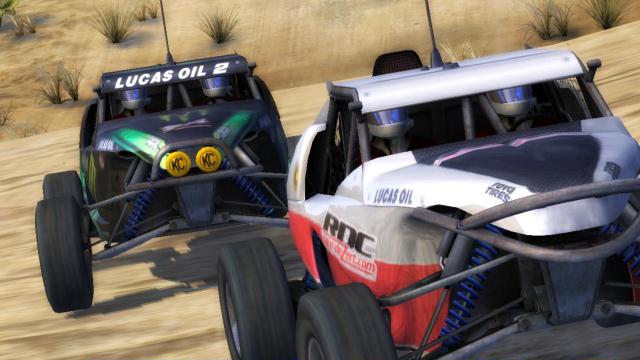 Once you are done taking on the AI opponents you can get your friends into a race and test your skills against them. The game keeps track of statistics and also has online leaderboards.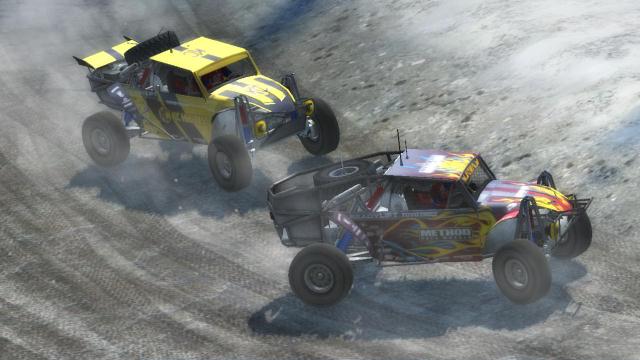 The environments are surprisingly pleasant, with a slight blur to distant objects and running at a full 1080p I rather like the look. Some of the environment is interactive, players can go into a skid and smash through fencing, there is the danger of falling rocks and lots of dips and turns and jumps on the tracks.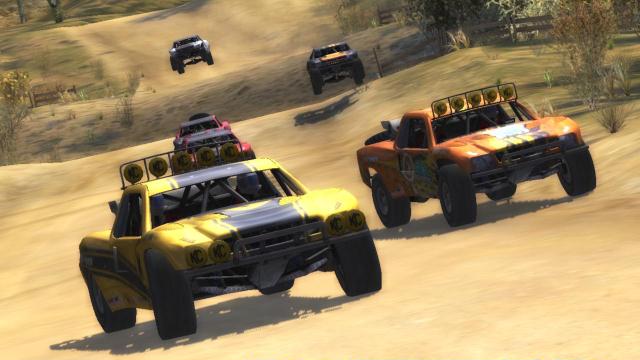 It would be great to see some more tracks for the title, maybe as DLC or even more cars, but as the game stands it's a very solid Xbox Arcade title. The only thing I did find a tad annoying was Jeremy McGrath's helpful hints and advice. Now it's cool and all to have the ace driver give you advice. But it sounds like he called it in over a phone, maybe it is meant to simulate him talking over a radio into your headset of your race helmet, but heh.

Jeremy McGrath's Offroad is ideal for those that want the big ticket racing experience, without the huge racing game price.

Have fun, play games
Edwin Millheim