Inferno Pool
Pool games were once a dime a dozen in the old word of PC gaming and other classic consoles such as the Amiga 500 and developers Dark Energy Digital have created a rather nifty pool experience on the 360 called Inferno Pool which throws a few twists into this classic game as gamers attempt to knock those elusive balls into the holes.
Although the game features your regular 8-ball and 9-ball games, the catch of this game is "Inferno" that challenges 2 - 4 players against each other but to compound the situation, there is also a clock counting down and you have to pop the most balls in before the time runs out.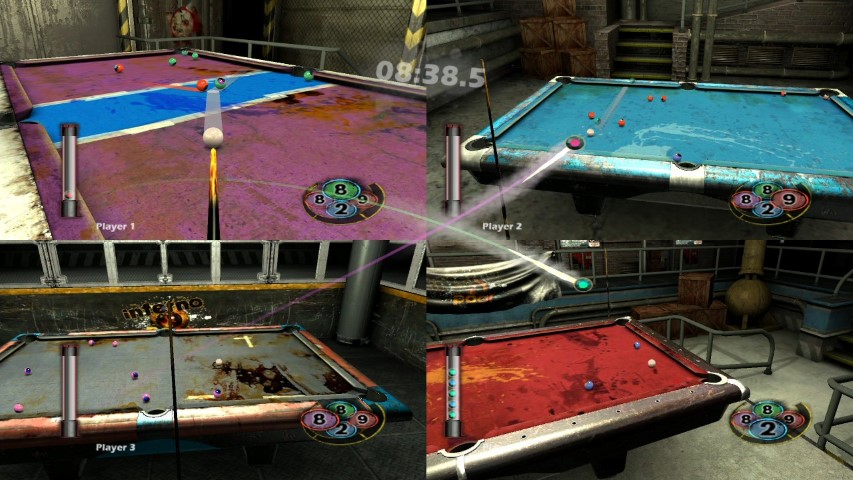 Of course to make friends become enemies, every time you knock a ball into a hole, it moves that ball to your opponent which causes some adrenaline pumping action, albeit a frustrating one. The normal games, both 8 and 9-ball allow you to play against the AI with a range of difficulty levels or you can play local multiplayer via split screen (up to 4) or of course online mode via XBox Live. Best of all while playing this game online, there was no lag and it was quite a flawless experience.
The control system on the 360 works well enough and the buttons are mapped well but when you're racing against the clock, things become a tad annoying and where this game would have worked perfectly would be on the Nintendo Wii.
Needless to say, it does take some time in mastering the control system, especially when the clock is involved but the normal games are great for honing your skills. Although a top view is available to assist in lining up your shots, there is also a side view which is a tad more realistic and does give you a little bit more control when you line up your ball and hopefully shoot the white ball with just enough power to hit the other ball in.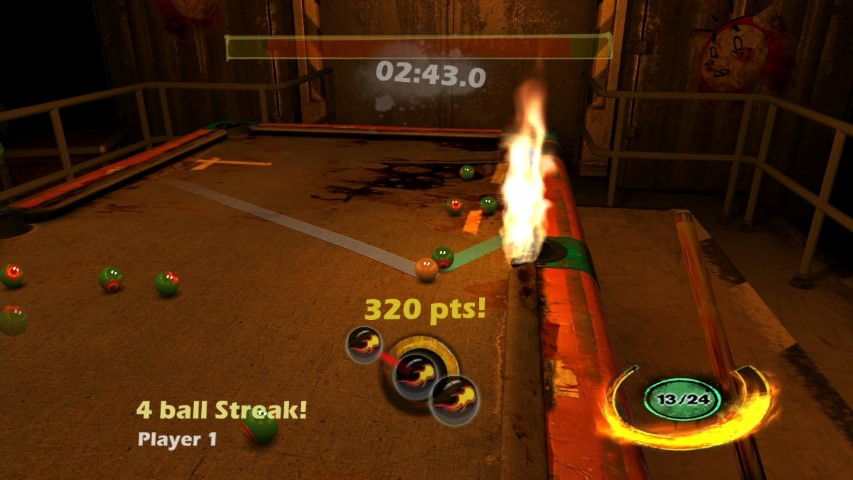 Graphically, for an XBox Live game, it looks quite good with realistic game physics and a true pool hall like experience. The funniest part of Inferno Pool is the commentator who sounds like he is out of a bad Midway game but funny enough it actually suits the Inferno mode quite well but if he does get annoying, it's time to turn off the sound. The sound effects all mimic the real world sounds of pool from the sound of the cue stick hitting the ball, balls hitting each other and balls going into their holes... very good indeed.

At the end of the day, Inferno Pool is an interesting pool experience on the XBox 360 and although it has been available on the PS3 for quite some time now, the 360 version is just as good. With decent graphics, great sound effects, albeit a sometimes annoying commentator, overall it's a fun title. The control system works well on the 360 controller, although in the fast paced Inferno mode, it does become quite a fiddle some affair but if you're willing to put in the effort, you may be able to reap the rewards.
Even so, it's still good to see a pool game at all!