Hitman Blood Money
The Hitman saga returns to the gaming world with the explosive sequel entitled Hitman Bloody Money that once again features Agent 47, a deadly assassin that can not only kill men with his bare hands but also with a wide gamut of weaponry and items.
Unlike traditional first person and third person shooters, Blood Money truly immerses the gamer into the world of underground hits by ensuring that the only person who knows of the hit is the victim, the hiree and the Hitman by allowing the player to don a variety of different disguises. However, mess up a mission or let too many witnesses see your activities and you might be a little short of cash.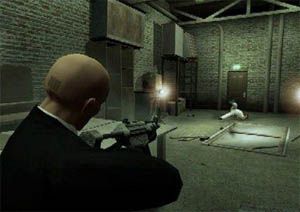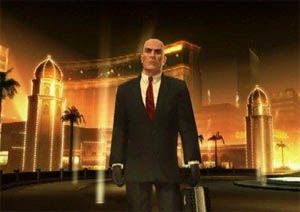 In its essence, Blood Money is an extremely well scripted game because the player cannot just rely on one or two different tactics in the title because although every scenario is different, you must although rely on your environment and objects that assist you in completing the mission. For instance, it is possible to eliminate your targets by some entertaining methods such as dropping a chandelier on your victim or poisoning their food... or my personal favourite, the piano wire.

The developers have also introduced a new feature to the series called the notoriety rating that now alerts characters around you of your activities as they become more and more suspicious, so you cannot just run through a level with your guns blazing, you need to use your brain. Another entertaining feature to this rating is that once the mission is over, you can pay witnesses off after missions, so they'll keep their mouths shut or rather... stay alive. But this is really reliant on your gaming style.

Bloody Money also offers three different difficulty modes with the basic level showing all your enemies movements on the map and as your increase the difficulty, the more patience and skill is required to complete the mission as the map is bare.
With the higher the difficulty setting, there is a lot less you can get away with, meaning any slight oddity will be spotted. This is highlighted by the meter in the lower left corner of the screen, with green meaning safe, while red will have every guard in the area trying to take you down.

Probably the most annoying aspect of Blood Money is the save system of the game, especially on a harder difficulty level as mid mission saves range from zero to many which can become frustrating, considering that these mid mission saves are lost once you quit the game or if you stumble upon a longer level. Fortunately most levels in the game can be completed on a rather short time frame.

Graphically, Hitman Blood Money looks amazing on the XBox 360 that contains high resolution graphics, a sturdy frame rate and some of the most realistic lighting to have ever graced a console game since Splinter Cell. Match that with some extremely professional voice acting and an impressive soundtrack and you truly have one entertaining title.

In conclusion, Eidos have once again got a hit on their hands with Hitman Blood Money with addictive game play, easy-to-master controls, great graphics and awesome sound, this is one title for your 360 that you must play... provided you're not a moral crusader. Check it out!