Gun
A really cool take on the Western, Gun is a pretty close look at life in the wild west! You star as gunman Colton White who is on a mission to discover what is going on when Ned, a likeable hunter who Colt thinks is his father, is killed by a group of zealots. Given a token and a cryptic clue, Colt embarks on his journey to discover the truth.
Features:
Expansive Free-Roaming Interactive World – Players traverse on horseback or foot through a living, populated environment that stretches from the snowy mountains of Montana, to the plains of Dodge City, Kansas and the deserts of New Mexico where danger is at every turn.

Extensive Variety of Missions – Experience an extensive variety of missions such as: wage war on horseback, hunt for bounties, play poker, protect ladies of the night, hunt buffalo, assault a frontier fort.

Broad Range of Gameplay – Multiple gameplay styles include: strategic gunplay and precision shooting, stealth tactics, and use of explosives. Embark on numerous side missions to master gun slinging and horse riding. Players can unlock secret weapons and upgrade skills and abilities to improve their weapon and equipment performance.

Epic Storyline – Written by Hollywood scriptwriter Randall Jahnson (Mask of Zoro, The Doors), GUN's engrossing storyline and plot progression will transport players back in time to the lawless West where they encounter ladies of the night, a murderous preacher, and many other characters.

Experience the Brutality and Gritty Lawlessness of The West – Players battle their way through a harsh, visceral and unforgiving landscape that portrays the West as it really was. They can act as a gunslinger protecting righteousness or seek retribution as they face resistance fighters, local lawmen, renegade soldiers and vengeful Native Americans.

Authentic Weapons – Encounter authentic gunslingers of the time and utilize a multitude of authentic weapons such as: six shooters, shotguns, Gatling guns, flaming arrows, hatchets, and dynamite.
The objectives present in GUN are rather fascinating. There are several side missions sprinkled throughout the environments in addition to the main quests you'll have to complete. Here's where things begin to get interesting. In order to have a fighting chance in the main ordeals, you'll need to build up your stats via these amusing side missions prior to attempting to tackle them.
One of the first things that you are going to notice with this game is that its over Really Really early. Gun had the chance to be a real player or contender of sorts with a compelling storyline, brilliant voice acting and a nice looking game to boot. However, with the shortness of the game you never have enough time to get into the title as much as you would like despite the multitudes of side missions that populate the game.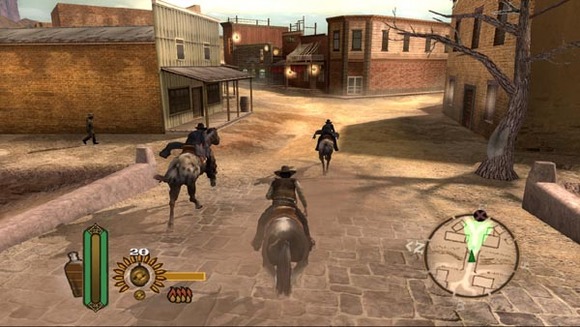 One of the things that I enjoyed about Gun was the chance to ride a horse in the game. It was a highly enjoyable experience and the team at Neversoft has done a great job. The title follows a logical enough system of progression and all runs smoothly and in a fairly convincing manner.

Gun is gory for all you fans of shooters and there are a number of rewards for those who learn quickly how to take advantage of Colt's Quickdraw Ability which allows him to snipe. Possibly reward is the wrong word but you do get to get in there and line up multiple targets when in Quickdraw and headshots will always do that job a lot quicker. There is plenty of claret for all and Colt is not afraid to assist in spreading it.
For an Xbox 360 game, this game looks rather mediocre, especially in certain areas such as its textures. It is extremely reminiscent of the XBox version with only higher resolutions and there is quite a bit of popup in this game. Fortunately the soundtrack of gun is quite entertaining, containing that true western genre with a plethora of foul language.

Whilst overall Gun is a good game, there simply is not that much to talk about. The breakneck pace of the title kills the storyline's potential and I'm not sure how many of you will like the fact that the game is over so quickly. It's a game that I have no problems recommending, its fun, looks great, sounds good and is pretty tight. The side missions help to fill it out somewhat but all the missions and boss battles don't present much of a challenge. Unfortunately as with the XBox version, this current incarnation of Gun is also missing multiplayer which is a shame because it would of made a damn good multiplayer title.

In conclusion, it was a shame Gun didn't receive an XBox 360 overhaul and this current incarnation looks like an XBox game, heart, body and soul. Might be worth a rent during a long weekend but otherwise, keep on looking cowboys!